Experiential by its very nature, Geology is hands-on at Guilford. Topics covered include rocks, minerals, fossils, Earth history, plate tectonics, climate and weather, rivers and groundwater, oceans, mapping, sedimentology, natural hazards and environmental science. From your first Geology courses to your capstone classes that could land you in Egypt, you'll be out in the field studying rocks, structures, fossils and the environment.
Students engage in original laboratory work where they design their own experiments and research, which is presented at professional meetings or national conferences. Numerous study abroad experiences in places including Bhutan, Australia, Costa Rica, the Galapagos Islands, Tanzania, Italy, Germany and Ecuador can be tailored to individual interests.
The Geology program establishes a firm academic and experiential foundation in Geology that serves as a springboard to graduate study, professional Geology and employment in industry, teaching, art, environmental science, creative writing, law, resource management and geography.
Majors and Minors
From calling professors by their first names, to commitment to respect and sustainability, Guilford showed me that it was possible to live the Quaker principles in a practical way. It helped to serve as a model for me in the way I teach, interact with others, and simply live my life.
Geology and Earth Sciences Major: The A.B. in Geology and Earth Sciences allows flexibility for students interested in working in careers such as environmental, teaching, law, museums and technical writing. It requires a minimum of 48 credit hours.
Geology and Earth Sciences Major: The B.S. is generally required for graduate studies in geology or those seeking employment in such fields as geology, environmental science, geography, oceanography, paleontology, hydrology or geophysics. This program requires a minimum of 60 credit hours.
Environmental Geology Track: Students pursuing either an A.B. or B.S. in Geology may choose the track in environmental geology. It provides a strong background in geology but is designed for students interested in environmental consulting or pursuing graduate study in an environmental field.
Earth Science Minor: The Earth Science minor is designed for students majoring in disciplines outside geology who would like to gain significant experience in the geological sciences. It requires 16 credit hours.
Geology Department News and Events

Down to Earth
Down to Earth
Jennifer Fierro '08 runs her earth sciences labs at the University of South Dakota with a love of broadening worldviews that she gained at Guilford.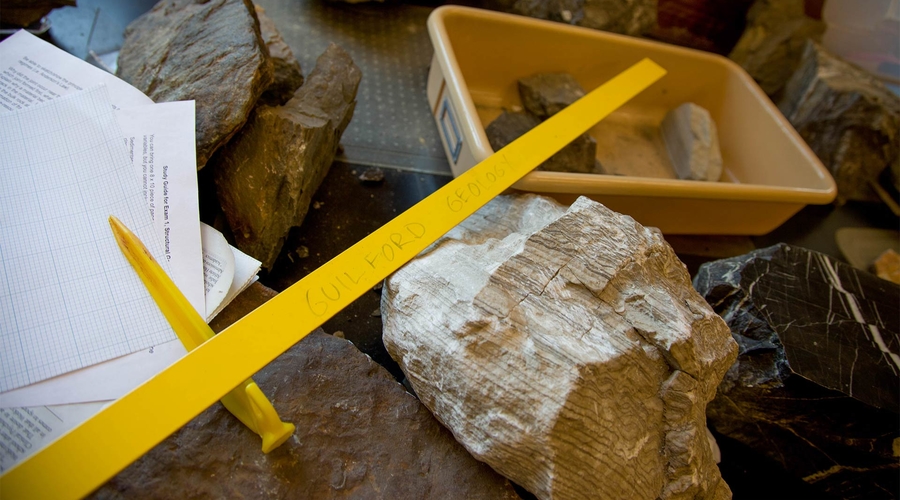 Professors Win Best Practice in Higher Education Award
Professors Win Best Practice in Higher Education Award
Professor of Geology Marlene McCauley and Associate Professor of Political Science Kyle Dell were awarded for a recent paper on Guilford's sustainable food systems program.
Contact Us

Marlene McCauley
Marlene McCauley
Charles A Dana Professor of Geology and Sustainable Food Systems