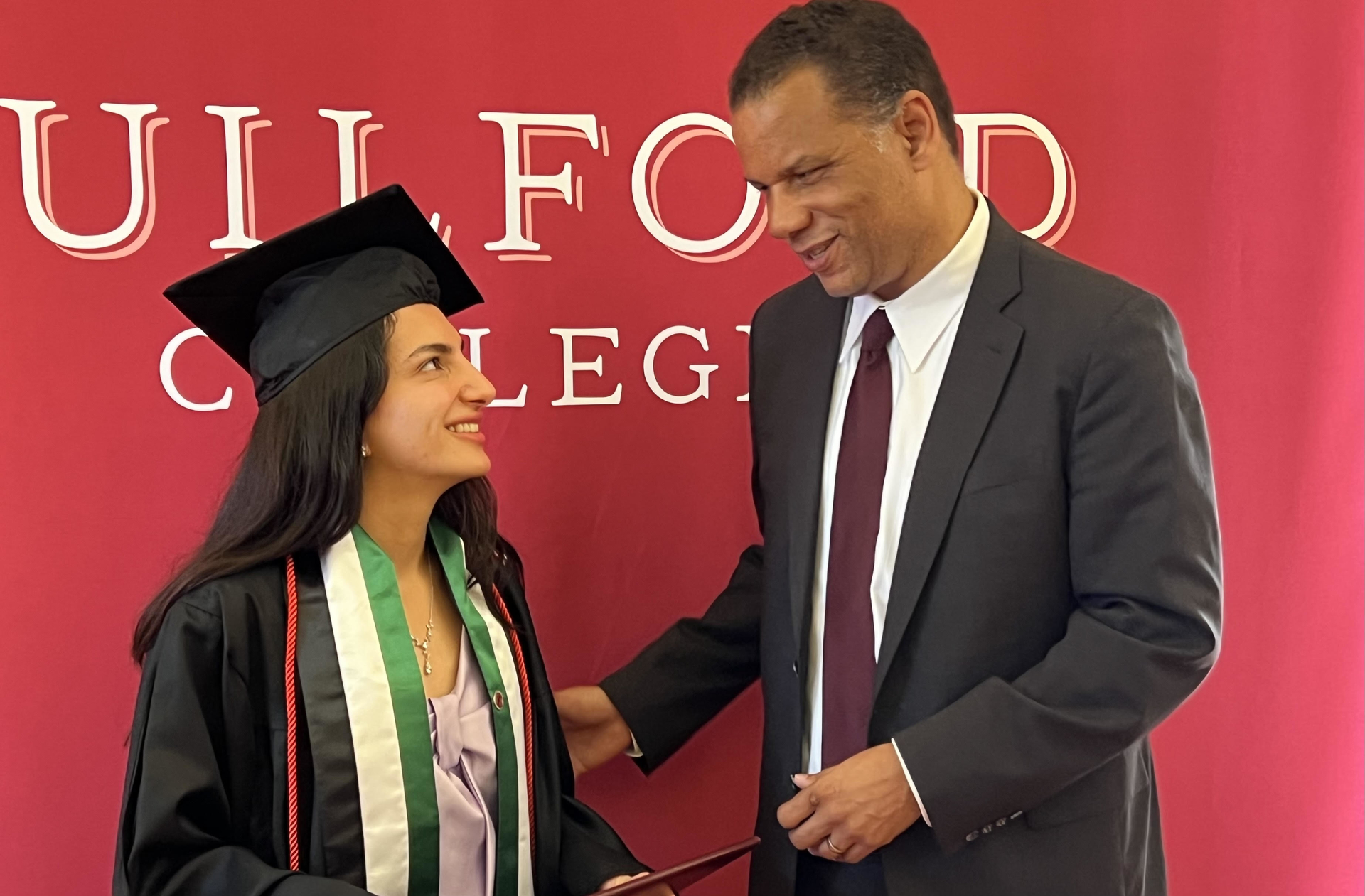 Twenty-one students received  their master's degrees in Business Management and International Sport Management. 
"The Quaker values are what brought me to Guilford, and those values and the people I met are going to make it hard to leave."
Twenty-one students in the inaugural classes of two Guilford College master's programs – Business Administration and International Sport Management – graduated Saturday morning, ready to take their skills back to their current careers or new ones.
Students, along with faculty, family and friends, packed the Carnegie Room in the Hege Academic Commons to celebrate their historic accomplishment.
President Kyle Farmbry told graduates their journey was just beginning. "This moment, the culmination of your tireless efforts, represents not only a celebration of your academic accomplishments but also a new beginning — a stepping stone toward a future where your expertise will shape industries, influence policies and ignite positive change," says Kyle. "The realm of international sport management and business administration will be enriched by your innovative ideas and unyielding commitment."

Saturday's ceremony came just three years after the College first proposed the two master's programs. Faculty approved the programs in October of 2021 and the College received accreditation in the spring of 2022.
Michael Dutch, Department Chair and Seth '40 and Hazel '41 Macon Professor of Business Management, who directs the MBA program, says it will only grow from the momentum built by the inaugural cohort.  "The word is out there that these two uniquely Guilford programs are offering an education that is needed in these times," he says.
Sixteen students received their MBAs on Saturday and five received their MISM degrees, having completed their course of study in a little over a year.
One of those students was Kareen Shammas '21 MISM '23 (above, with Kyle). Kareen lives in Ramallah, Palestine, and attended the Ramallah Friends School. She earned her bachelor's in Exercise and Sport Science and was encouraged by faculty and friends to get her master's at Guilford.
"The Quaker values are what brought me to Guilford, and those values and the people I met are going to make it hard to leave," says Kareen, who wants to leverage her education and athletics as a platform to promote Palestine internationally.
Andrew Milligan MBA '23 told the audience the first graduating classes for the programs will leave with diplomas as well as a responsibility. Andy has spent the past decade working with nonprofits and entrepreneurs in Africa. "The first thing I learned (in Africa) is that when it comes to investing in a new venture, people generally don't want to be the first. There's a reason those first investors are called angel investors," he says.
He reminded his classmates that they may be the first graduates, but they will not be the last. "Make the College proud of us so others follow," he says.
Both classes will be even larger this fall. The International Sport Management class will double to 10 students and the business administration class could be as high as 20.
"It's exciting to be here today, but I'm even more (excited) about what's coming at Guilford with these two programs," says Michael White, the Director of the International Sport Management Master's Program. "We're only going to get stronger and better."
 
---