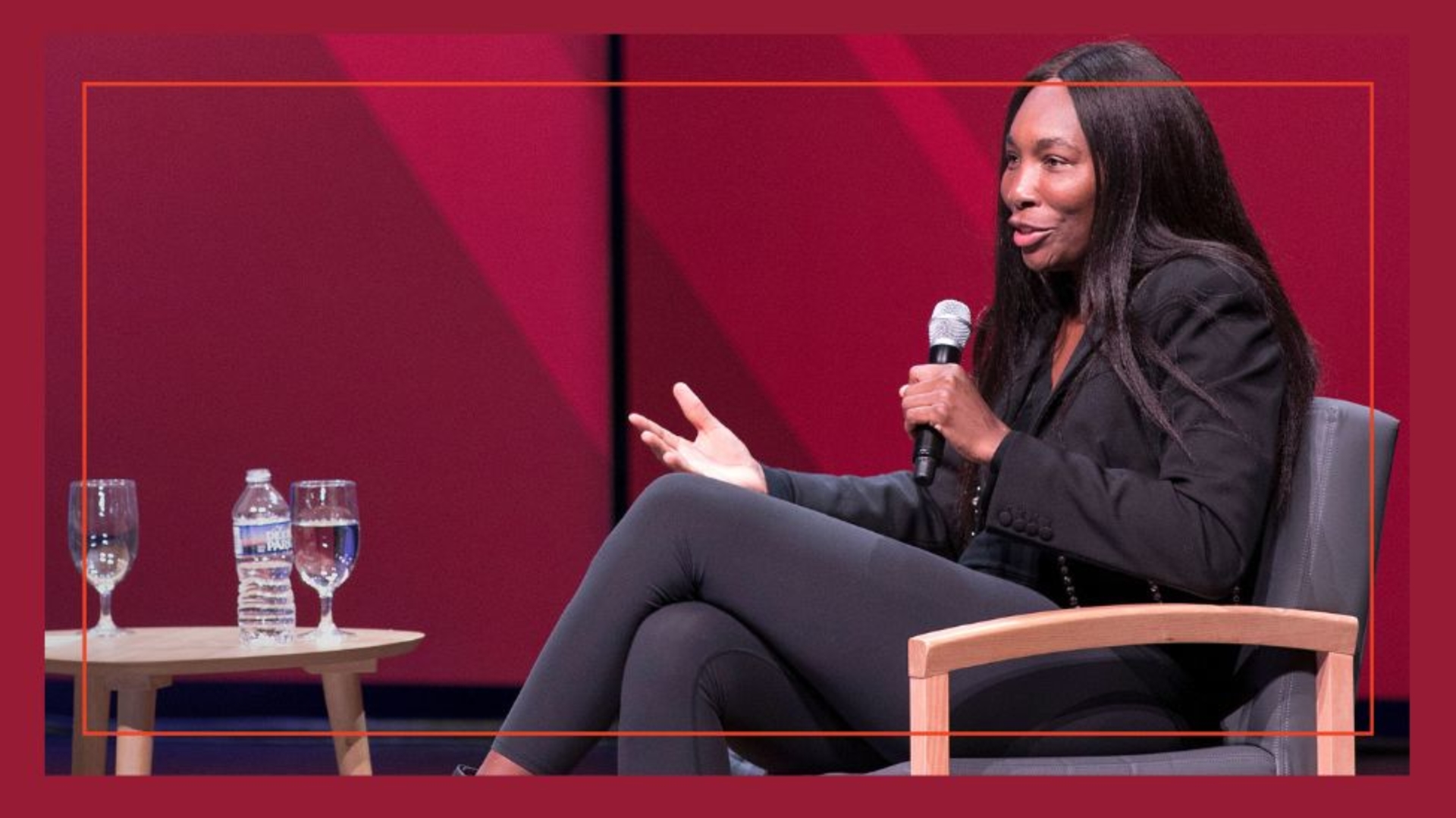 Venus Williams has built a splendid resume on the tennis court. The former world No. 1 player has won seven Grand Slam singles titles and four Olympic gold medals. Her resume off the court is equally impressive. She's been busy launching collaborations with her clothing brands EleVen while maintaining her commercial and residential design company V Starr.
"Always bet on you. Don't bet on anyone else, bet on you."
On opening night of the 2022-23 Guilford College Bryan Series season at Greensboro's Tanger Center, Venus shared the secrets to her success. It's actually one secret, she said.
"Always bet on you," Venus told an audience of about 1,900 people, including community residents and about 300 Guilford students, faculty and staff. "Don't bet on anyone else, bet on you."
Venus said that self-confidence came naturally to her at a young age but in the same breath added that it is "an acquired skill" for others. That skill, she added, doesn't take a lot of time to master. How much time?
"I personally believe that if you practice something for six weeks, it'll become automatic and your mind will literally change if you train your mind," she said. "You can absolutely do it and if you can't do it, keep faking it and pretending you can do it and eventually you will."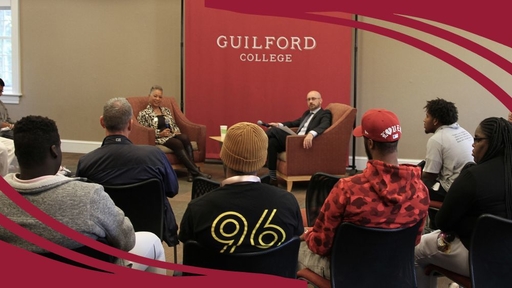 Finding a Balance
Venus spent the evening with moderator Katrina Adams, a former professional tennis player herself, talking about various topics — tennis, business, travel, race issues, and more. None of those topics seemed to resonate more with the audience than gender equality and pay.
When Venus won her first championship at Wimbledon in 2000, she was paid about $484,000 — about $50,000 less than Pete Sampras earned for winning the men's title that year.
As the founder and driving force of EleVen, Venus continues to advocate for equal pay in business and in sports. 
There's plenty of opportunity to balance things outside of sports," she said. "Women are paid, on average, 84 cents to the dollar (compared with) men in the United States. And when we start talking about minorities that number starts to drop and then we leave the United States it starts to plummet. So there's so much work to do, not just within the lines of sports but outside of it."
That passion for equality became personal when Venus's sister Serena had a baby girl. Alexis Olympia Ohanian Jr. is 5 years old. 
"I want my niece to have options to play any sport or work any career and be able to make a living at it," she said. Those opportunities aren't there as much right now as they are for our male counterparts. So there's still work to be done."
Earlier in the day Katrina met with nearly three dozen Guilford students on campus to talk about landing jobs in sports. After retiring from competitive tennis, Katrina went on to become the President and CEO of the U.S. Tennis Association. She told students that entering the sports business world is competitive and, as Venus noted, requires students to believe in themselves.
"You have to be courageous," she said. "In a way you're already showing courage by going on to higher education. That takes courage to be able to do something different that you haven't seen or done before. Now take that courage with you after Guilford and into your first job."
The Bryan Series resumes Nov. 10 at Tanger when renowned neuroscientist Daniel Levitin and Grammy award-winning singer-songwriter Rosanne Cash team up to discuss music, creativity and the brain. Tickets are available at Ticketmaster or at the Tanger box office, which is open Tuesday through Saturday from noon to 5 p.m.
---