Ian Stafford '18, originally from Durham, N.C., graduated with a German major and a Psychology minor, and he was a member of the German Honors Society.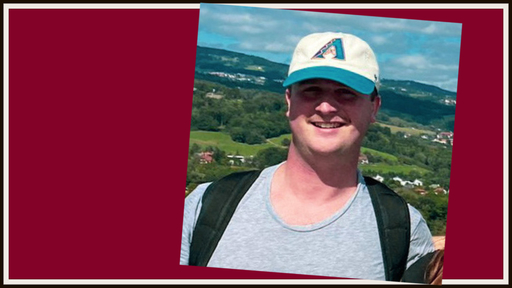 By Natalie Whitmeyer '20
Editor's Note: Ian is one of five Guilfordians currently living, learning, and working in Austria via the Fulbright Program. To read more about them, visit the main Guilford in Austria, a College Tradition page.
Ian was also a member of many other clubs and organizations around campus, including intramural soccer and basketball, the Democrats of Guilford, International Club, and the German Club. Ian fondly recounts the people he met at Guilford, many of whom were international students.
"They were the very foundation of my time at Guilford," he says. "And Dave Limburg is the reason I am here in Austria enjoying this beautiful country. I am very grateful to him."
Currently, Ian is working toward another bachelor's degree in International Business at Johannes Kepler Universität in Linz. He also teaches English as a second language. Once obtaining his degree, Ian wants to work for a few years before pursuing a graduate degree in marketing. 
Another surprising thing about Ian's Austria experience? "I found the love of my life and we are currently married!" he says.
"Guilford simply opened the door for me," he says. "One thing led to another, and I am living out one of my childhood dreams of living in Europe. Fulbright gave me the necessary experience of teaching in Austria, allowing me to continue doing so away from the program."
Schedule your personalized visit to Guilford to learn more about the College's study abroad offerings. You can also begin your application or contact the Office of Admission for more information— 336.316.2100 or admission@guilford.edu.
---