Features of the Guilford College Master of International Sport Management (MISM) include 12-month completion; an international focus that culminates in a study-abroad experience; and a virtual platform that combines asynchronous coursework with once-a-week live classes that students can choose to attend either in person or online, making the program available to students around the world.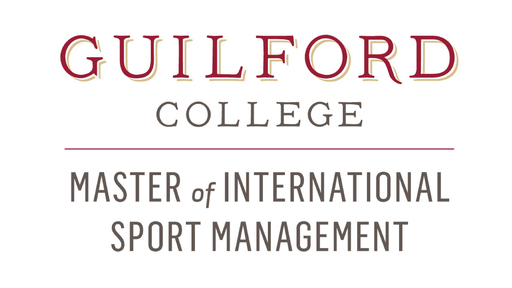 Guilford's MISM is designed for students who are ready to be leaders in the fast-paced sport industry — and those who are passionate about working in international sport. It will appeal to experienced sport-management professionals, as well as undergraduates who want to advance their comprehension of sport-management practices as they begin their careers.
The program will admit the first cohort in fall 2022, and the application is now open.
Guilford's MISM is the only graduate sport-management program in the Triad — and the only online program of its kind in a 100-mile radius of Guilford College. It will prepare students for effective, impactful careers in the sport industry both domestically and internationally. 
"The sport industry is global and its career opportunities are vast, both in this country and abroad," says Sport Studies Professor Michael White. "Our goal with this program is to open doors both domestically and internationally for our students to launch fulfilling careers that make a difference in the world."
The MISM program will be desirable for many working professionals in the greater Triad area where there are a large number and variety of sports organizations. For example, Guilford MISM students may partner with local colleges, as well as the region's numerous minor league baseball clubs, the arena football team, and minor league hockey teams. There are also professional football (Carolina Panthers), basketball (Charlotte Hornets and Greensboro Swarm), and hockey (Carolina Hurricanes) teams.
"We are extremely fortunate at Guilford to be in an area rich with networking opportunities and career paths in the sport industry," Michael says. "Even more importantly, this program will connect students with sport organizations around the globe. It seeks to leverage these partnerships so students can gain practical experiences that will result in real-world deliverables for the organizations they engage." 
In collaboration with the Guilford College Office of Global and Off-Campus Initiatives, a primary difference for the MISM is an international focus that culminates in a study-abroad experience. This course/trip will be held in conjunction with a parallel undergraduate course/trip, which will act as a networking opportunity for students at both the undergraduate and graduate levels. It will also foster a larger sense of community and connection with Guilford College and the Sport Studies Department.
"The study-abroad component will link in-class work that students undertake in their first two semesters with their final capstone project," Michael says. "This experience will provide them with a diverse and unique field opportunity, and it will give them the chance to work side by side with classmates following their previous 10 months of virtual didactic coursework."   
MISM students will be required to complete an immersive capstone experience with a sport-management organization.
By the time students complete Guilford's Master of International Sport Management program, they will have a deep and holistic understanding of how international and domestic sport organizations function. They will also know how to address such critical operational challenges as efficiency in internal and external operations, leadership philosophy, societal considerations, international perspectives, and strategic planning.
"At Guilford, taking an ethical and holistic approach to developing students is a priority, and this MISM will strive to graduate students who see the sport industry as a vehicle to improve the world around them," Michael says. "When we look back years from now, we know that our graduates will be making a difference. Whether that means they are leading franchises at the professional level, providing recreational opportunities for refugees in other parts of the world, or building careers domestically, we want our graduates to see the endless opportunities that the sport industry can provide."
Are you interested in an online international sport master's degree program in North Carolina? To learn more about the Guilford College MISM and how to apply, please visit the Guilford College Graduate School webpage. You can also request more information using this form, or contact Assistant Director of Admission Jacob Cutshall at 336.316.2100 or admission@guilford.edu to schedule a phone interview or campus visit. You can also contact the MISM Program Director at MISM@guilford.edu.
---