Guilford College Interim President Jim Hood '79 announced today that William (Bill) Foti has been named the College's new Director of Athletics. He will succeed Dr. Sharon Beverly, who served as Guilford's interim director for the past 16 months. Bill officially begins his Guilford College duties June 15.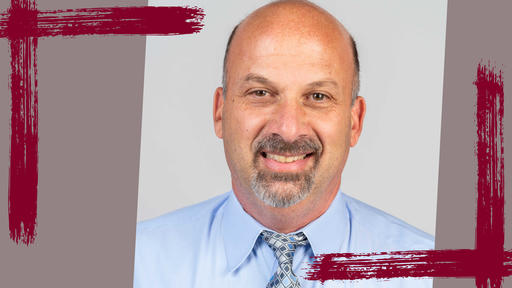 Bill's higher education career includes three decades of distinguished service, both as a senior athletics administrator and as a coach. He was a highly successful head men's basketball coach for 29 seasons at Colby-Sawyer College in New London, N.H., where he also worked his way through the administrative ranks to become Director of Athletics in 2013, before stepping into his current dual role there as Senior Associate Athletics Director.  
"Bill is a winner in every sense of the word," Jim says. "He has demonstrated a tireless commitment to the pursuit of equity and excellence in athletics. Most importantly, he has a strong passion for mentoring coaches and student athletes, consistently prioritizing academic success and responsible engagement in campus and community life. We are thrilled to have a person of Bill's caliber and character leading our athletics program."
Bill compiled a 486-259 record at Colby-Sawyer, earning him numerous "Coach of the Year" honors and placing him in the top 25 for career victories among active NCAA III coaches. In 2020, Great Northeast Athletic Conference (GNAC) athletic directors awarded him GNAC Co-Executive of the Year.
"I'm extremely grateful to President Hood and search committee Co-chairs Sharon Beverly and Gus Davis '72 for the privilege of leading Guilford Athletics," Bill says. "This is a tremendous opportunity to partner with our dedicated Guilford coaches, faculty, supporters, and especially our student-athletes in building something truly special. Together, we'll work tirelessly to ensure that our student athletes have a positive, highly rewarding experience."
Prior to his service at Colby-Sawyer, Bill had a one-year stint as Regional Commissioner of the New England Association of the Amateur Athletic Union (AAU). He began his coaching career in 1986 as an assistant at New Hampshire College, where he also served as assistant director of admission. Bill earned his bachelor's degree in political science from the University of New Hampshire and his master's in business administration from New Hampshire College. He and his wife, Cathy, have a son Nick (residing in Charlotte) and daughters Christina and Caroline.
"We are excited to see how Bill will build on the success of Dr. Beverly, who led our athletics program through the daunting challenges of COVID-19 and this time of important transition in our academic and co-curricular programs," Jim says. "Sharon's vital contributions included regularizing the athletics budgeting process, carefully managing Title IX compliance, and executing key enhancements for softball, including a new indoor batting facility set for completion in December."
---