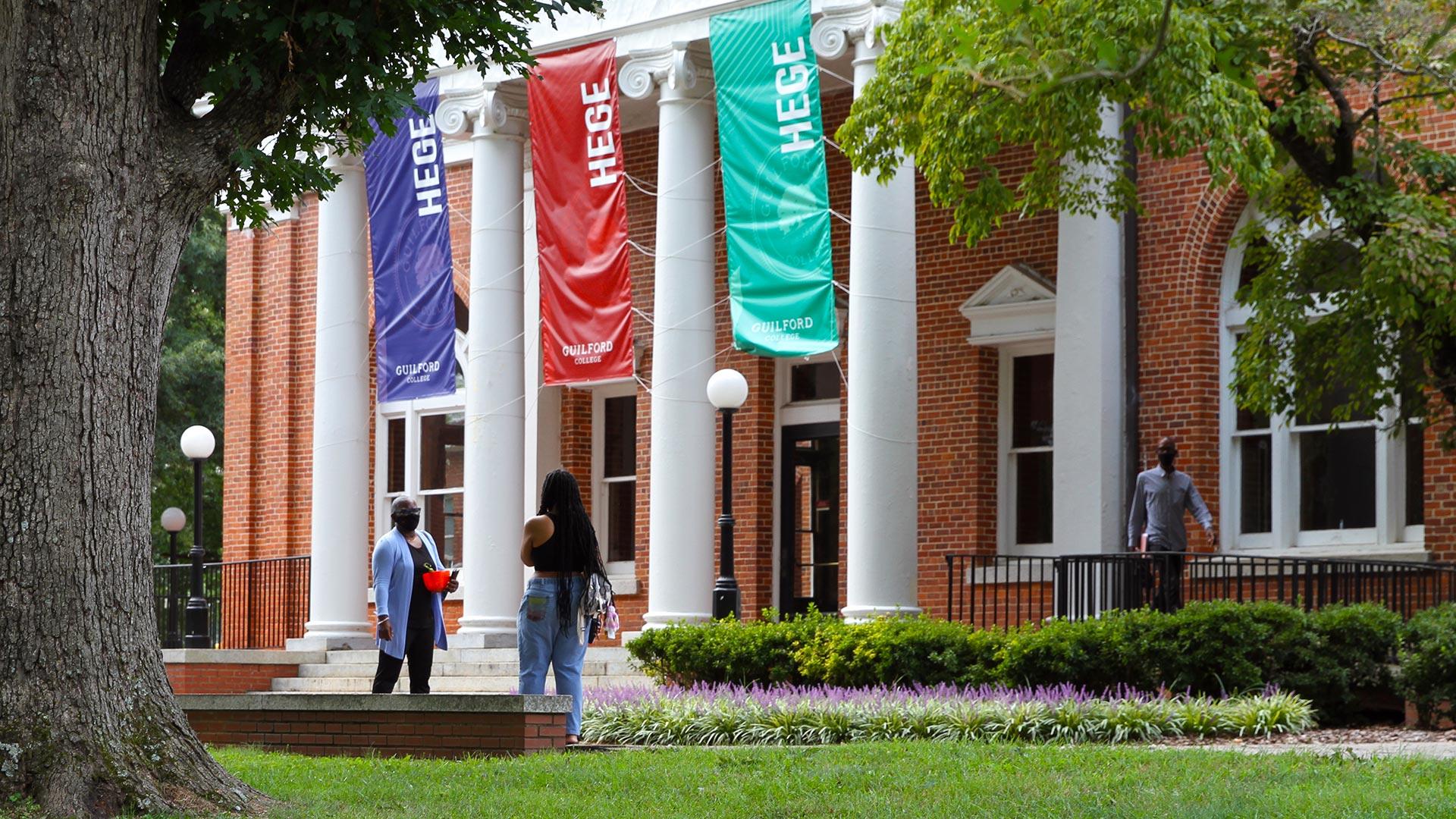 With students heading home for the holidays, Guilford College is pleased to have successfully managed the ongoing pandemic throughout the fall semester.
The outstanding collaboration between Public Safety, Student Affairs, Athletics, and the Provost's Office resulted in just 36 total coronavirus cases on Guilford's campus. With more than 1,300 students, faculty, and staff, weekly positive test rates were below 1 percent and only 2.6 percent of campus was infected throughout the entire semester.
[Meet the COVID-19 Public Health Student Workers]
"I am so impressed with the resiliency of the Guilford College community as we have managed this pandemic and adjusted to a different college experience," says Director of Public Safety Jermaine Thomas. "Our community has epitomized  good stewardship while we have navigated through this semester. Our actions and interactions impact those around us, and to have successfully kept a low number of positive cases through the semester demonstrates the care and concern that our community has for each other."
Guilford's sprawling  350-acre park-like campus, including the woods and lake, allowed for creative outdoor learning opportunities, the ability to host small-group Open Houses in person, and the space for a variety of socially-distant student activities. The community's strongly shared commitment to following health and safety protocols also allowed the College to maintain its vibrant campus life. The Office of Student Leadership and Engagement (OSLE) hosted a number of events from outdoor activities like Fall Fest to small, intimate gatherings like Friendsgiving. At every event, students were required to wear masks and practice social distancing. 
"OSLE is here for all students to feel connected to one another, especially during such a strange year," says Director of OSLE Terra Roane. "Our No. 1 goal this semester was to ensure we planned safe events. We have had quite a few big hits, and we look forward to keeping our community safe in the spring while also bringing the fun." 
Out of an abundance of caution for student and community health, students' last day on campus was Nov. 20. After fall break, they will finish the remainder of the fall semester virtually. Guilford looks forward to welcoming everyone back to campus safely during the spring semester.
---