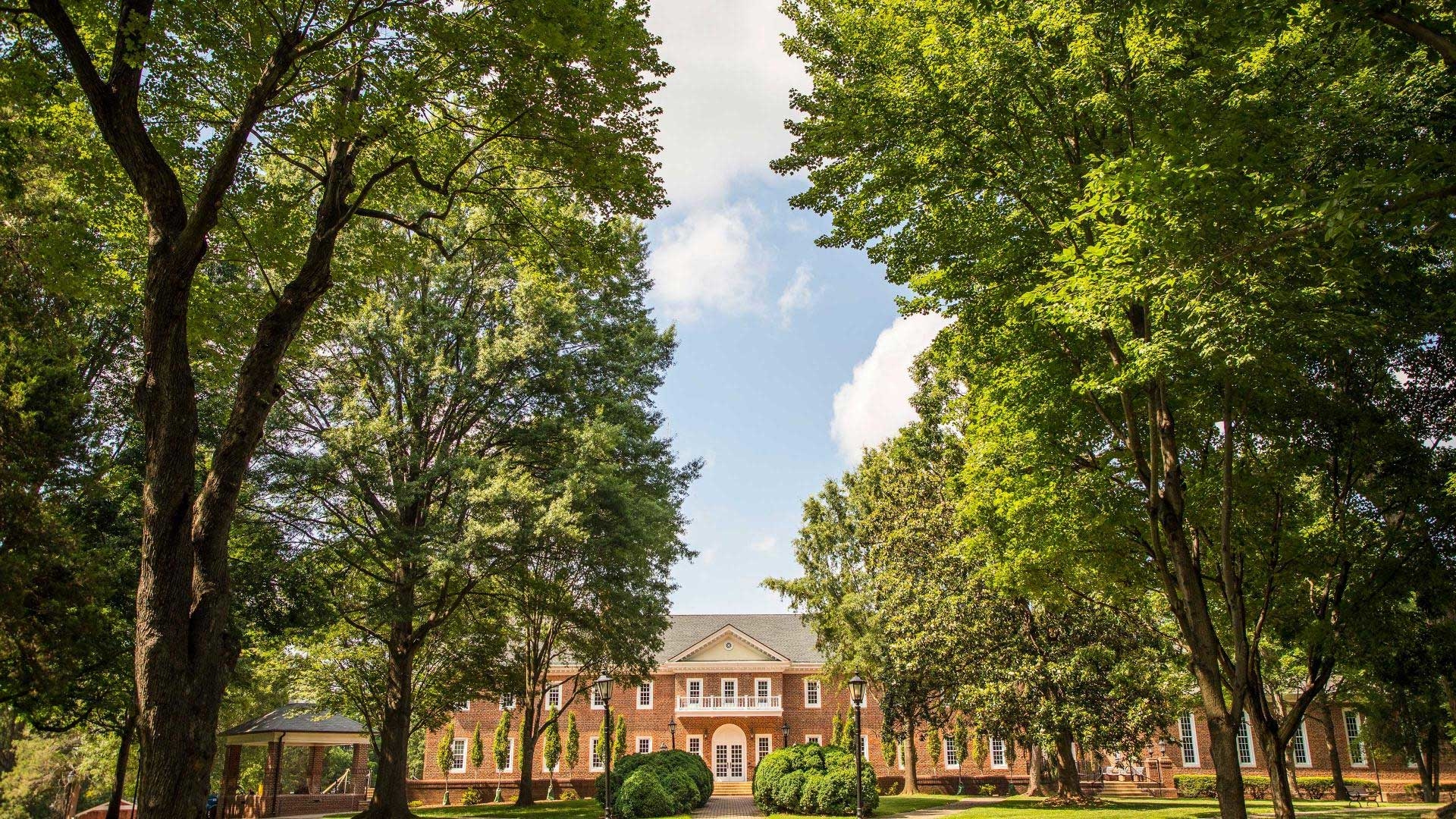 Guilford College is pleased to be making plans to re-open campus for in-person instruction this fall. Preparing to welcome back students, faculty, and staff requires extensive planning and action to ensure a safe, healthy return to campus life for everyone. The College's Health and Safety Task Force has been actively engaged in that critical endeavor and has made important progress on health and safety preparations, academic calendar and course delivery adjustments, and housing and dining planning.
HEALTH AND SAFETY
Public Safety Director Jermaine Thomas is leading the work of the College's task force, which includes representation from all campus concerns to ensure Guilford develops and implements a reopening plan that is extremely well designed, coordinated, and implemented. The College's focal priority is establishing a consistently high level of exposure control to guard against COVID-19.
The exposure-control strategy will rely on the collective capability to test, trace, and space. This involves providing COVID-19 testing, tracing, and monitoring contacts of infected persons and ensuring proper social distancing in all campus settings and interactions. The task force is examining the feasibility of these control measures and how they can be organized and implemented most effectively. The new health and safety practices we ultimately create will be in harmony with CDC guidelines and government directives. 
Additionally, the measures enacted will be wisely informed by widespread consultation and collaboration with Guilford County Emergency Management, Guilford County Public Health, and our local peers in higher education. Everything the College plans will be driven by an uncompromising priority on the health and safety of the entire Guilford College community.
ACADEMIC CALENDAR, COURSE DELIVERY
The fall semester will begin with the 3-week term on Wednesday, Aug. 19. Following a four-day session break, the 12-week session will commence on Sept. 14. In the interest of limiting exposure risk, there will be no fall break. Nov. 20 will be the last date for in-person instruction; students will then go home for Thanksgiving break and remain there to complete the brief balance (roughly two weeks) of their first semester studies.
The College will employ multiple instructional modes in the fall: online (synchronous or asynchronous), in-person, and hybrid classes. Courses will be labeled so that students can consider this information when choosing classes. This approach provides the maximum flexibility for responding to the needs of students and faculty, and the ability to adapt to any major changes in the trajectory of the pandemic.
HOUSING AND DINING
Student housing plans are still being refined to meet safety concerns, which will quite likely include providing single-student accommodations. Guilford will prioritize housing for first-year students to live on campus while developing ways to systematically transition some of the upperclass students off campus. 
While most students will remain home after Thanksgiving Break, those who are required to return to campus — athletes, for example — will have a process for petitioning to come back and live on campus for the remainder of the semester. Other students with special circumstances can also petition to remain on campus for the duration of the semester.
Similarly, the College's dining services provider is developing plans to provide for safety and social distancing, including more spacing between seats, longer meal hours, and adjustments to serving methods. 
GUILFORD ORIENTATION
The Office of Admission will host two five-day, virtual Guilford Orientation sessions slated for June 15-19 and June 22-26. Important parent sessions will also be included in the programming.
Further details on all of the College's plans to open in the fall will emerge in the coming days and weeks. The full Health and Safety Task Force is as follows:
Jermaine Thomas, Director of Public Safety
Frank Boyd, Provost and Academic Dean
Barbara Lawrence, Vice President for Diversity, Equity, and Inclusion/Title IX Coordinator
Roger Degerman, Vice President of Marketing and Enrollment
Erin Brownlee Dell, Chief of Staff
Kyle Dell, Associate Professor of Political Science and Associate Academic Dean
Michele Malotky, Associate Professor of Biology
Brett Hacker, Associate Vice President of Facilities Management
Alisa Quick, Director of Human Resources and Payroll
Steve Mencarini, Dean of Students
Gloria Thorton, Interim Director of IT&S
Raymond Johnson, Director of Contracts, Purchasing and Auxiliary Enterprises
Kristie Wyatt, Assistant Director of Accessibility Resource Center
Ben Durant, CFO and VP of Administration
Stephanie Flamini, Assistant Athletic Director/Senior Women's Administrator
Ara Serjoie, Vice President for Advancement
Jarrett Stull, Associate Vice President for Philanthropy
Suzanne Bartells, Director of Hege Library and Learning Technologies
Kathryn Shields, Associate Professor of Art/Associate Academic Dean
Shmeika King, Office Administrator
---