Certificate Program: Advancing the Role of Community Stakeholders in Refugee Integration
---
Certificate in Advancing the Role
of Community Stakeholders in Refugee Integration

October 20-22, 2023 (online)
---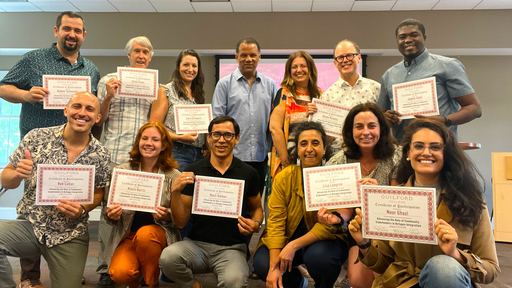 This certificate will engage participants in learning about forced displacement and refugee resettlement, and the methods by which community members can support and participate in refugee integration efforts while centering the agency and dignity of refugees as co-designers of those methods. The certificate also seeks to respond in effective, principled, and nimble ways to the current moment in forced migration and our nation's increased capacity for welcome (for example through Welcome Corps, an opportunity for Americans to privately sponsor refugees).
The program will be offered over the course of three days with 15 hours of contact split into five three-hour sessions:
Aug. 11-13 (in person) - This session was successfully completed by 10 individuals on the Guilford College Campus.
 
October 20-22, 2023 (online)
Additional trainings can be customized to your organization's specific timing and needs based on prior agreement​​.
---
---
---
The certificate will equip participants with the necessary knowledge to:
Understand global forced migration, displacement, and resettlement in the U.S. in particular — trends, experiences, impact.
Centralize the voice, agency, dignity, and contributions of refugees as new members of our communities.
Develop ecosystems of support for refugee integration with refugees as co-teachers and co-creators of these ecosystems.
Gain professional development for individuals working in related fields. 
Engage in refugee-centered diversity, equity, and inclusion practices and community engagement.
The certificate is open to:
Individuals: students, educators, community members ,employees across sectors (private, public, nonprofit, NGOs)
Organizations: businesses and corporations, faith-based organizations, nonprofit organizations 
Community-based Organizations
Non-Governmental Organizations (NGOs)
Topics covered in the training include:
Migration: its reasons, causes, and major events: the global and local history/context of forced migration as well as the future of forced migration with the threat of global climate change.
Refugee Experience and Refugee Resettlement: the history of refugee resettlement in the U.S., covering salient information about U.S. refugee history and policies.
Creating Ecosystems of Refugee Resettlement Support: how to creatively leverage local resources to support refugee resettlement and integration.
The Liberatory and Ethical Dimensions of Community Engagement with Refugees: best practices in engaging refugee resettlement in ways that center dignity, agency, and privacy of affected populations as well as the role of refugees as co-teachers and co-creators of these ecosystems of support.
Training Products:
Participants will be involved in an interactive project, which attempts to solve or address a specific challenge in refugee experience, hosting, or resettlement by implementing an innovative approach/strategy based on what they have learned during the course.
---
---
---
Program FAQ
The cost for the Certificate in Advancing the Role of Community Stakeholders in Refugee Integration is $1250 for businesses and corporations and $1000 for students and individuals. This fee covers all training materials as well.
Organizations and businesses interested in doing org-wide trainings can also reach out to us about a separate rate. We can work with you to develop a customized program that meets the needs of your organization and fits within your budget.
We understand that financial considerations may impact your ability to participate in this program, especially for students and nonprofit stakeholders. Therefore, we encourage you to contact us to inquire about financial aid/discounts. We can discuss the financial possibilities and make offers according to your budget. Please note that financial aid is subject to availability, and we may not be able to accommodate all requests. However, we are committed to making this program accessible to as many individuals and organizations as possible. To learn more about financial aid and discounts, please contact us at ecarcertificate@guilford.edu. We are happy to answer any questions you may have and help you determine the best options for your situation.
About Guilford College's CPPSET and ECAR, and the OUR Initiative
About CPPSET: Founded in 1837, Guilford is a Quaker liberal arts college instilling in its students innovative and principled problem-solving skills, experiences and global perspectives to enable them to create positive change in the world. Guilford's CPPSET has two main missions: promoting Principled Problem Solving (PPS) to help individuals and organizations find solutions to complex problems based on values, and housing the Excellence in Teaching (ET) initiative that supports faculty and educational development through research and innovative programs.
About ECAR: ECAR mobilizes partnerships between colleges and universities and local resettlement agencies to provide newcomers with free temporary housing on campus as well as community support. The program provides a softer landing and more dignified beginning for newcomers and enhances the educational, research, and service missions of colleges and universities. The flagship campus at Guilford College has hosted over 90 refugees since its inception in 2015.
About OUR: OUR is a global educational initiative, which was founded in Singapore in 2015 to bring together institutions which offer, or are willing to offer, higher education courses and/or diploma and certificate programs to the displaced peoples. It organises participant led and action oriented workshops called the 3C Forum –Cs standing for Collaborate, Create and Change. The idea behind is to offer a platform to bring refugee communities together with organizations, institutions and people who have resources, expertise, influence and a willingness to deliver higher education opportunities in protracted refugee situations. Since 2015 delivered 7 forums engaging more than 450 attendees to understand the HE needs of refugees & brought leading partners together in Malaysia, Indonesia, Hong Kong, Australia, New Zealand, Iraq and UK to offer change.