How to Apply: Master of Criminal Justice
---
All sworn and non-sworn Criminal Justice workers receive a 10 percent discount on tuition.
---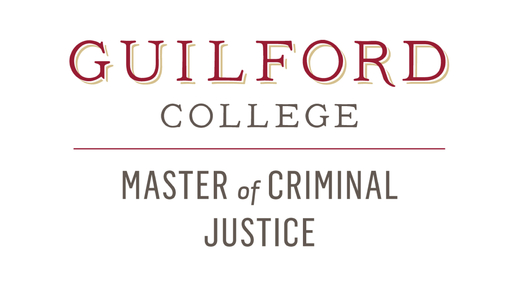 Please note that you can return to upload additional information after you submit your application.
Requirements
All applicants must meet the following requirements. Exceptions to these requirements will be considered on a case-by-case basis:
Have earned a baccalaureate degree in a social or behavioral science from an accredited college or university.
Have earned a grade point average of 3.0 (on a scale of 4.0) in their most recent two years of undergraduate work.
You may choose to take the GRE examination, but it is optional for admission. If you choose to take it, scores must be included on the application, and applicants must provide test result information directly from the testing service. Guilford's ETS code is 5261. Student copies of scores will not be accepted for review.
Submit a statement of purpose. (Once you submit your application you can still return to your account to upload additional requirements, like your statement of purpose.)
Submit a resume.
Two letters of recommendation are required. A link to a digital form will be sent to the recommending persons who you identify on your application. They will respond to a series of questions, and they can also upload a letter. They should address your ability to successfully complete a graduate level program.
Students whose undergraduate degree is in a language other than English must submit TOEFL score.
Enrollment Fee
It's free to apply for Guilford's Master of Criminal Justice program. If accepted, a $250 deposit, which will be applied to your first tuition bill, will be required to hold your spot.
Accelerated B.S. to M.S. Program (Guilford College Students Only)
The accelerated B.S. to M.S. program allows Guilford students to begin their graduate work as undergraduates. In this model, full-time Guilford undergraduate students apply for the graduate program in their junior year. If accepted, they take one graduate course in the fall of their senior year and two graduate courses in the spring of their senior year. These graduate courses replace the two upper-level electives in the Criminal Justice major and the one lower level elective in the Criminal Justice major.
 
Undergraduates who are not Criminal Justice majors may be accepted into the program, but the decision to allow graduate courses to count for major requirements is at the discretion of the department the student is majoring in. If a department does not allow graduate courses to count for major requirements, the graduate courses would count as general elective credits toward their undergraduate degree.
 
Admission into the accelerated program requires:
A minimum cumulative G.P.A. of 3.0
A completed graduate program application in the student's junior year
Acceptance into the program by the Graduate Program Director
 An undergraduate student will not be allowed to take graduate courses until they have completed JPS 300 (Professionalism and Ethics in CJ), JPS 333 (Criminology), and JPS 337 (Research Methods).
 
Graduate courses taken as an undergraduate student will double count toward both their bachelor's degree and their master's degree. Only full-time undergraduate students are eligible to be admitted into the accelerated B.S to M.S. program.
Transcripts and Academic History
Please obtain official transcripts from each college-level institution that you have attended. You should request from the institution's registrar's office that the transcripts be mailed directly to Guilford College at the following address:
Guilford College
Office of Admission
5800 West Friendly Ave
Greensboro, NC 27410
Students who have attended Guilford College do not have to obtain their Guilford transcript. They are, however, responsible for obtaining all other college-level academic transcripts. Photocopied or faxed copies are not considered official. Please note that transcripts received in unsealed envelopes are not considered official and will not be processed.
---
---
---
Statement of Purpose
You are required to submit a statement of purpose with your application. This statement (500 words maximum) should clearly and succinctly describe why you are choosing to attend graduate school and why you have the ability to take on the challenges of graduate school at Guilford College. 
Resume
Guilford College requires that applicants submit an updated copy of their resume. The resume must be included with the application. Please endure that your resume has all the work and extracurricular activities you engage in that will give the committee the most information about your background and qualifications. Your resume will be the only place that lists this information.
Letters of Recommendation
Applicants for graduate degree study must include two letters of recommendation. You must list recommenders on your application in order to submit the application. Recommendations must be received directly from your references or must be sealed in an envelope with the recommender's signature across the seal and included in your application packet. Recommendations must be sent to the following address:
Office of Graduate Admissions
Guilford College
5800 West Friendly Ave
Greensboro, NC 27410
International Students
Taken an official TOEFL (paper-based) and earned a score of at least 550, or taken an Internet-based     TOEFL (iBT) and earned a score of at least an 80 or show proof of successfully completing an Intensive English language before attendance at Guilford College. Guilford's TOEFL code is 5261. 
Taken an official IELTS and earned a score of at least 6.5 (no more than two years before attendance at Guilford College). 
Successfully completed level any advanced level English language training program prior to starting the graduate program. 
An International Student Financial Affidavit must be completed to document the applicant's ability to meet all educational and living expenses for the entire period of their intended study. Supporting documentation must also be submitted.
---
Application Deadlines
Admission for both fall and spring semester will be on a rolling basis. Students who apply will be reviewed and will be notified of their admission decision within three weeks of their application file completion.
We appreciate your interest in the Master of Criminal Justice at Guilford College. We look forward to future correspondence with you, and encourage you to contact the Office of Admission at 336.316.2100 or admission@guilford.edu or the graduate program director at mcj@guilford.edu or 336.316.2418 at any time during the application process.
---