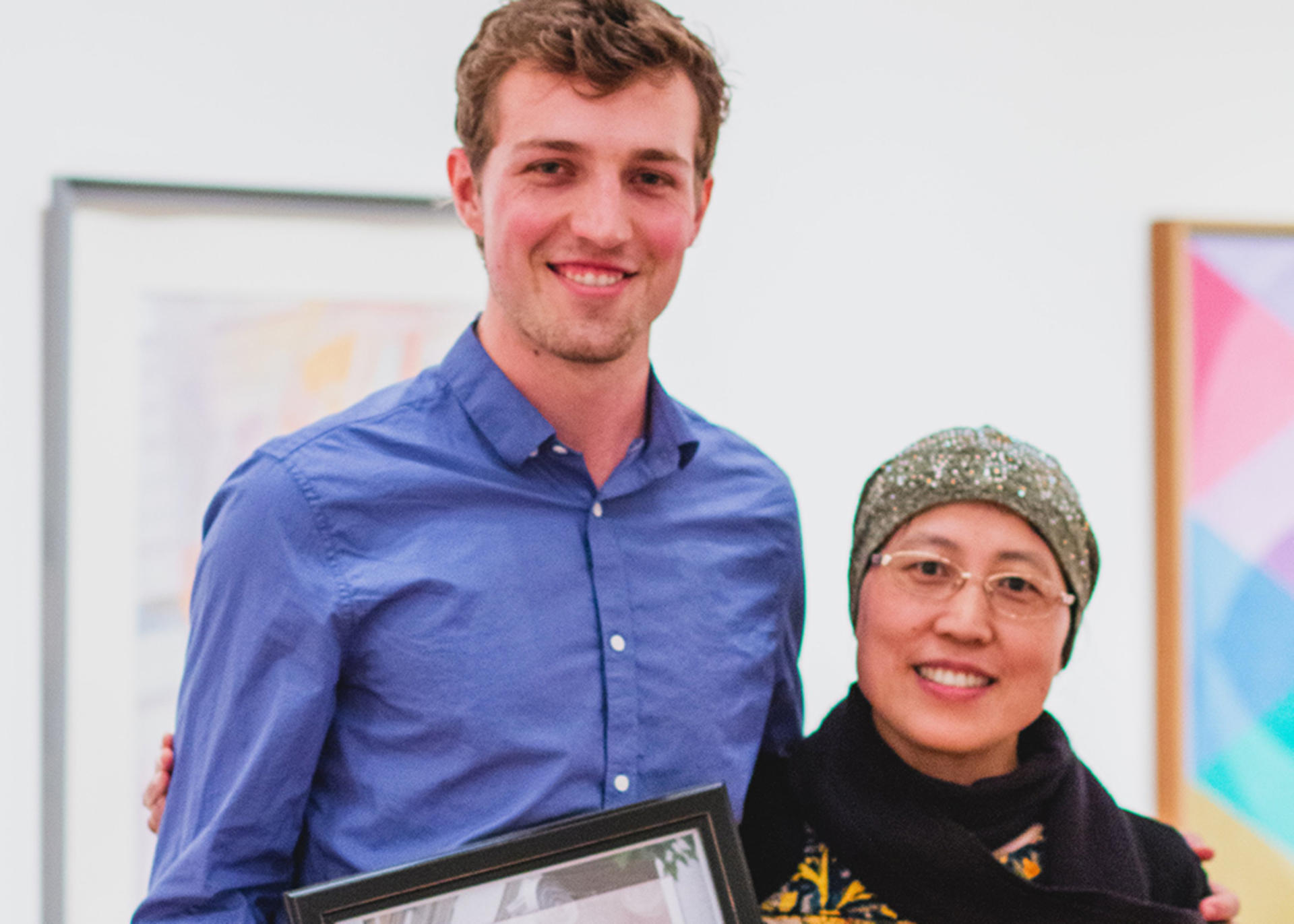 Growing up in Thailand, Chris Collins '19 developed a passion for understanding the world's diverse cultures. Guilford gave him the tools he needed to turn this passion into a successful future as an engaged global citizen.
"It was great to be part of the international community and multiculturalism at Guilford," Chris says of the College's diverse and inclusive campus environment.
As a member of the International Club, he worked with incoming students from overseas and with the Office of Global and Off-Campus Initiatives (study abroad). Chris was also part of Every Campus a Refuge and the Multicultural Leaders Scholarship Program, a year-long program designed to develop students' understanding of diversity, equity, and inclusion and their impact in society. He credits the latter program with kickstarting his knowledge of institutional racism across the U.S.
"I think this is extremely important and it's the center part of what I took away from my academic and personal experience at Guilford college," Chris says. In light of recent events of police brutality, he is especially thankful for these lessons and hopes to continue to work as an ally to understand and dismantle institutional racism in various systems.
"Guilford is where I learned how to put these values into action. And that education wasn't just through professors who were conscious and social-justice minded but also through fellow students who I had the opportunity to engage with on multiple levels," Chris says.
"Guilford really checked all the boxes for what I would want in an undergraduate education."
Honored Achiever
The Honors Program also played a part in Chris's international studies, allowing him to travel to Shangri La to study Chinese boarding school education in Tibetan communities with Professor of Religious Studies Eric Mortensen and two other students. Associate Professor of History Zhihong Chen also played an instrumental role in Chris's work, providing excellent advising on classes and his thesis and supporting his future academic endeavors.
 "I have to give a shout out to the Honors Program and Director of the Honors Program Heather Hayton for the connections and academic assistance throughout my four years at Guilford college," Chris says.
Heather even helped him find his major by introducing him to Guilford's Integrative Studies program. With so many interests, Chris struggled to select just one path, and Integrative Studies gave him the opportunity to design his own track — a double major in Integrative Studies, focused in environmental policy, and East Asian Studies. "It was the best of both worlds because I got to take classes with so many different professors and several disciplines, and it ended up tying together quite nicely," Chris says. 
Throughout his time at Guilford, Chris also received multiple scholarships including the Dorothy Ragsdale McMichael Scholarship, the Charles A. Dana Scholarship, the previously mentioned Multicultural Leadership Scholarship, and the Guilford Core Values Scholarship.
"An incredible part of my Guilford education is that the costs of it were reduced significantly through the generous donations of alumni and other benefactors of the school," Chris says. "That was a huge part of my ability to even attend Guilford. So I'm definitely thankful for that."
After graduating, Chris spent two months in North East China on a critical language scholarship, participating in an intensive summer language program with the State Department. He now works as a Cultural Educator and After School Programming Classroom Teacher at the Greensboro Montessori school and plans to begin a Master's program in International Development at George Washington University in the fall.
"My Guilford education and experience were very well rounded and academically rigorous. It also personally showed me how to be passionate about certain ideas and values," Chris says. "Guilford really checked all the boxes for what I would want in an undergraduate education. That's just my experience, and I was very grateful for it."
---