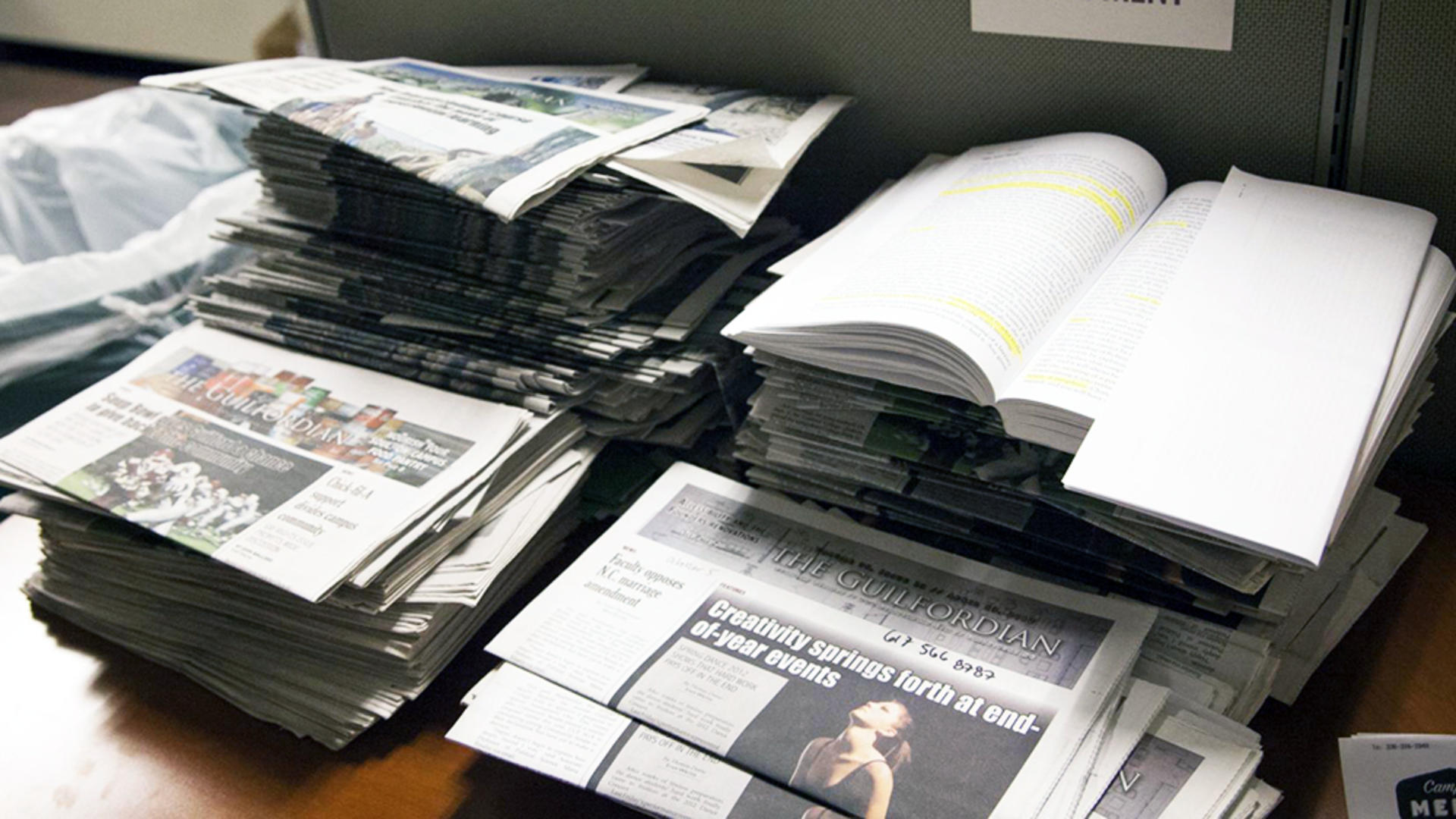 The Guilfordian, Guilford College's student newspaper, received seven "Small Campus" awards from the N.C. College Media Association at the 2019 Statewide College Media Awards.
"I couldn't be happier about the NCCMA's recognition of the hard work, commitment, and creativity of the Guilfordian's editors and contributors in the 2019 calendar year. I commend current Editor-in-Chief Lana Heltzel '20 and 2018-19 Editor-in-Chief DaeQuan Fitzgerald '19 for their leadership and their roles in continuing the Guilfordian's tradition of producing quality student journalism for their peers and the larger Guilford community," says Guilfordian Faculty Adviser and Visiting Assistant Professor of English Tracie Fellers.
The team was named "Best in Show" in the newspaper and online news categories. Adebayo Oladele received third place in the cartoon category for "USSR's capitalist experiment, effect"; Hazel Wechsler '21 was awarded first place and Dafne Sanchez Aguirre '19  was awarded third place in the illustration/graphic category for "Climate Change Strikes Blaze Across the World" and "The Unofficial Spooky Issue" respectively; Lana received an honorable mention in the feature writing category for "Guilford's party culture continues to struggle"; and Abigail Bekele '19 was awarded second place in photography.
"The recognition we received at the NCMA awards means so much to me. Working on the editorial board of a small college's newspaper presents distinct challenges," Lana says. "Coming into this year, I knew I wanted to make the Guilfordian a paper that the student body could get excited about reading, so art direction was really important to me. I began recruiting student artists to make cover designs and cartoons; I wanted our paper to have a spirit that reflected Guilford's student body. So I'm thrilled that the N.C. Media Association recognized the work we've been doing on that front. Everyone on the editorial board, the staff, and our adviser put a lot of blood, sweat, and tears into making the Guilfordian. To see that hard work validated makes me, the Editor in Chief, feel like I did something valuable."
Guilfordian staff are guided by the seven Core Values of the College — community, diversity, equality, excellence, integrity, justice, and stewardship — striving to remain true to the facts, to the community's ideals, and to its mission.
The N.C. College Media Association was formed in December 2007 and is based in the N.C. Scholastic Media Association offices in the School of Media and Journalism at UNC Chapel Hill. Its annual Statewide College Media Contests include categories for student newspapers, yearbooks, and literary magazines.
---