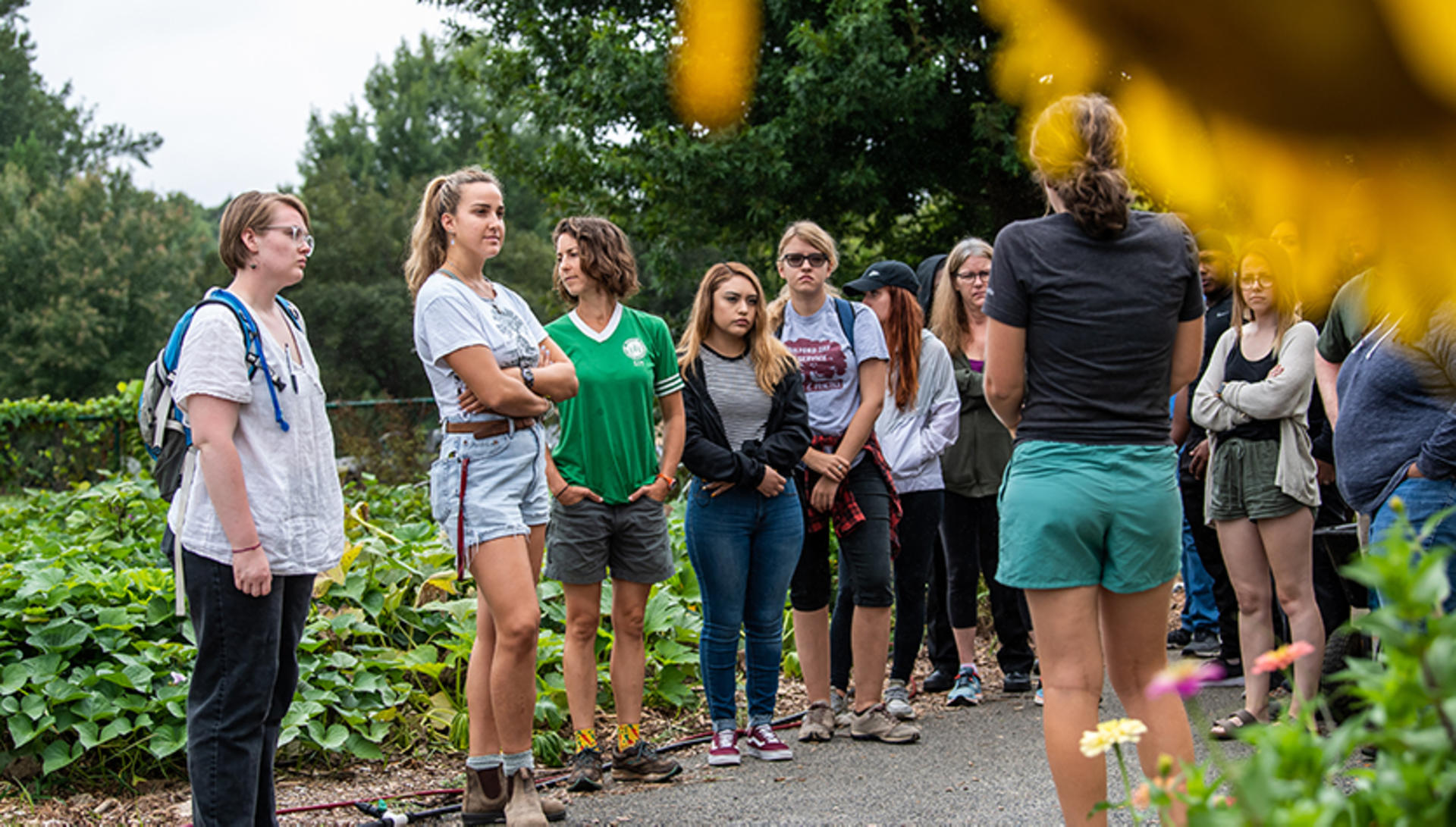 "Food and Faith" takes students on a journey to explore the most basic and important tasks that tie all of life together — gathering, making, and eating food.
In their new course, Visiting Instructor of Environmental and Sustainability Studies Bronwyn Tucker and William R. Rogers Director of Friends Center and Quaker Studies Wess Daniels break down how many major religious traditions view food — from how agriculture shows up in the bible to how taking care of the land plays into being a good neighbor and how individuals connect farming lifestyles with their faithful practice.
"We took the approach of building appreciative knowledge; there is so much wisdom to learn from these traditions, especially in this moment of crisis and change," Wess says. "These traditions are old and have survived and transformed through challenges, not unlike what we see today. What better place to ground ourselves than in wisdom and practices that have stood the test of time?"
Guilford College is a multifaith community, with Christians of every variety, Jews, Muslims, Buddhists, people who are agnostic, people who are secular humanists, "Nones," and many more represented on campus. Bronwyn and Wess introduced as many different religious perspectives as possible through field trips, intensive reading assignments, group discussions, and personal reflections. They started their lessons all the way back at the beginning with the Latin root of religion — religio, meaning "to bind together."
"It is easy to imagine more institutionalized versions of religion," Wess says. "But if we broaden our understanding to 'of that which binds us together' then we see how families, cultures, politics, sports, ideologies, and even our shared like or dislike of people or groups can also function as a religion."
The class discussed how this theory makes religion inevitable and talked about ways in which religion plays a role in how humans are bound together as people and communities.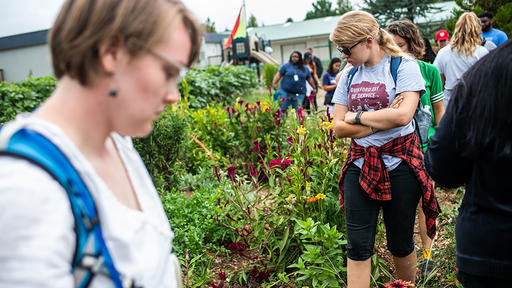 A Leap of (Learning) Faith
The new Guilford Edge curriculum played an essential role in allowing this course to be taught in a more meaningful way through first-hand experience of the faithful concepts that students were reading about in the classroom.
"I've appreciated the Edge because that's how I like to teach anyway, and so I just feel greater support to do those things," Bronwyn says. "If I'm not having fun or if I'm not interested — how can I expect them to be? And so I think the Edge really encourages experiential learning and team teaching, which I have found so valuable."
The group often prepared and ate meals together and went on field trips nearly every other day. 
"My favorite part was the field trips," says Business and Spanish double major Shayne Kenny '20. "I really loved interacting with people outside of class, and I really loved volunteering. I enjoy having the opportunity to meet new people from different walks of life."
Students visited a Catholic workers farm that houses formerly homeless men who work there; they attended a community lunch at St. Barts that brings people together by providing free meals to the entire community, not just those in need; and they celebrated a Shabbat meal together. 
"Having meals together and preparing meals together and talking about the meaning behind what we're doing, whatever people's perspective was, created an amazing bond with the whole class," Bronwyn says.
The goal was for students to reflect on their own relationship to food and faith and to consider their life and practices around these two things. As part of their final project, each student shared a blessing, either religious or not, that they wrote to use during meals with loved ones — a beautiful, moving, and vulnerable experience for the entire class.
Providing students with hands-on experiences and deep connections strengthened their understanding of stewardship, food, and faith — and it allowed them to walk away with a greater appreciation for the process of how their everyday needs are met and to find inspiration and motivation in protecting our Earth. 
"We felt to have a class on the subject of Food and Faith should be as inviting as possible," Wess says. "This is an aspect that we will continue to build on in the future because there is so much depth and richness we still have yet to learn."
---