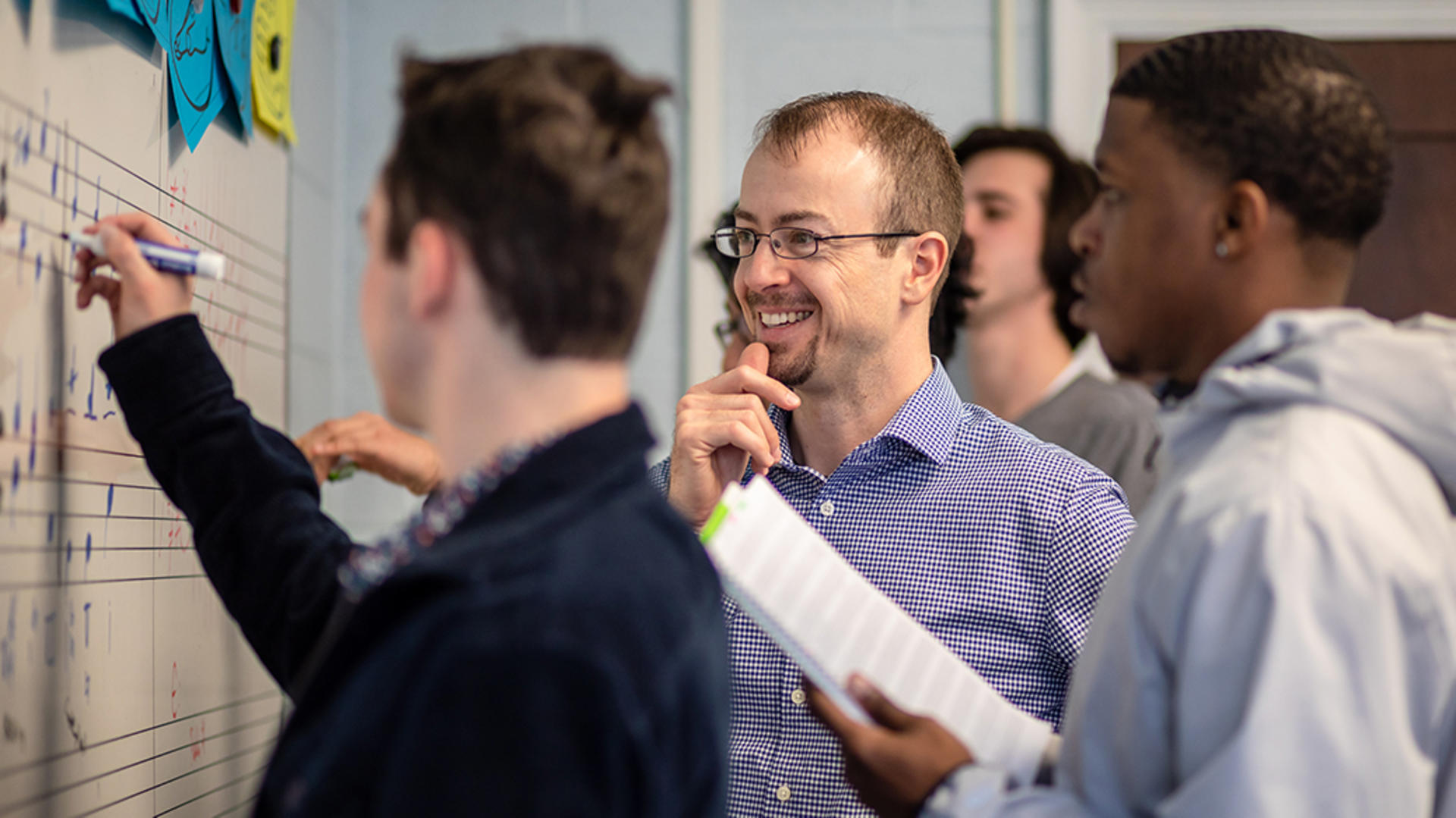 Music has been bringing people together for thousands of years, and that's exactly what Professor of Music Drew Hays aims to do in his Music Theory classes.
As the department chair, Drew feels responsible for creating a sense of community among the music students and their professors. "Nothing makes me happier than when I come in, in the morning and they're out in the foyer working together as a group, asking each other questions and sharing information. That's part of that community — that they will ask each other and help each other out. That's what we're trying to foster, and that's the way it should work," he says.
Since Music Theory is one of just a few classes that meets every day for the entire semester, Drew uses this course to help first-year students become familiar with what to expect from their major and to establish supportive relationships with their instructors.
"The important thing about the Music Theory classes is that this is the first chance you have to bring the majors all together," Drew says. "And they're either first-semester on campus or first-semester in the major, and that is the class that gets them integrated into the music community."
The class dives into the fundamental properties of how musical scores are written, notated, and read—  teaching students basic rules and general principles, like key signatures and the way certain chords move — that higher level courses build upon.
"These are as applicable to the music that we hear today as they are to music that's 300 years old. Sure, Bach and the Beatles and Taylor Swift are very different things," Drew says, "but the general properties that dictate how tonal music works, which is the music we study in western canon, is all built around the same concepts."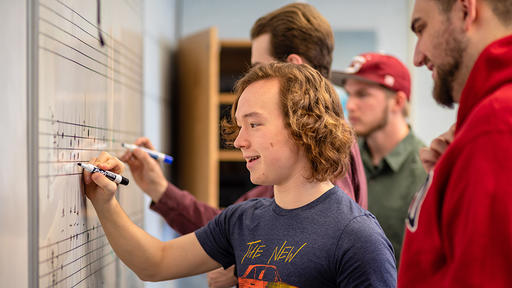 Gaining an Edge in the Classroom
With changes to the course schedule as part of the new Guilford Edge curriculum, music students and faculty are enjoying the freedom of longer, more integrative class periods. "There's more time for them to ask questions, there's more time for them to be comfortable," Drew says.
This is especially important for second-semester students who are in the middle of part writing, a notoriously tedious and difficult subject that is best learned by a combination of lectures and hands-on activities. 
"One of the key components of music that we study heavily is the flow and structure of chords. It's what makes the musical world go around!" says Music Education major Garrett Bunn '23. "As a percussionist who doesn't have a huge background in notes and key signatures, this was never in my wheelhouse. Learning these things has helped me contribute more consciously to the sound other instruments are making."
As each level of theory builds on concepts from the previous semester, it's important for students to truly understand each lesson. 
"It's actually been really great. I know the class is doing better because of it," Drew says of the extra time, noting that he's seen improvements on students' comprehension. Drew compares it with learning the basics of any language — they first learn spelling, then grammar, then sentence structure, and eventually are able to write full stories, or in this case, scores. 
"It's very important to us that each concept builds on the previous one, so that students have a fundamental understanding of how the art form grew and changed, and how each concept connects to the others," he says.
With the recent switch to online learning, Drew is adjusting his lessons to ensure that a sense of community remains, even when far apart. The class continues to meet "face-to-face" on a regular basis via Google Hangouts, using a music notation program to demonstrate and review concepts. Drew says the students have already adapted well, but he misses the in-person sessions. "I can't wait for fall and to have them back in my classroom again." 
Drew looks forward to continuing to pull in more technology, integrating jazz and contemporary theory, and strengthening the music community at Guilford in the coming years.
---