Guilford students partner with the Volunteer Income Tax Assistance (VITA) program, sponsored locally by the United Way and federally by the IRS, to offer free tax help to the Greensboro community.
Currently in its fourth year at Guilford, students in the Accounting program give up their Saturday mornings to work as IRS certified volunteers, providing basic income tax return preparation with electronic filing to qualified individuals. 
Two Guilford Technical Community College (GTCC) students and 10 Guilford College students act as greeters and tax preparers, alongside a Guilford College staff member. This year, the group will prepare nearly 100 returns over four sessions.
As the faculty adviser for VITA, Professor of Accounting Ron Cardwell oversees the student volunteers to prepare them for this responsibility. Those working as greeters receive specialized ethics and intake training, while those working directly on the returns hold an advanced tax preparer certification. Ron also uses a software program to double check each return before submission.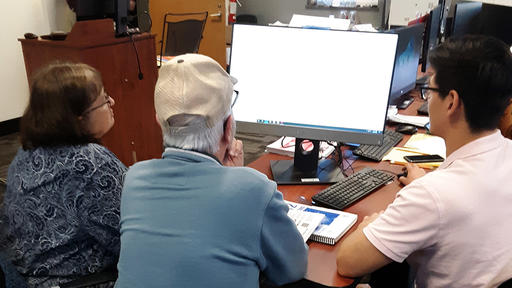 "For those students who will soon be looking for a job after graduating from college, tax-clinic experience helps them stand out in the applicant pool and builds their confidence for the interview process," Ron says.
These students gain unique, real-world experience — and they give back to the community. The VITA program is meant to serve taxpayers with lower incomes and disabilities, as well as those with limited English, who need assistance in preparing their returns. The program saves each client roughly $300 to $400, compared with a retail tax preparer.
"Gaining real-world experience while helping people with their accounting needs is an invaluable experience, and it will undoubtedly prepare me for a future career as an accountant," says Post-Baccalaureate Accounting student Robb Stowe '20. "I look forward to helping people with their taxes while hopefully relieving some of the stress and uncertainty of the process so that the taxman is one less thing people have to worry about."
---