By Ramya Mulugu '20
Max Keith Shumate '19 of Clayton, N.C., sought a close and accepting community for his college experience. He found it at Guilford.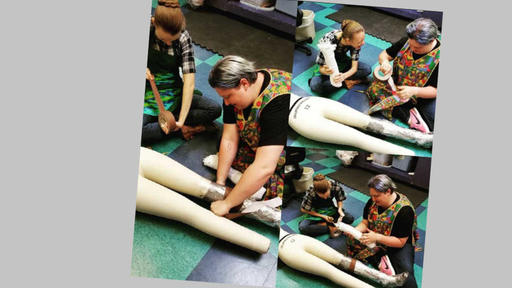 "I chose Guilford because I really resonated with the Quaker values that it advertised when I was touring there," Max says, "and I fell in love with the people who populated the campus. They all seemed very loving and welcoming, and I felt like I fit right in."
Max chose to major in Theatre Studies with a double track in Design and Performance and to minor in Film. 
"My favorite classes were in the Theatre Studies Department. 'Intro to Theatrical Design' is the class where I decided I wanted to be a designer," he says. "I enjoyed all of my acting classes as well, Shakespeare especially. Another one of my favorites was 'Gay and Lesbian Cinema.' " 
He also emphasizes how much he was supported academically and personally by faculty.
"Robin Vest (Assistant Professor and Chair of Theatre Studies) and Chad Phillips (Visiting Assistant Professor of Theatre Studies) really had my back, especially during the latter half of my college career," Max says. "Providing so much support as I grew not only as a student but as a human was super important to me throughout my time at Guilford, and I love that I can still go to them if have questions." 
He also notes that Robin played a major role in his career decision. "Robin is pretty much the whole reason I became a designer. She got me to fall in love with the design process so much so that I was constantly looking for new ways to learn and for new challenges, which led me to interning in a shop where I can constantly build and grow."
Learning Outside the Box
Max praises the opportunities he had at Guilford to study abroad and participate in such extracurricular activities as the Revelers, Yachting Club, and Pride. "These are where I met all my friends!" he says. He was also part of the Edinburgh Fringe festival. "Fringe was incredible, and getting to perform internationally was an invaluable experience that I'd love to do again," he says.
After graduation, he had the opportunity to pursue a costume-design internship at the Lexington Children's Theater in Kentucky. "I found this job through the Southeastern Theatre Conference, which Robin told me about," he explains. "They have a huge job fair where you can interview with hundreds of theaters for jobs and internships. I recommend everyone in the Theatre Studies Department do it!" 
He has no doubt that the internship has added tremendous value to his career path. "Through this internship I've learned how to drape and construct garments from scratch, pattern drafting as well as altering existing patterns and slopers, and how to do major alterations on existing garments." He concludes, "Having hands-on opportunity to really nail these skills is invaluable to my career." 
Are you passionate about theater, design, or film and eager for hands-on learning opportunities? Schedule your personalized visit to Guilford to meet faculty, students, and staff who are eager to help you reach your goals.
---