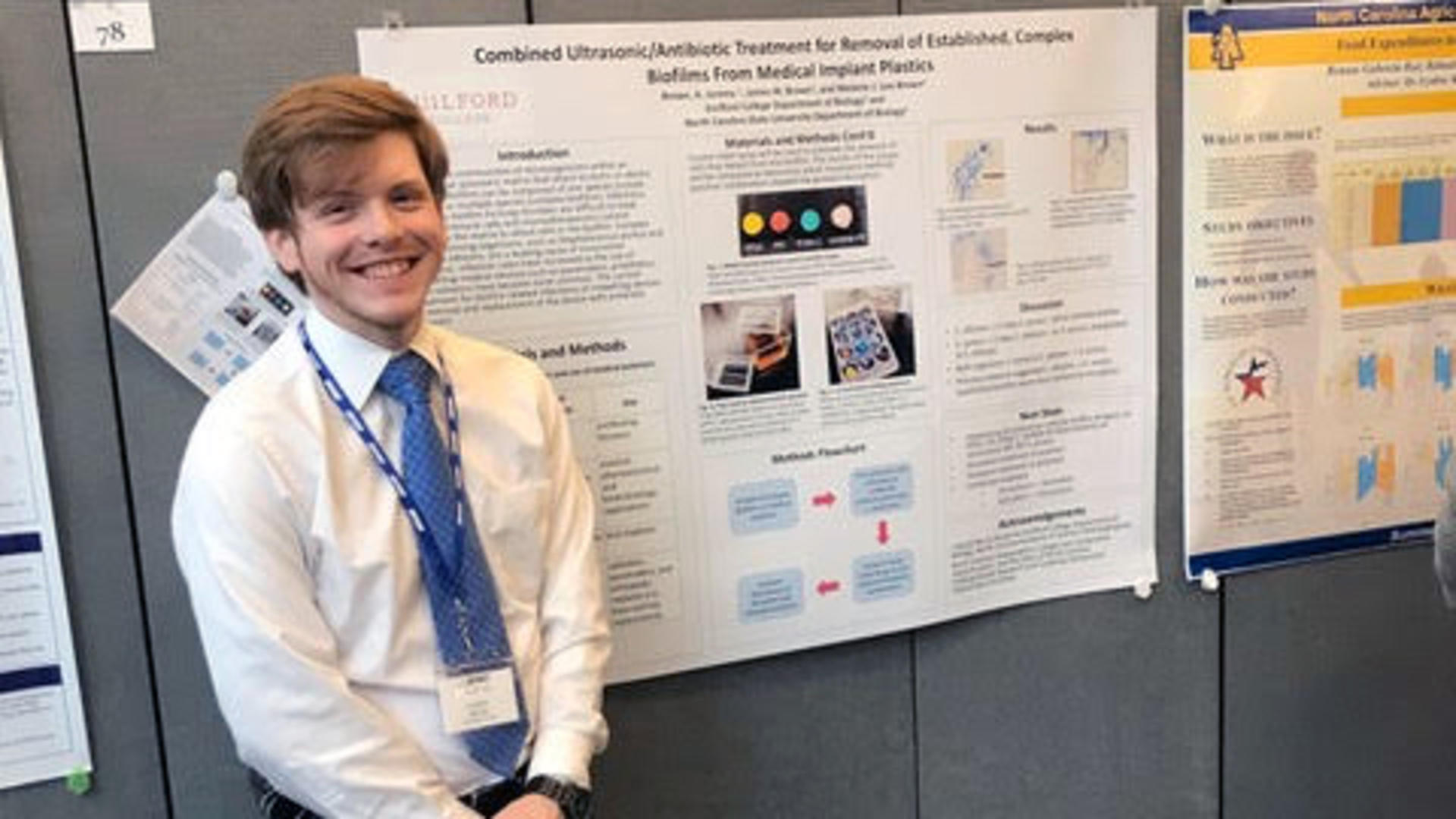 Biology major Jeremy Brown '20 recently received two prestigious grants for his current thesis research on the "Combined ultrasonic/antibiotic treatment for removal of complex biofilms for medical implant plastics."
The first grant was awarded by the N.C. Independent Colleges and Universities (NCICU) Undergraduate Research Program and the second by the N.C. Academy of Sciences (NCAS) for their Yarborough Undergraduate Research Grant. Jeremy is conducting his research under the guidance of his faculty adviser Professor of Biology Melanie J. Lee-Brown, in collaboration with Professor Emeritus of Biological Sciences of N.C. State University James (Jim) W. Brown. 
"I am grateful to Melanie and Jim for their mentorship and support through this process. Aside from the honor of receiving these grants, this experience has been incredibly valuable to me. Writing the proposals helped me to more deeply connect to my research, and presenting at SNCURCS, and in March at NCAS, provides me with feedback and observations from others that I may not have discerned alone. Not to mention the networking for my next steps after graduation," Jeremy says.
Competition for both grants involved the submission of a research proposal including a description of the research project, the materials and methods to be used, preliminary results, and a budget. 
As part of the NCICU grant, Jeremy was invited to speak at the State of North Carolina Undergraduate Research and Creativity Symposium (SNCURCS), hosted by Duke University on Nov. 23, 2019. He will also be presenting as a Yarborough awardee at the 117th Annual NCAS Meeting to be held March 27-28, 2020, at Lenoir Rhyne University in Hickory, N.C.
Jeremy is planning to apply for Ph.D. programs in Molecular Biology and Microbiology for fall 2021 admission.
---