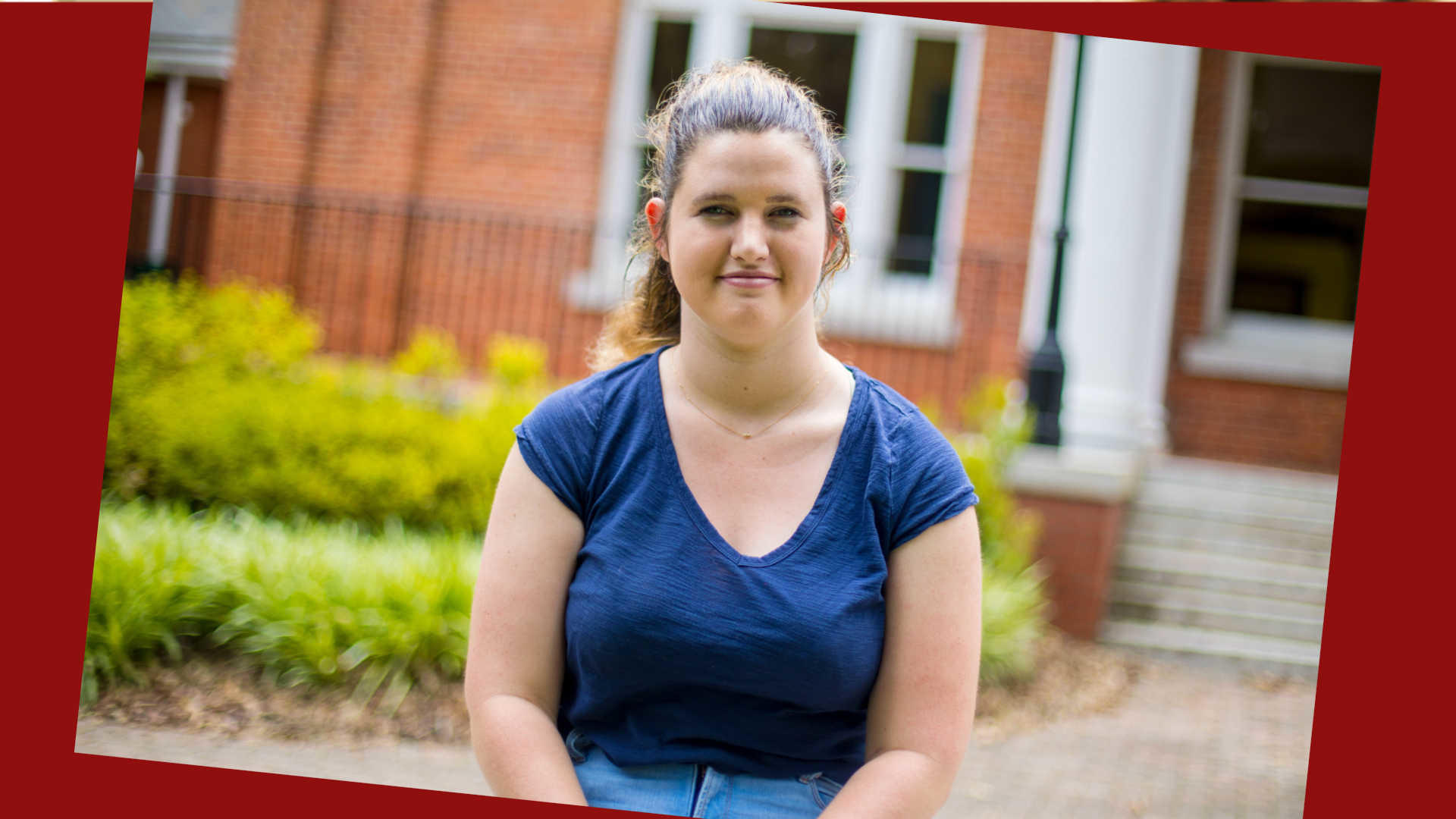 By Jhanna Vasser '19
Washington, D.C., native Ginger Mandel '19 started her college journey in pursuit of developing her painting skills — until she stumbled upon Guilford in the book Colleges That Change Lives.
Before arriving at Guilford, Ginger Mandel '19, a Sustainable Food Systems major and Creative Writing minor, was strongly considering the arts. "I didn't want just art. I wanted to be with different people of different backgrounds, focusing on different things."
It was when Ginger's mom gave her a book that she discovered Guilford. "I was looking in Colleges that Change Lives. I found Guilford, visited, and fell in love!" she shares. "When I visited for the first time, everyone was so welcoming to me and my dad. I liked seeing how people interacted with one another and welcomed me personally into the community. I was really shy on my first visit here and by the end, I felt like I was part of the community."
Change of Plans
"I was originally wanting to do Environmental Studies or something along those lines. I started off as a double major in Environmental Studies and Creative Writing," she says. "I have always been interested in how people interact with the environment."
Once she learned about Guilford's Sustainable Food Systems major, however, she was drawn to how interdisciplinary it is.
"In Sustainable Food Systems you can take electives in different areas," she explains. "I took accounting, and a law policies, food, and agriculture course. You're able to choose what you want to do with the major, and that's what I like most about it."
Life After Guilford
"One of the interests I have now stemmed from one of the courses I took," she says. "In fall 2018, I took Modern Environmental Problems. My class had to work with a campaign in Greensboro called Ready for 100, where we were trying to get members of the Greensboro City Council to get Greensboro to be 100 percent renewable by 2035."
Working with Ready for 100 showed Ginger how her Sustainable Food Systems major aligns with her passion to care for the planet and what she wants to do in her life. She is currently working on another campaign in conjunction with the Greensboro Farmers Market.
"When I first came to Guilford I had not discovered many of the passions I have today, but I was interested in loving the planet and caring for it," she says. "Right now I'm a Sustainability Market intern, working on another campaign where we're trying to cut down on plastic usage at the farmers market. A long-term goal I have is to start a business or nonprofit."
As a recent Guilford alum, Ginger's advice to prospective students is, "Get involved early in anything. It doesn't have to be a club, just make yourself known and don't be afraid to fail!"
Are you interested in the intersection between food, politics, and society? Schedule a visit to Guilford to learn more about the Sustainable Food Systems major and to take a tour of the College Farm.
---