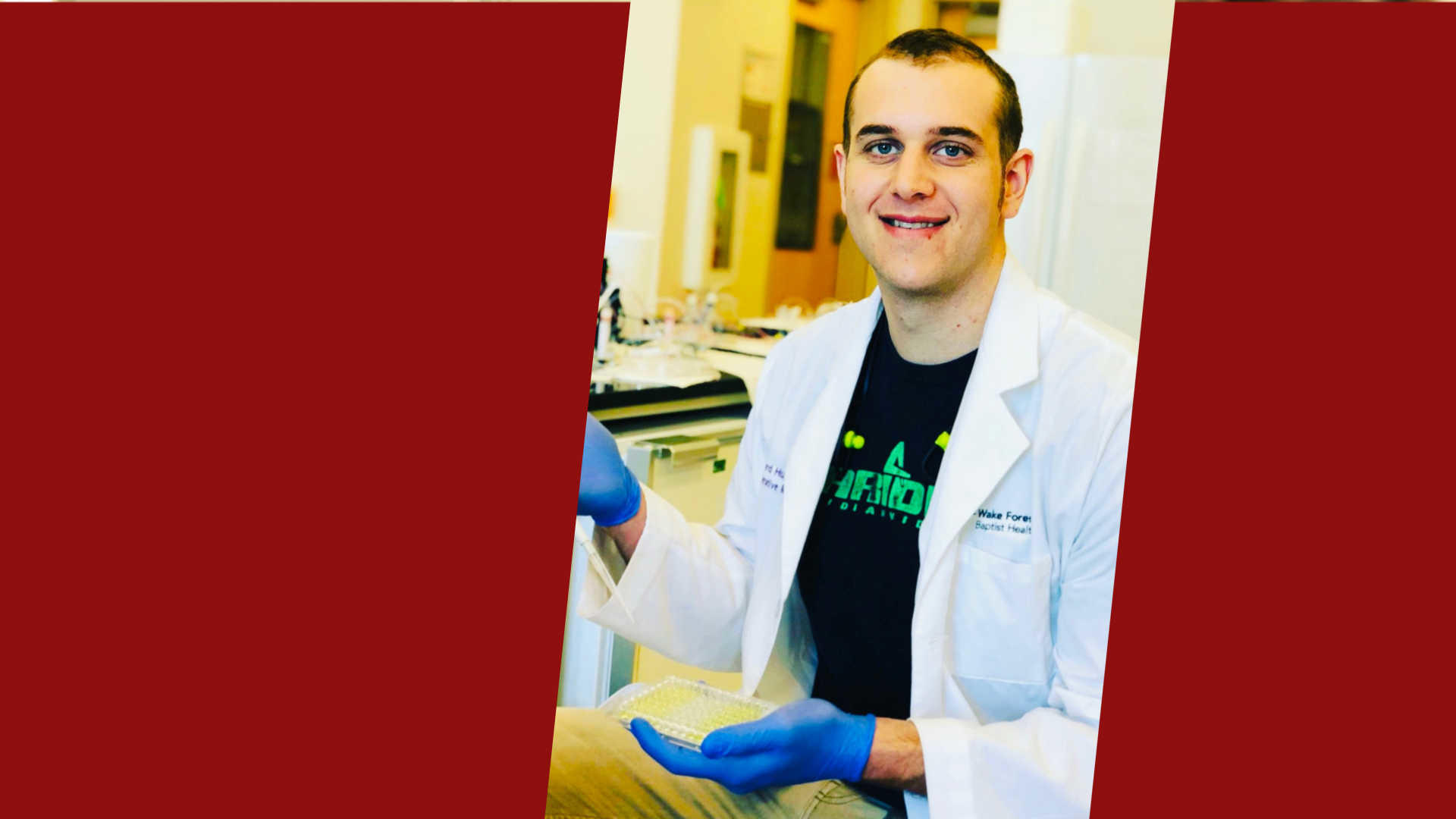 Connor Huntwork '17 fell in love with chemistry at an early age. His best friend's parents, who were both professors in the science at N.C. State University, took the two boys to their research labs in the summers.
"They'd show us cool things like dry ice," Connor recalls. "It was the first thing I saw sublimate into the air, and I thought that was pretty magical."
That chemical reaction sparked another in Connor. He would go on to excel in science and pursue a degree in Chemistry at Guilford. 
During his time at Guilford, he was part of a summer research program in the United Kingdom. Professor Anne Glenn, who taught Connor's organic Chemistry classes, was his mentor and academic adviser. Anne took Connor and other students across the Atlantic in 2016 to research greener and more renewable metal catalysts for main group elemental bond transformations. The support, encouragement and mentorship of his Guilford professors made his undergraduate years happy and fruitful. 
"I saw in them the professor I want to be at a university one day. That applies to the whole Chemistry Department," Connor says.
Well-prepared for Graduate School
For the past one and half years, Connor has been working as a research associate at Duke University, where he's been tasked with important parts of a project aimed at making the malaria vaccine more efficacious. Funded by The Bill and Melinda Gates Foundation, the project started in 2015 and will be publishing results of the research conducted. 
Connor says the work at Duke and Guilford have prepared him well for the next chapter of his academic career, the PhD program at the University of Wisconsin in Madison where he plans to study protein folding dynamics (the chemistry and physics underlying the formation of a protein's 3D structure and function), a passion he started developing at Guilford after seeing the work of Professor Rob Whitnell, an expert in computational modeling. Connor plans to go on to do post-doctoral research and eventually become a university professor. 
Confident in His Abilities
Connor's advice to Guilford science majors?
"Try to gain a breadth of experience in chemical sciences and work in multiple disciplines. Don't settle for things that don't get you excited. You can study in Chemistry and work in Biology and Physics; it opens you up to a world of opportunities because chemistry is central to all the physical sciences," he advises. "Accept difficult courses for what they are. You are supposed to go through the process of not knowing and thinking critically. When thinking critically about a problem, it's okay if at first it's uncomfortable; just ride with the discomfort. When you conduct research in the real world and someone hands you a problem, you won't be afraid and will feel much more confident in your abilities."
Are you interested in studying science in college? Visit Guilford to find out how small classes and one-on-one time with professors will propel you into graduate school, just like Connor. Schedule a personalized tour today!
---