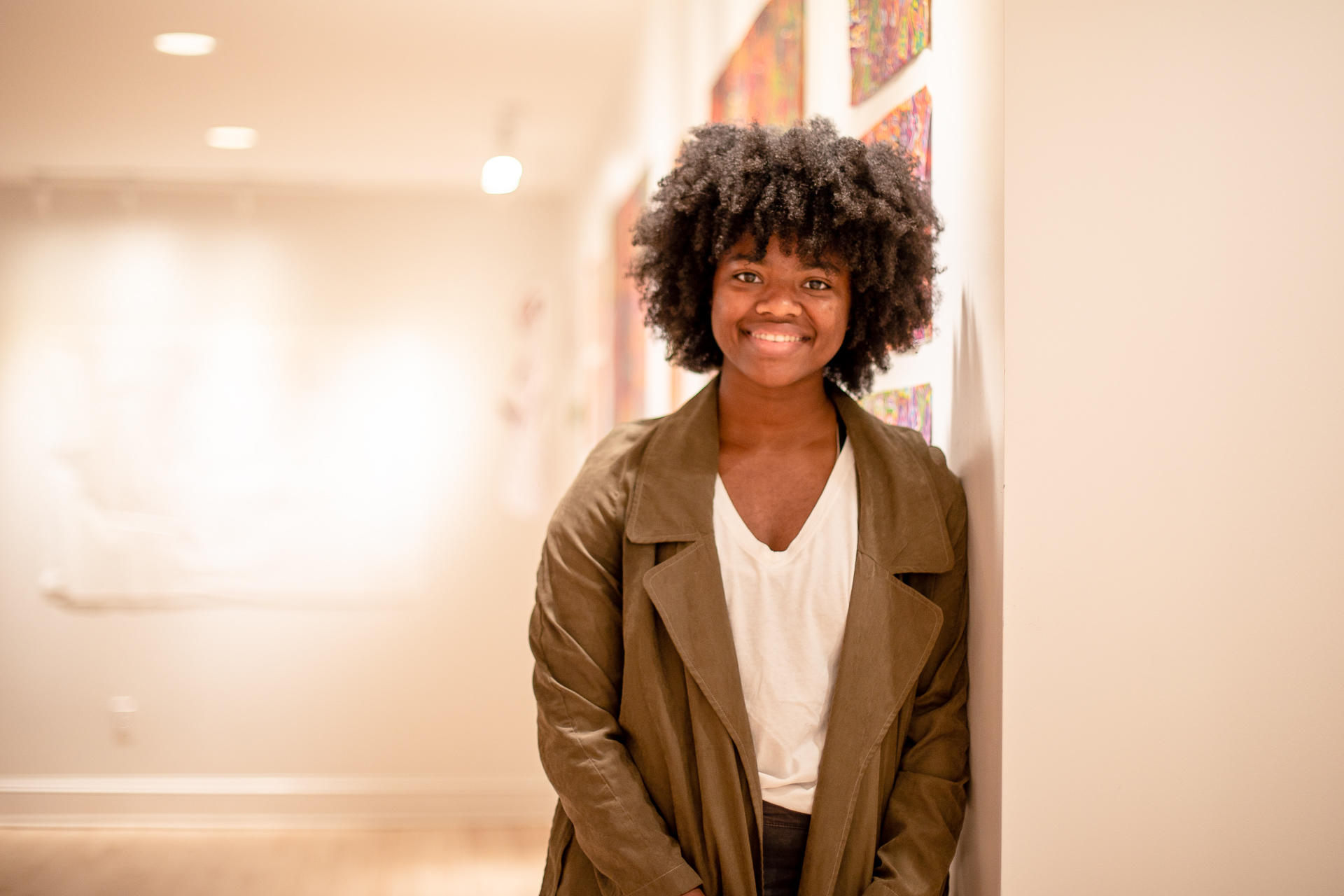 "I'm ready for a new challenge. I feel like I'm prepared to take the next step into becoming who I'm supposed to be." 
Juliana "Jules" Evans-Anfom '19 of Frederick, Md., traveled a good distance from home when she began her journey at Guilford. Now the Exercise and Sport Sciences major, Art minor, and varsity soccer player is ready for an even longer journey: pursuing a doctor of physical therapy degree through a joint program at the University of California — San Francisco and San Francisco State University.  
"It's a three-year program at both universities," Jules explains. "They also have a PhD program in neurorehabilitation, so I'm considering adding that to my plan of study. It's a big undertaking, moving to California and taking on a graduate work in the medical field, but something is telling me I need to get out of my familiar settings to achieve this personal growth. Guilford prepared me to listen to that voice."
Jules credits several Guilford mentors with guiding her growth. "I have thoroughly enjoyed learning from them. With each class I take, the connections from previous classes are clear and prominent, which has facilitated my understanding of important concepts." That solid foundation makes her feel comfortable moving forward in pursuit of her doctorate studies. 
Driven by Her Work Ethic
Jules' artistic accomplishments are also a major piece of her puzzle. "I have come a long way with my art development with the help of Katy Collier, the printmaking professor, and my friend Erin, who is an Art major," Jules explains. "They helped me explore different creative processes that have broadened my understanding of how to portray my ideas effectively."
I also have to say," she adds, "that other people of color, including students and faculty, have been essential to my existence at Guilford. While attending a predominantly white institution, seeing other people of color on campus succeed, whether I know them or not, has been a vital force that drives my work ethic." 
And Jules is clearly a hard worker. She's taken on a number of leadership roles, serving as a club officer and a resident adviser. She's found her time with International Club and Amnesty International, serving as a founding member of the Guilford College chapter, the most meaningful.  "As someone who is very shy and reserved, these roles have taught me how to be a leader in my own way without losing the essence of who I am." 
She also earned an internship observing a general orthopedic physical therapist. And while she learned a lot — she also learned that general orthopedics isn't her dream career. "This led me to seek an observation opportunity at a clinic in Maryland with a neurological specialty, and I learned that I really enjoyed it!" 
Last, But Not Least
Jules has a few people she'd like to thank. 
"Ms. Ailene. She is the on the Housekeeping staff and cleans English Hall where I have lived for the past three school years. She has been a mother figure to me and the other English residents, making sure we are all doing okay. She is always a source of encouragement and wisdom, which has helped many of us get through each day. I would also like to give a shout out to my family for supporting me. They have always rooted for me in the classroom and on the soccer field."
Schedule your personalized visit to meet more students like Jules, as well as faculty and staff who share interests similar to yours, and to take a tour of campus.
---