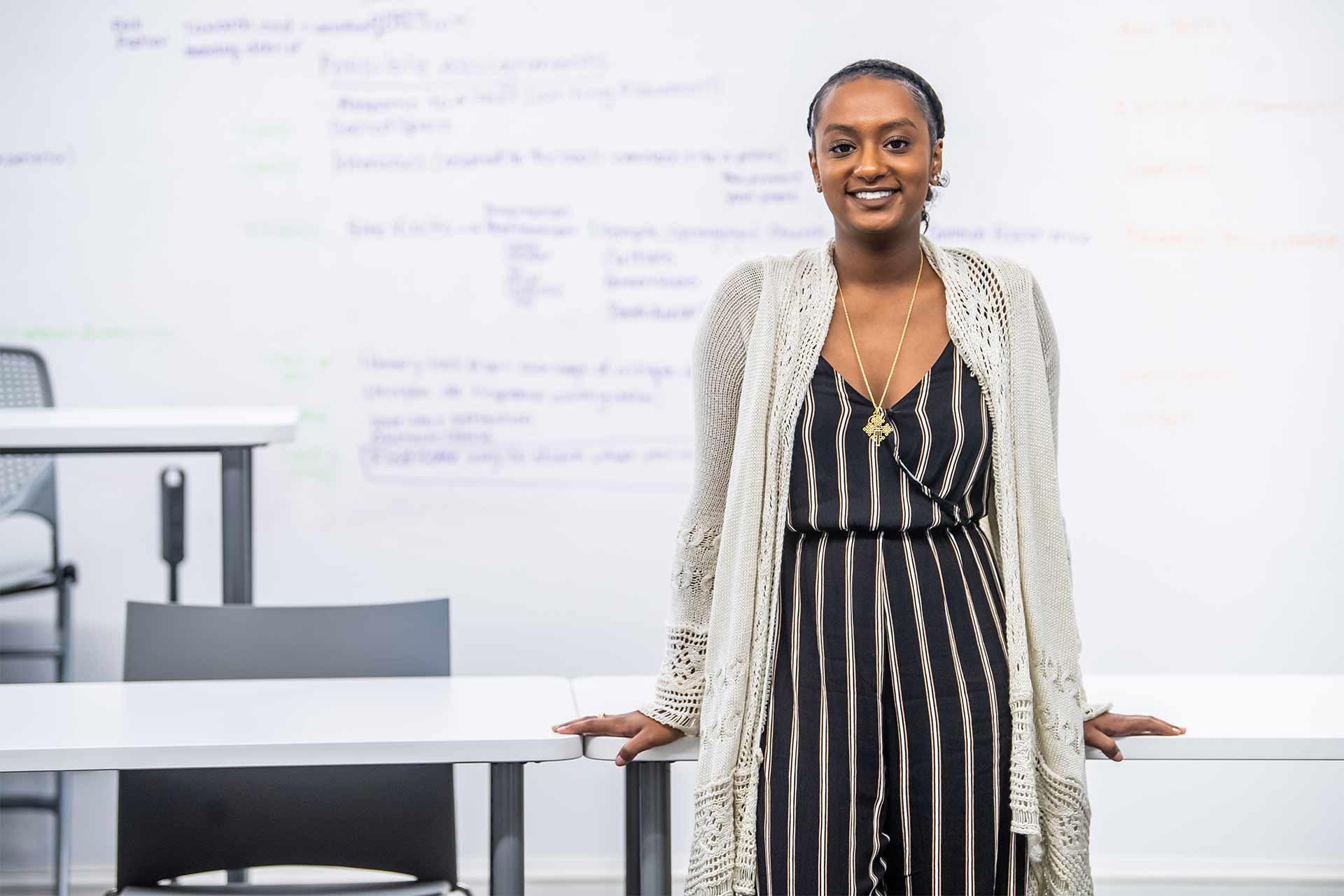 Abigail Bekele '19 has more than just her own story to tell. With 'Pulitzer' already on her resumé, she is eager to build a portfolio filled with bylines from around the world.
An accomplished photojournalist and managing editor of Guilford's award-winning student newspaper, the Guilfordian, Abigail traveled to Ethiopia as a 2018 Pulitzer Center Fellow to report on the impact of foreign adoption law changes on orphaned children.
"The trip taught me how to be independent in another country and work on my own," says Abigail, an English major and Photography minor. "The fellowship also cemented my desire to be an international journalist; I love to travel and learn. Many people are not able to share their cultures and stories with the rest of the world, and it's important that we hear those, too."
Abigail has also made important cultural and community connections as a Bonner Scholar, a selective scholarship program where students commit a large amount of their free time to service projects. She served as the site coordinator for the Change Through Art and Physical Activity (CAPA) program at Jefferson Elementary School in Greensboro.
"Working as a Bonner Scholar and being a mentor to the students at Jefferson Elementary has made such an impact on me," says Abigail. "It's been the most meaningful experience of my time at Guilford." After graduation, Abigail plans to work in journalism for a year before heading to graduate school. Her path has been supported by mentors in the English Department, as well as Tim Johnson, Director of Student Leadership and Engagement. "Tim has been my mentor and guide through a lot over the last four years. He's always challenging me to continue to do my best and improve." It's that kind of guidance that has helped Abigail grow into the confident, capable, and independent adult she is today.
Her advice to fellow and future Guilfordians is simple and profoundly encouraging.
"Don't be afraid to try new things," she says. "Be open to change and be involved. Always challenge yourself and don't think you aren't good enough or capable of doing things — because you are good enough. Stay focused and do everything with a purpose."
Are you dreaming of a career in journalism or writing? Schedule your personalized visit to Guilford to meet students with similar interests and to take a tour of campus. And to pick up your own copy of the Guilfordian!
---