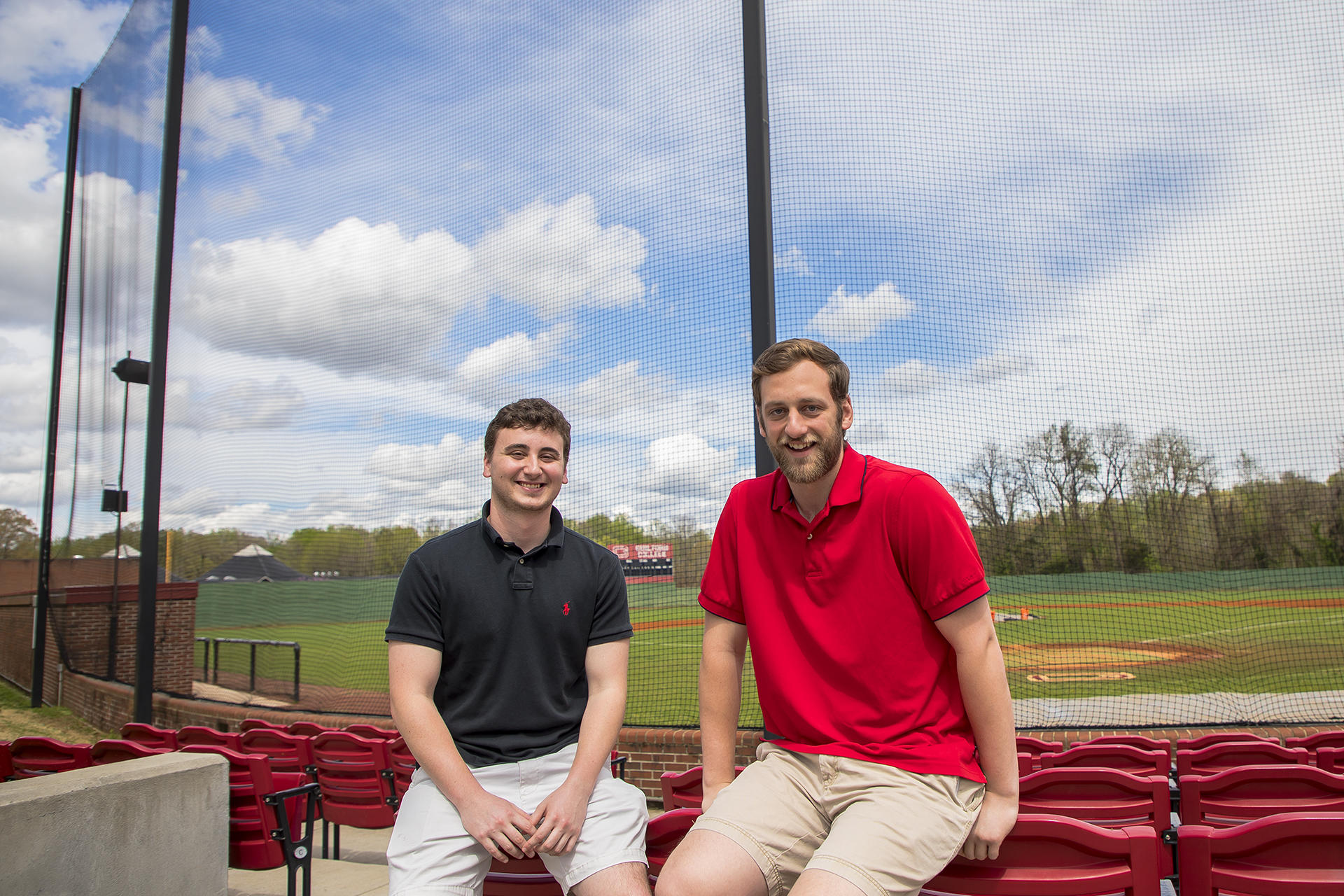 "I found out he was attending Guilford at the same time his parents did, on senior night for baseball season." 
Ben Diamond '20 (above, left) laughs, remembering the last-minute decision of his friend and teammate Andrew Munster '20 (above, right) to play baseball in college and join the Guilford College Quakers as a member of the Class of 2020. The West Forsyth High School grads both continued their baseball careers at Guilford, and while Ben committed early, Andrew sat with the decision until late in the spring. 
"I took my time with the decision," Andrew explains. "But I remember how consistent and encouraging the communication from Guilford was. Admission, the pitching coach, and the head coach of the baseball team all kept in contact throughout winter and spring, and I finally decided that this was the place for me." 
"And then we all found out when they read 'will be attending Guilford College to play baseball' after your name at senior night. I don't even think your parents knew until then," Ben adds, laughing. 
Laughing is common between the two, the way old friends are almost constantly laughing at some inside joke. They'll have you laughing, too. Just ask them to tell you stories about their brilliant and eccentric host dad, Mathias, from the Guilford College Study Abroad trip to Munich they took in fall 2018. 
"He played table tennis in organized leagues, like, four nights per week," Andrew explains, "and he was in this international juggling society. He'd tell the craziest stories, 'This one time, at a juggling convention,' and he played hockey." 
"Unicycle hockey!" Ben adds. Between their coursework, travel to major European cities (London, Vienna, Brussels, Paris), Oktoberfest, and the relationships they formed with new people, the two describe study abroad as the time of their life. 
More Than Fun and Games
Joking aside, Ben and Andrew are scholastically impressive. 
Ben, an Economics major, is an Honors Program student and served as a tutor for both Accounting and Economics courses. Ben's senior thesis, advised by Bob Williams, looks at Major League Baseball teams and analyzes the financial choices different franchises make. He plans on pursuing graduate school in Economics. 
Andrew, a Philosophy major and European History and Business minor, also has eyes on future degrees. He plans on pursuing a JD, MBA after college, a goal he's had since high school when he was accepted into the National Academy of Finance, a high school program that helps students build business acumen and financial skills. 
Looking back, they have similar advice for prospective college students. 
"Be honest with yourself about what you want and think more about fit than name recognition," Ben urges. "You'll have classmates that choose all kinds of schools, but you want to make sure you make the right choice for you. Some people will choose larger universities; I chose a small school. I'm happy with that choice. You really do get more opportunities and individual attention." 
Andrew adds, "Get clear about what you're looking for. Be specific. That way, after you've made your choice, you can be confident that you made that choice for good reasons!" 
Schedule a personalized campus visit to meet with faculty, staff, and students and learn why Guilford College is the right choice for you.
---