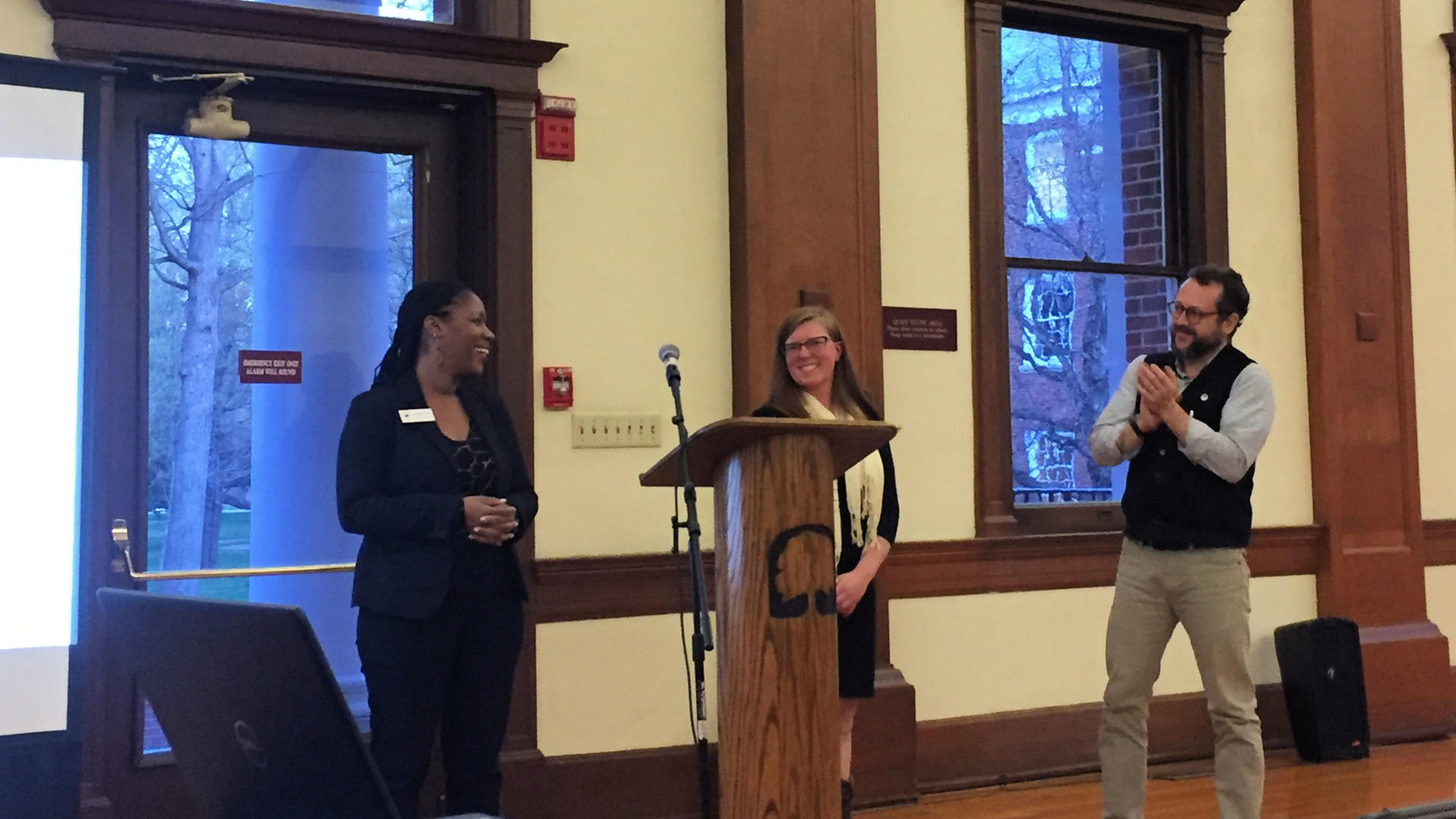 Pictured above, from left: Dr. Krishauna Hines-Gaither, Gwen Gosney Erickson, and C. Wess Daniels
Photos and text by Katie Claggett '19
On Monday, April 1, members of the College community and guests gathered in the Carnegie Room for a Judith Weller Harvey Lecture. Presented by Dr. Krishauna Hines-Gaither and Gwen Gosney Erickson, the lecture was titled, "Complicating Legacies: Studying Slavery, Equity, and Inclusion on a Southern Quaker Campus."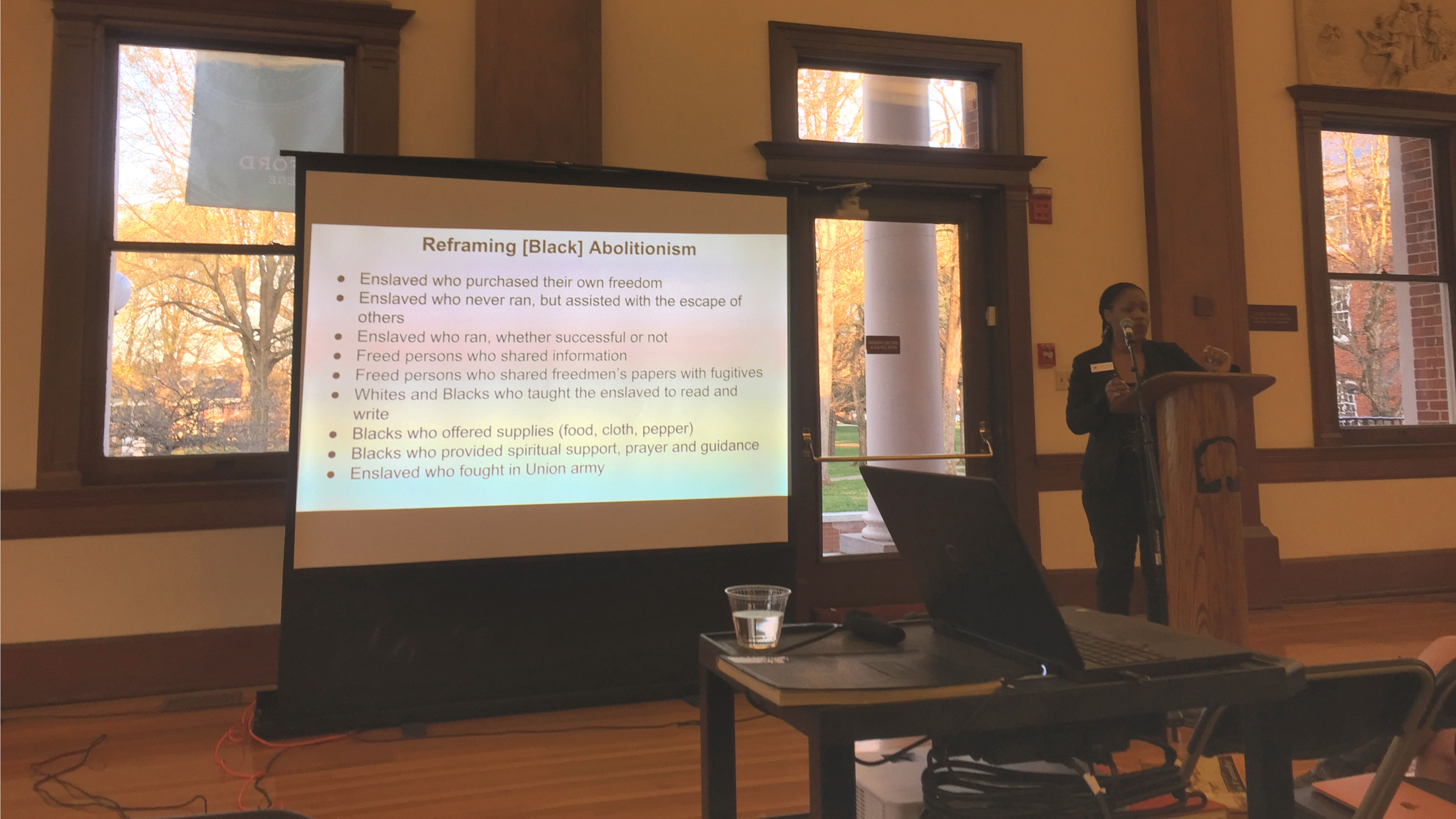 Krishauna serves as the Associate Vice President for the Office of Diversity, Equity, and Inclusion, and her research focuses on the intersections of race, class, and gender in the African diaspora. Gwen is a Quaker librarian and Guilford College Archivist whose scholarly passions include the intersections of Quaker studies, African-American history, gender studies, and U.S. social justice movements. 
"We had two main goals," Krishauna says. "One goal was to center the lives of the enslaved … to hear their voices and bring their stories out. We wanted to also complicate the dominant Quaker narrative as it relates to slavery and anti-slavery. We wished to shed light on the fact that historically Quakers were as divided on issues of slavery, race relations, and many other issues as other groups in society." 
After a welcome and introduction from Friends Center Director C. Wess Daniels, Krishauna and Gwen offered an engaging presentation focused on Guilford's history with slavery, equity, and inclusion. They examined often-overlooked details pertaining to the exclusion of people of color in the history of the institution. They shared that while a Quaker education is often construed as anti-slavery, that does not imply historically Quaker institutions to also be anti-racist.
They reviewed figures in the history of the College who both pushed and negated the advancement of diversity on campus. Specifically, Krishauna emphasized the need to reframe abolitionism to uplift individuals who are not often discussed, such as Mary Walker. She was a woman from North Carolina who became free while in Philadelphia, and Krishauna articulated, "That's abolitionism."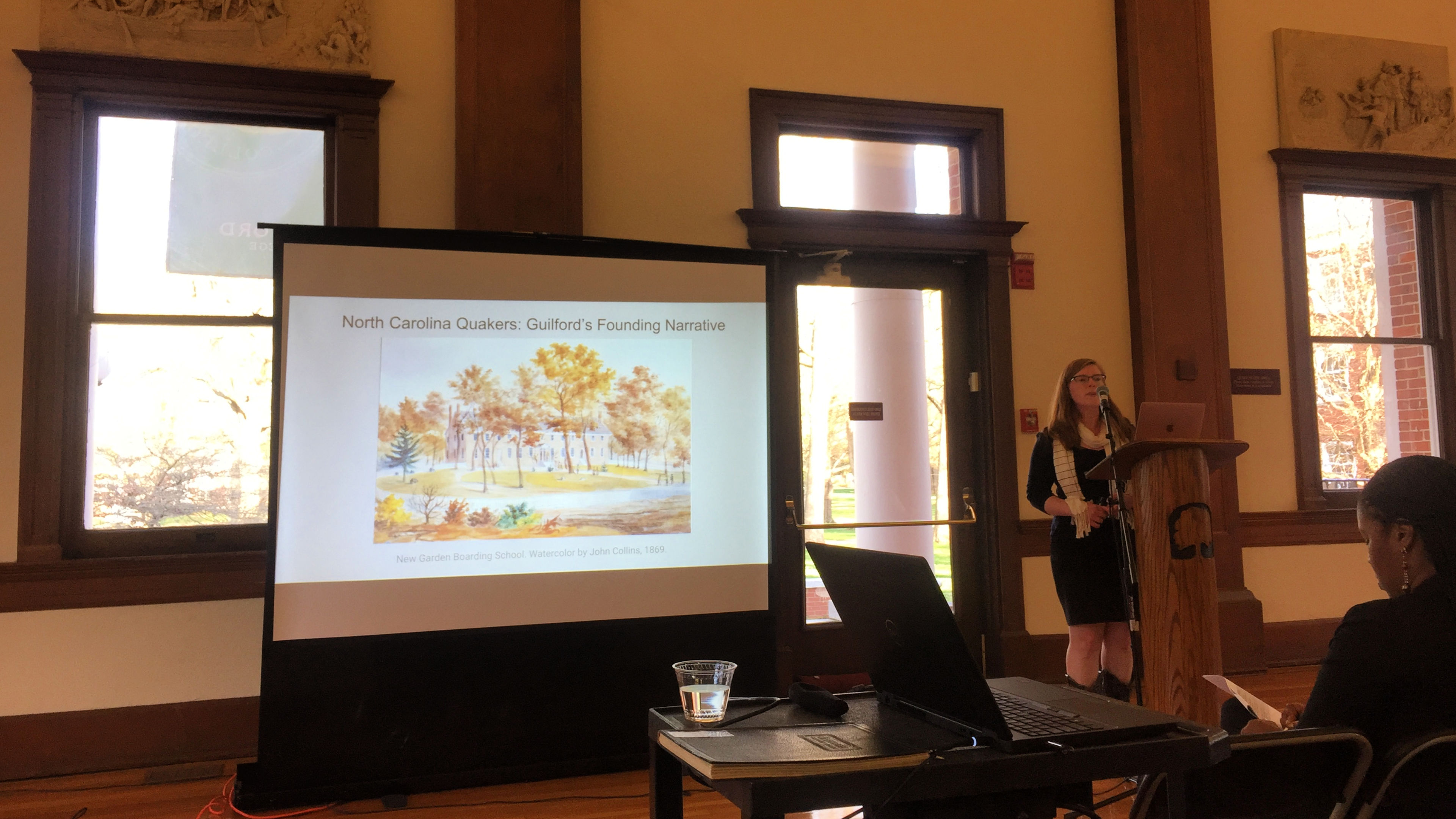 At the end of the lecture, attendees were invited to an interactive workshop the next day to continue the discussion. The workshop was designed for members of the College community, although all interested were welcome to attend. Krishauna and Gwen also facilitated the workshop.
---