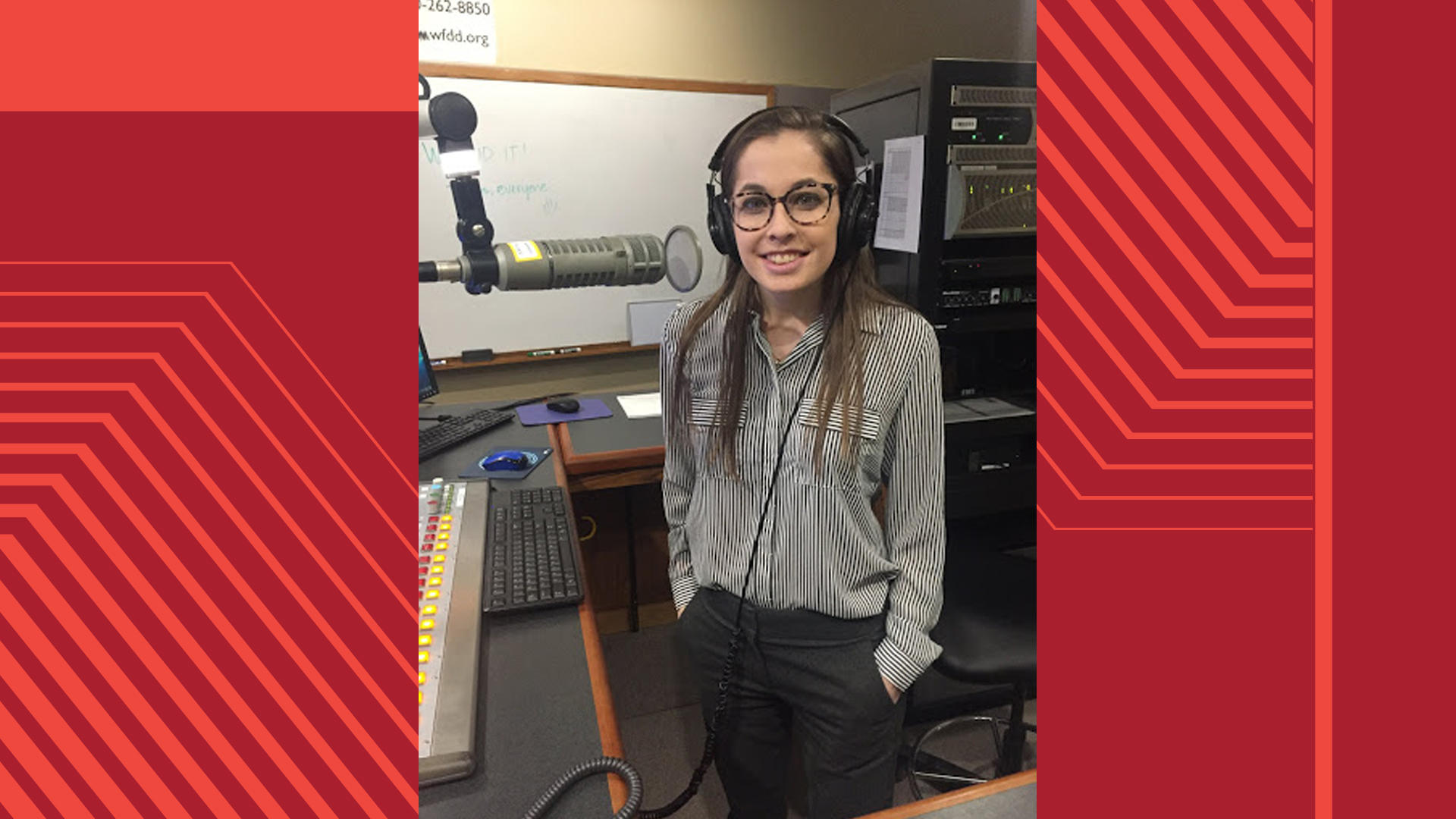 Anna Fox '19 believes in the kind of hands on learning that her internship at National Public Radio affiliate, WFDD has given her. 
Hi, my name is Anna and I'm a Marketing and Production Intern at WFDD, an National Public Radio affiliate in Winston-Salem. I was looking at internships for my senior thesis and nothing really stood out to me, until my dad forwarded me the application for WFDD. Prior to this internship, I worked with Guilford radio, WQFS 90.9, for three years as on-air talent and concurrently as the programming director, but I never had experience with high end professional radio. After applying, two weeks had gone by and I was starting to lose hope for the internship, but then I heard from WFDD and scheduled an interview. This was my shot...this was my chance to have an opportunity in professional radio that could be the foundation of my future. I went in for the interview and was offered the internship immediately, and of course I said Yes!
My first day on the job I have to admit that I was very anxious. New environment, new people, new equipment - the real world. But as days went on I started really enjoying my internship and coming into my own skin. One of my first major projects was the Photo of the Year campaign. At WFDD, each week the marketing manager, Jennifer, with sometimes my help, selects an amazing photograph submitted by a listener. The Photo of the Year event showcased each photo of the week from 2018 and listeners voted to decide upon the photo of the year. The event was held at The Southeastern Center for Contemporary Art (SECCA) in Winston-Salem. I helped plan the event as well as mount the photos. We had a great turnout and the night went smoothly. Event planning was something I was not prepared to learn during my internship and I am so happy I have because it has given me more experience for my future.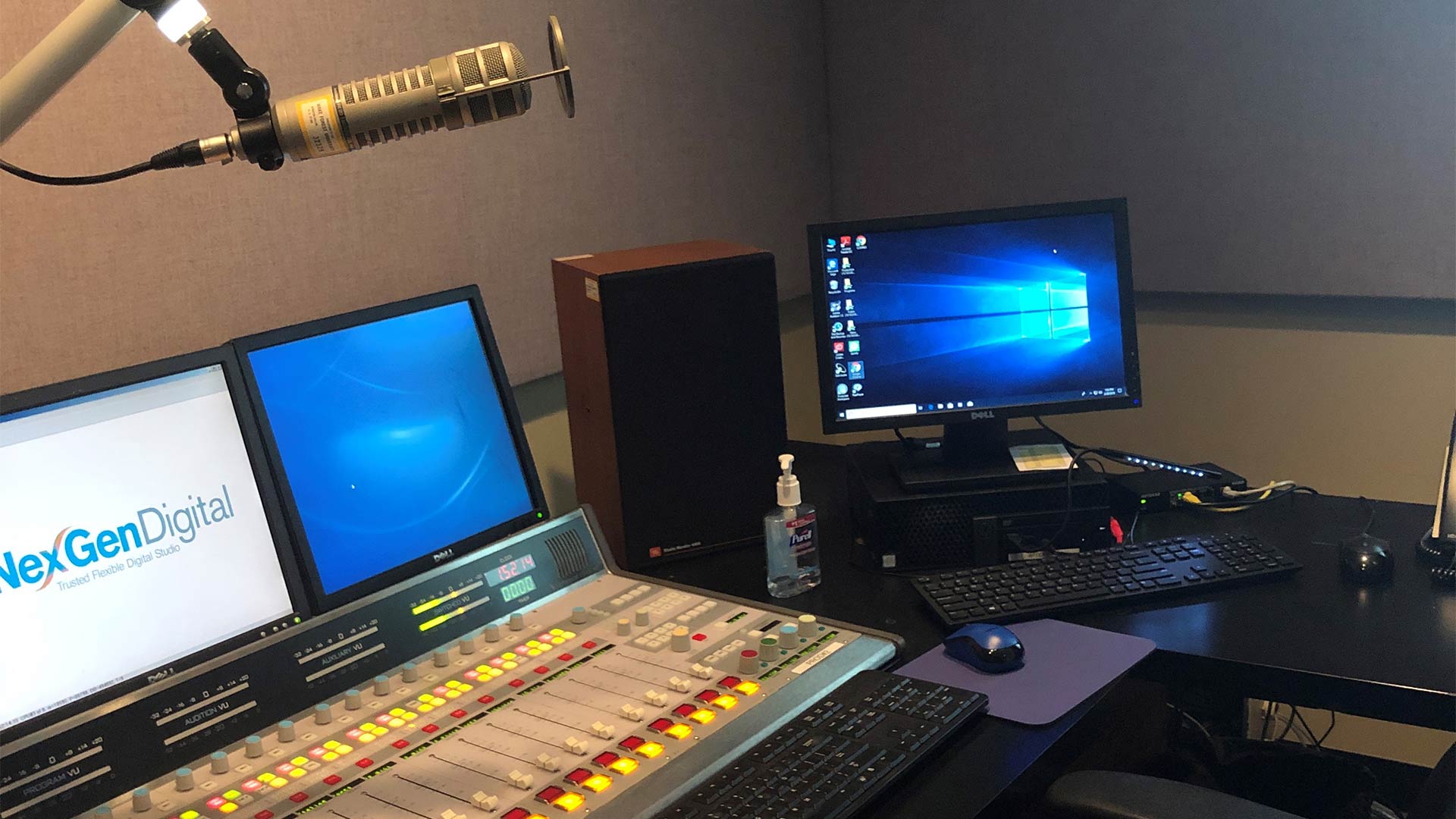 I also have worked on making promos. Using Adobe Audition, at first I was just putting the bed music behind other staff remembers recorded promos. My superiors thought I was doing well with this and so they let me make my own promos to promote our social media efforts. This was difficult at first because I did not like hearing my voice, although I do feel I still did well at picking the music to match the promo. That is very important. I have a background with going to concerts and festivals, and working at ticketmaster so I do feel like my knowledge in different genres of music ranges.
I also been gaining experience in crafting mass emails and posting on social media. My nerdy self LOVES Mailchimp; it is my best friend. Learning the appropriate language for posting on professional social media has taught me a lot. Both of these assets will help me in marketing in my future career.
My internship at WFDD is the only academic class, per se, that I am taking this semester. I am a very proactive student so I like getting things done early. I haven't had any regular classes this semester and I have really liked that because it has helped prepare me for "real life" by devoting all my time to my internship. Sometimes I feel like a working woman out in the real world, and I haven't even graduated yet. I really do think that hands-on experiences and on-the-job-training are the best ways to learn. Guilford has given me the opportunity to go out into the real world and do big things, while receiving credit at school, and I am forever grateful for that.
I love WFDD and everything it has taught me to get me ready for my future. My dream was to become a booking agent in the music industry. WFDD has made me realize that working in radio has become my future. I am excited about where this internship will lead me.
Read more blogs from Guilford students detailing their internship experiences at Experience Matters. 
---