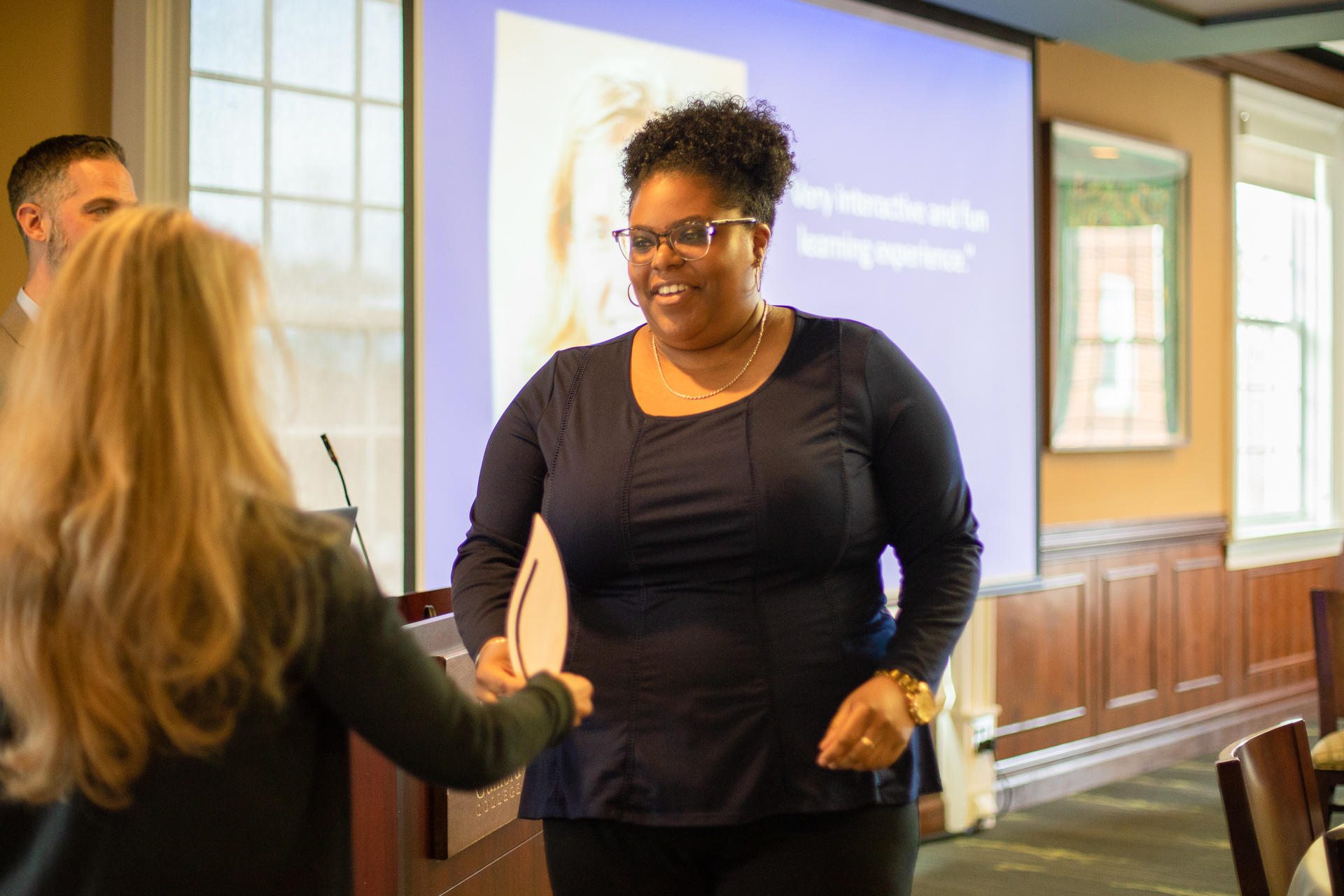 On Friday, Feb. 8, 2019, Guilford honored 38 members of its faculty and staff for the meaningful roles they play in the lives of the students. 
Hosted by the Office of Academic and Student Affairs, the Difference Makers Luncheon recognized those who were named by first-year students as someone who has made a significant difference in their time at Guilford since they arrived in the fall. 
Director of Admission Kyle Wooden '11, who was named a Difference Maker at the luncheon, reflected on the recognition, saying, "Today was such a memorable day. Our staff and faculty are incredibly invested in the student experience, and I am so proud to have a small role in the experience for our first-year students. Our community emphasizes relationships and today is further proof that our students are benefiting from the close-knit relationships they have with faculty and staff members across campus."
Want to learn more about how Guilford College students build relationships across campus? Schedule a personalized tour to meet the admission team, Guides and other campus difference makers!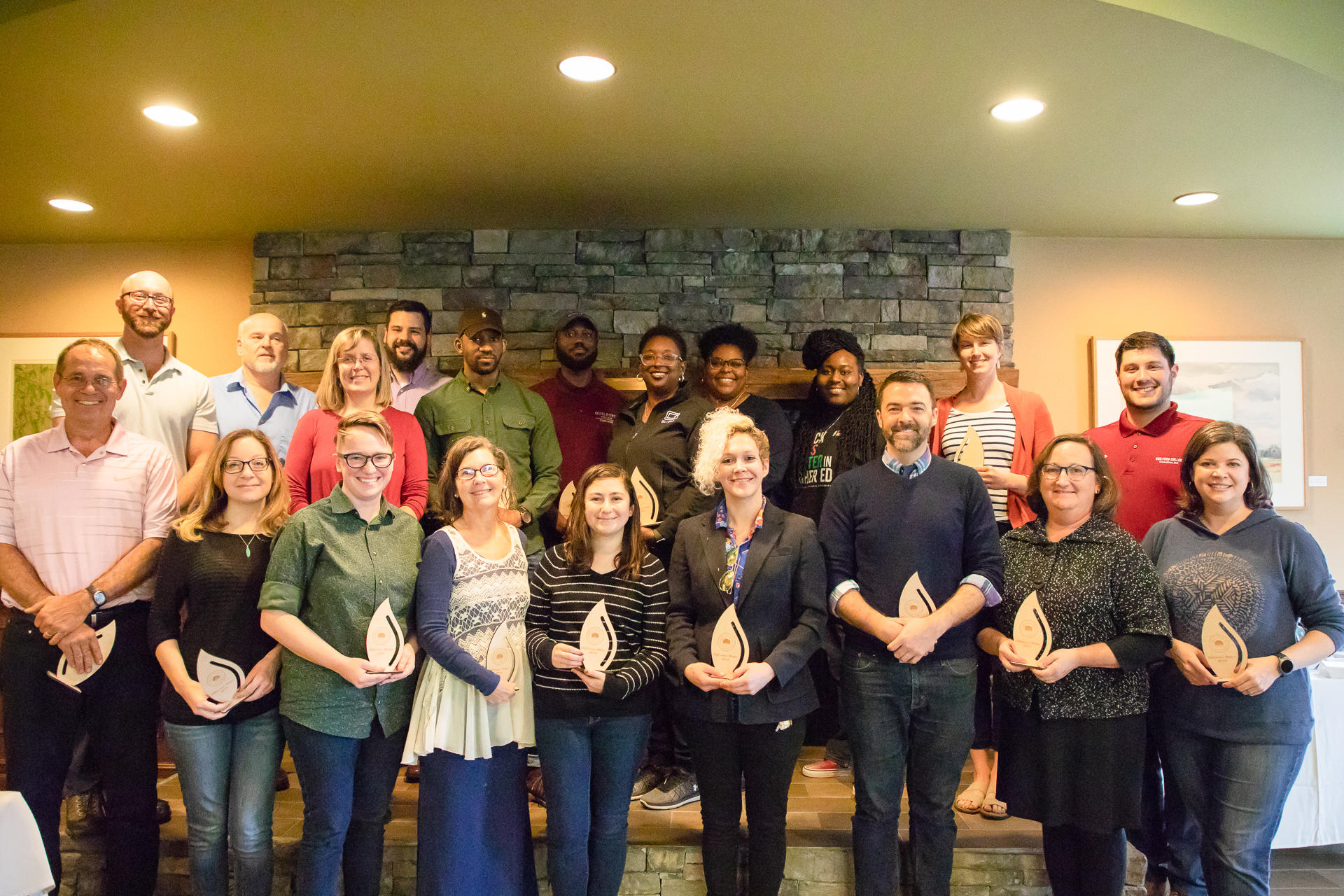 Guilford College Difference Makers, 2019
Below are the 38 employees recognized by the College, along with the quotes submitted by students as part of the nomination process. 
Shannon Barr, Guilford Guide
"Shannon was probably the most considerate person of my feelings during my first semester at Guilford. Being a godmother, having a few of the hardest classes, losing friends, not knowing where to turn, and just having a rough start was not making my Guilford experience a good one. Shannon was willing to talk about anything that was bothering me at the time, and she always found the right people to help me achieve success. She is definitely more than a Guilford Guide, she is someone you can count on no matter what, a shoulder to cry on, and a friend." 

"She made me feel welcomed here at Guilford and guided me the way I needed to be guided. If I had a question and she didn't know the answer, she would find one for me or guide me to the people I needed to be speaking with to get my answer." 
Allison Spooner, Professional Tutor in the Learning Commons 
"She has helped me with my schedule and homework." 
Alyssa Beckitt, Writing Instructor
"She was my English 101 professor, and before having her class, I was not a fan of English and writing at all. Her way of teaching the class and having relatable content to go with the curriculum made me enjoy English class for the first time in my life. Her feedback on the papers and essays helped me become a stronger writer and be more confident in my writings."

"Amazing teacher. I felt like I actually learned something in her class and will be able to carry it on in the workforce."
Heather Hayton, Professor of English and Director of the Honors Program
"Whenever I had any problems, Dr. Hayton always could help me figure out the problem. She taught my FYS course and was just a great resource for almost any issue relating to Guilford. My experience with Dr. Hayton is one of the biggest reasons I love Guilford College as much as I do."
Douglas Campbell, Associate Director of Financial Aid
"He inspires me, guides me, and helps me to reach my goals by talking about events and other stuff that I can rely on and prove to myself that I can do it." 
Amber Slade, Guilford Guide
"She was iconic in her FYS class. She is always available, supportive, and innovative. The creativity and effort she put into her class is unparalleled and she truly deserves the recognition."

"I was at a very low time of my life, and she was the only one to reach out. I can't thank her enough for what she did."

"Amber is always a text message away. She has made herself available to students in numerous ways. She is the reason as to why I feel comfortable on campus and ready to take on college. She has served as an advisor and a friend by showing genuine interest in her students." 

"She is just always there to talk, and she keeps it real even if you don't want to hear what she has to say. I appreciate her time and dedication to the job, and she helps anyone who asks for help." 
Kyle Wooden, Director of Admission
"He significantly reduced my stress of transitioning into college. He was so helpful and had answers to all of my questions. I didn't feel pressured or stressed at all."
Bryan Brendley, Associate Professor of Biology
"He made my FYS class very fun and memorable, and he also serves as a good adviser." 
Chad Phillips, Visiting Assistant Professor of Theatre Studies
"He has gone above and beyond to help me find opportunities around Guilford where I can express myself and practice my photography and videography skills."

"Chad has made a difference in my experience at Guilford by providing support and care any time I need it. He answers all my questions with no biases and helps me with anything I need. He has made my Guilford experience 10-times better!"
Christian Matheis, Visiting Assistant Professor of Justice and Policy Studies
"He is a very open-minded and awesome person. He thinks about everything in a philosophic and existential sense, as I do, so our conversations are amazing. He gives amazing advice, and he is an overall insightful person."
Brad Davis, Assistant Football Coach
"He taught me how to make school work around my tight schedule." 
Courtney Hartnett, Writing Instructor
"She is a unique teacher and friendly person, always able to help her students no matter the situation."
Curtis Arena, Guilford Guide
"Curtis was an awesome guide during the entire semester."
Susan May, Student Employment Coordinator 
"She inspires me, guides me, and helps me to reach my goals by talking about events and other stuff that I can rely on and prove to myself that I can do it." 
Gail Webster, Professor of Chemistry
"Gail has provided me with a significant amount of support and skills to be successful.  For example, she has provided me with the skills to effectively present information 
and to study." 
Mollie Blafer, Guilford Guide
"She is always checking in to make sure that we are doing okay and that we are adjusting well, and she really seems interested in us individually." 
"Mollie made my first semester as enjoyable as possible and made sure I had little stress academically as well as helping me adjust." 

"She is willing to talk to me no matter how hard things get, and she will go out of her way to make sure I have the resources I need." 
Cynthia Nearman, Assistant Professor of English
"She was a great coach to me in my English class!"
Janelle Morris, Guilford Guide
"She has really helped me transition into college and helped me get back on track when I was not doing so well."

"Ms. Janelle has helped me with my stress and anxiety levels when school became a challenge, which overwhelmed me."

"She has been very welcoming and has helped me in the transition between high school and college." 

"Janelle has given me a network. She nominated me for SPROUT and made my leadership skills grow." 

"She has made it a wonderful experience for me . She demonstrates kindness and willingness to help others."

"She gave us good advice for our first semester at Guilford, and she was always available to have a conversation with." 

"She is very sweet and open to talking about everything. She makes you feel comfortable and is a great person!"
Stephen Hill, Maintenance Electrician 
"He was so genuine and you could tell he really cared about his student's success in the class. He gave so much help and did more than just his required office hours. One thing I will always remember is how he would sit with me in the café, and we would just eat and talk, and it was a great time." 
Daniel Castelblanco, Part-time Lecturer, Spanish
"He made time and helped with all assignments." 
Shelley Ewing, Guilford Guide
"She inspires me, guides me, and helps me to reach my goals by talking about events and other stuff that I can rely on and prove to myself that I can do it." 

"She has helped guide me through my freshmen year." 

"She has helped me figure out my schedule for the next 3 years, so I would be able to graduate on time." 
Tim Johnson, Director of Student Leadership and Engagement
"He has helped me to see myself from a different perspective. He helped me form myself better." 
Cindy Montgomery-Webb, Writing Instructor
"Cindy set aside time to talk to me and work with me to make sure I was doing okay both mentally and emotionally, as well as with my school work. She offered herself as a source of support and comfort aside from being a professor and helping me improve my work." 
Eric Mortensen, Associate Professor of Religious Studies
"I took Eric's first year seminar on Animals and Religion, and the ideas we explored expanded my world view and opened me to ideas that I might not have otherwise encountered. Eric is a phenomenal professor and a quality guy." 

"Genuinely cared about each student's education."
James Shields, Director of Community Learning
"He is really good at helping people out." 
Ian Hulsey, Help Desk Team Lead
"Ian has helped me in my work study and made it easier for me to do my job here at school." 
Stephen Fails, Guilford Guide
"He gave many insights on how the world works and how to get through college. It's more like a brotherhood whenever there is a conversation." 

"He has been super helpful with helping me cope with the death of a friend." 

"Very helpful and welcoming. A great FYE instructor who helped our class know what was going on at Guilford, how to understand and cope with college, and learn more about each other." 
Mark Justad, Director of the Center for Principled Problem Solving
"He helps me with any questions I have and has helped me decide on a major." 
Marla Lindsay, Assistant Track/Field Coach
"She has made sure I stay on top of my work and athletics. She has encouraged me to be my best and showed me what it means to work hard." 
Matt Armstrong, Part-time Lecturer in English 
"He inspired me to work hard in writing. He gave me advice to help me get the job done with my papers." 

"Best English teacher in the world!" 
Michele Malotky, Associate Professor of Biology
"Very interactive and fun learning experience." 
Natlaya Shelkova, Associate Professor of Economics
"She was very helpful as an adviser and met with me whenever I needed help or her insight. She has been a great guide through my first college semester."

"She has made me realize what the college life is like."
Nate Harris, Assistant Football Coach-Intern
"He is a great coach!"
Parag Budhecha, Interim Director of Guilford Guides
"She has helped me figure out my schedule for the next three years, so I would be able to graduate on time. Parag also helped me create my minor since International Relations does not have a minor." 
Randy Gooch, Visiting Lecturer, Biology
"He made biology enjoyable, and I had good times in his class."
Tom Guthrie, Professor of Sociology and Anthropology
"He is a really good professor. I learned a ton from his class!" 
Uma Jejurkar, Part-time Lecturer, Chemistry
"She helped me through a really rough time that I was going through in my chemistry class. She helped me understand the Chem 111 course every Wednesday and Sunday. If I pass my class, she is the reason behind my success here at Guildford."
Will Pizio, Professor of Criminal Justice and Graduate Program Director
"Will has been incredibly helpful as both a teacher and an adviser. He makes his classes fun, yet productive, and I look forward to going to his class. As an advisor, Will was very patient and encouraging whenever I had issues with my schedule. He was one of the first teachers I encountered at this college, and he left a good impression on me about the faculty as a whole."
 
---