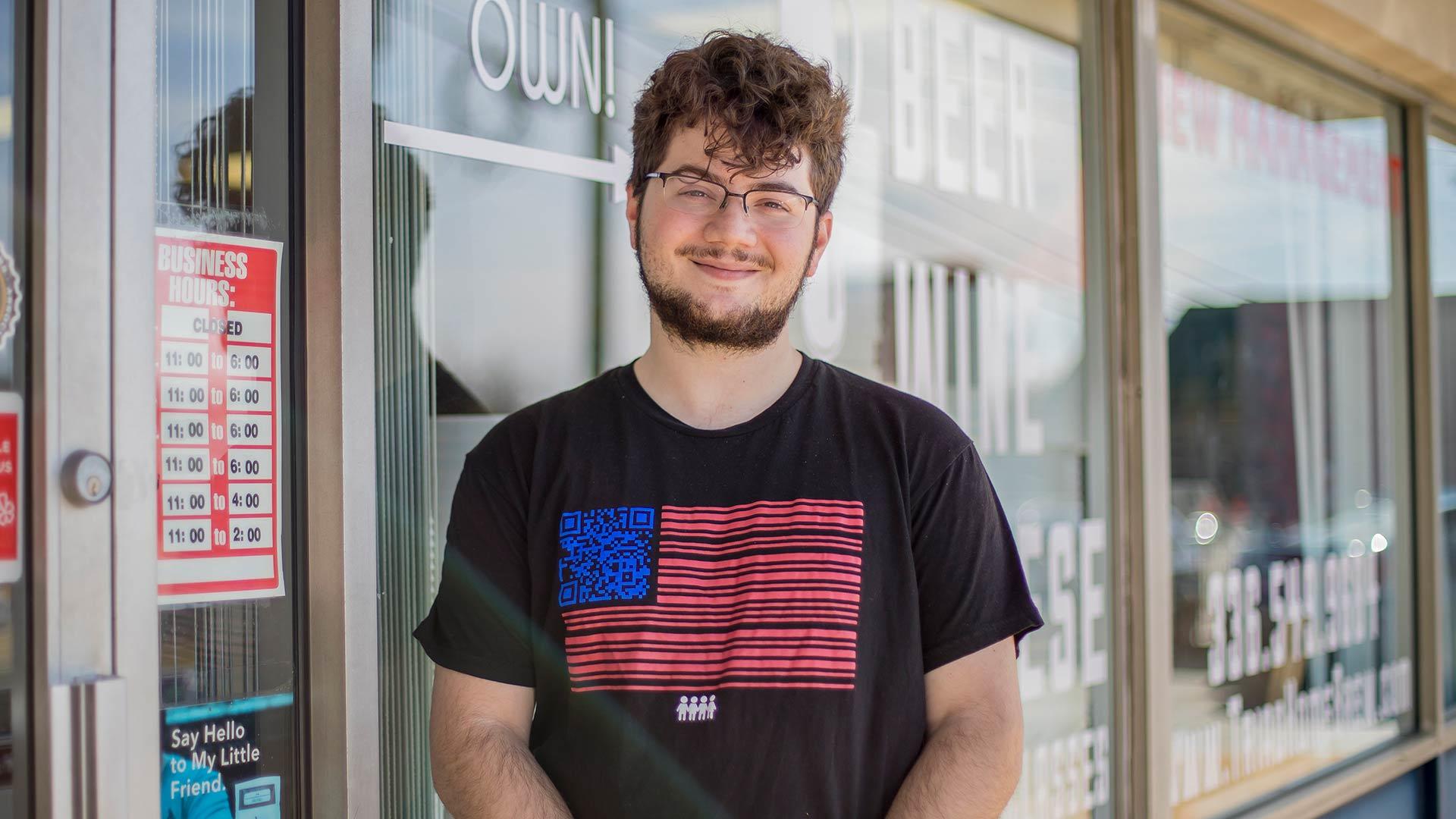 Zachary's fascination with all things fermentation started while living in a castle 4,500 miles away. 
Zachary Gruenberg '19 spent the spring 2018 semester abroad with one of Guilford's most popular study abroad programs — Brunnenburg. Regularly listed among the top coolest travel programs in the country, Brunnenburg students live in a 13th-century castle in the Italian Alps. Among the many experiences available during this semester are visits to gorgeous wineries.
"That's where my interest in wine-making and fermentation science began — when I had the opportunity to tour those beautiful, Italian wineries," Zachary he explains. "When I returned to the States I headed to Triad Homebrew to pick up some supplies. That's when I learned of the internship opportunity."
He applied for the open internship position and was accepted. From June through the end of the fall 2018 semester, Zachary helped manage the store and learned the science behind brewing beer, making wine and fermenting cheese. He also built skills by managing employee schedules, payroll and business communications. 
The experience gave him a passion for the food and drink business that he's translated into a continued position with Triad Homebrew as Store Manager — he has a business card and everything! It also led to a part-time teaching position at Rockingham Community College, where you can take Professor Gruenberg's Intro to Extract Brewing, which Zachary describes as "craft beer 101". 
His studies at Guilford are also giving him an edge, and they serve as an important lens through which to see the importance of his work. 
"I bring my work as a Sustainable Food Systems major into everything I do, but especially when I lead classes on fermentation processes. I try to teach sustainability and work the importance of locally sourced products into each classroom conversation around home brewing," Zach says. His students even work with a local malthouse that uses ingredients sourced within just a few dozen miles. 
Graduating this spring with a degree in Sustainable Food Systems and a minor in Religious Studies, Zachary plans to continue managing at Triad Homebrew and teaching. 
 
Study abroad can help you shape your path during and after your Guilford experience! Schedule a personalized visit to campus to learn more about international opportunities and local internships and to speak with faculty and staff from Admission, Study Abroad and Guided Discovery.
---