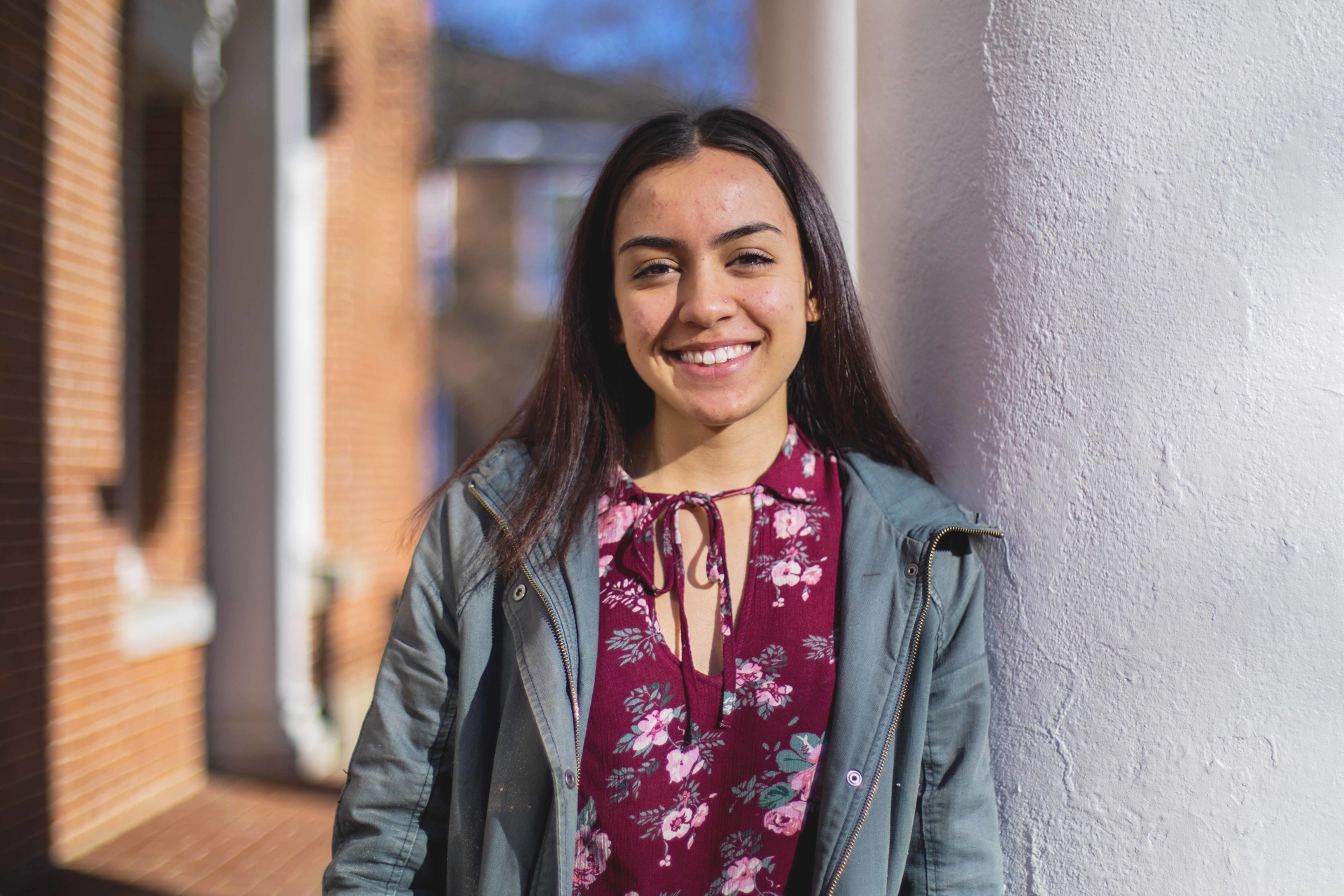 Silver Spring, Md., native and Track and Cross-country athlete Ananya Bernardo '22 knows a lot about Greensboro for someone who's lived here less than a year.
"I'm grateful for all the volunteer opportunities I've had in just a little over one semester," she says. "If it weren't for that I don't think I'd know as much about Greensboro as I do!"
Ananya is a Bonner Scholar, one of a select group of students who commit 140 hours of their time each semester to service work. Ananya has volunteered with refugee families and elementary school children and has recently started a research project about community economic development that looks into the allocation of Hurricane Florence relief funds. 
Reaching Out to Others
Ananya's serving spirit came with her to Guilford. In high school she was co-president of the Girls Unite Club, which brings awareness to women's issues and raises money for girls in Mali to attend school.
"Our most notable event was held each October for International Day of the Girl. We highlighted art made by girls about girls, displayed posters regarding women's issues, like the lack of access to sanitary products for girls around the world, and we brought in speakers."
Ananya also participated in a service trip to Guatemala, where she cleaned and repainted a school in San Jacinto. "The parents of the schoolchildren had incredible stories about their lives," she remembers. "One of the fathers had dangerously traveled across the U.S. border three times to be able to work and earn money to bring back to his family." 
After working, Ananya and her group were invited into a woman's home for homemade tortillas. "It was an amazing experience to learn about the culture and traditions of people so far from my home. My favorite part was teaching a workshop to the students about the importance of education."
Finding Time for It All
Intending to major in Sociology and Anthropology with a minor in Spanish, Ananya says she's fascinated by and cares about people. 
"I took an anthropology class in high school and loved it. I took Sociology in the fall and I'm registered for Cultural Anthropology this semester!" She says Sociology and Anthropology will help her continue to explore "why people do the things they do, from a systemic perspective." 
And if you think she doesn't have time for anything else because of her studies and volunteerism, think again! Ananya's also a cross-country runner and member of the track team. "Running cross country and now running for the track team has been a big help in my transition to college life," she explains. "It's helped me build time-management skills with those early morning practices!" 
She chalks it all up to the intensive support she's received from all across campus. "Between Bonner, FYE and FYS, and all the helpful, kind upperclassmen, I've never been without someone I could go to with a question or to ask some advice. Without that, I wouldn't be able to balance as much as I have," she explains. 
And for those headed to college soon, Ananya has a bit of wisdom to share.
"I've shied away from getting out of my comfort zone in the past. I've thought, 'I'm not qualified enough,' or 'I don't know enough about this.' You can't be prepared for everything! So if there's an opportunity available — some tough-looking but interesting class, a club you want to join, a cause that you really care about — I say, why not? Try!"
Guilford offers students who have a passion for real world problem-solving a place to find community and grow with purpose. Schedule a visit to learn more about the team-based advising, study abroad opportunities and intensive, hands-on learning that will give you your Guilford Edge.
 
---