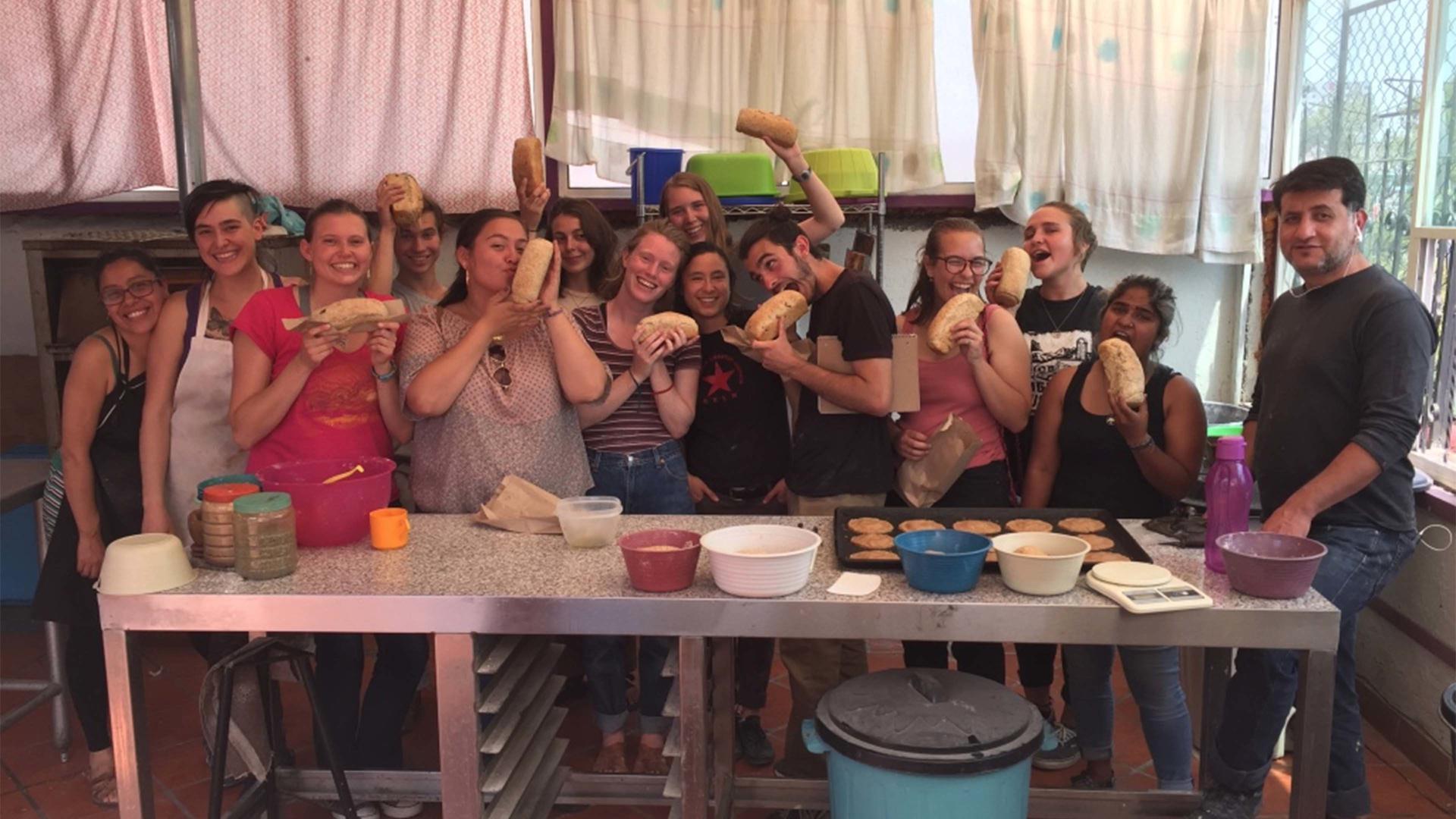 My name is Shea Orth-Moore and I had the most incredible opportunity to study abroad (for a second time), in Mexico. I had the most transformative and intellectually stimulating experience of my life while studying with the Autonomous University for Social Movements, also known as the Mexican Solidarity Network, all over Mexico. 
 
We began our time in the southern most "estado" (state) of Mexico: Chiapas. After one week of study at La Universidad de la Tierra, which is an inspiring school for indigenous self-sufficiency located in the town of San Cristóbal de las Casas, we started the following eight weeks of study and living inside of Oventic, one of the Zapatista Good Government Centers, or what is known as a "Caracol". 
We spent eight weeks living and learning alongside indigenous students, who were primarily Tzotzil, at the autonomous language school within the Caracol. Our days consisted of learning either Spanish or Tzotzil with the Promotores (Zapatista education promoters), participating in group reflection workshops with the student of the language school, taking the required classes: Mexican Social Movements, Political Economy, and Modern Mexico, learning to weave, and farming. But more importantly, our days were filled with learning about the history and ideas behind the movement of the Zapatistas, and the meaning of autonomy.
Our weeks in Oventic were transformative beyond compare, the learning that happened at every moment, whether during a meal together, or playing a game together, was something I will never forget, because it taught me what it means to be part of an autonomy; an autonomy that is committed to dignity, humility, and simplicity; an autonomy that works to give dignity back to those who have been, and are still being treated in an undignified manner by the government and by capitalist means. 
After our eight weeks at Oventic in Chiapas, we traveled North, to Tlaxcala, where we lived for two weeks with homestay families who were primarily campesino families, earning a living through agriculture, and are dignified people who are working daily to improve their healthcare, education, and housing with no affiliations to any political party or agenda, but only working for the autonomy. I love and miss my homestay family with my whole heart, and consider them to be an extended family even though I'm no longer there, we still WhatsApp daily! I learned so much from my host mom and dad about what dignity means to them, and about the many forms of oppression that NAFTA, the USA-Mexico relations, and capitalism perpetuate daily.  
We ended our time in Mexico with three weeks in Mexico City, living with homestay families in a housing cooperative called Tlanezi Calli. This housing cooperative emerged from the Government's inadequate response to 1985 earthquake in Mexico City, the people of Tlanezi Calli organized to develop dignified housing. I lived with a wonderful homestay family who I also consider family, who opened their house and their hearts to me for my short two weeks with them, and who taught me so much about the social movements already ignited in Mexico City. I miss them dearly, but we keep in touch over WhatsApp! 
My time in Mexico taught me a lot about what goes into an autonomy, and what it means to be part of that. This lesson is one I will never forget, and it is one I hold dear as I move on in my last year at Guilford. Those who taught us, and showed us the way while we were there transformed and enhanced my goals to become a teacher, and helped me understand the myriad of roles that I would like to one day play as an educator. 
Check out other student experiences abroad in Beyond Friendly, our student-authored study abroad blog. 
---