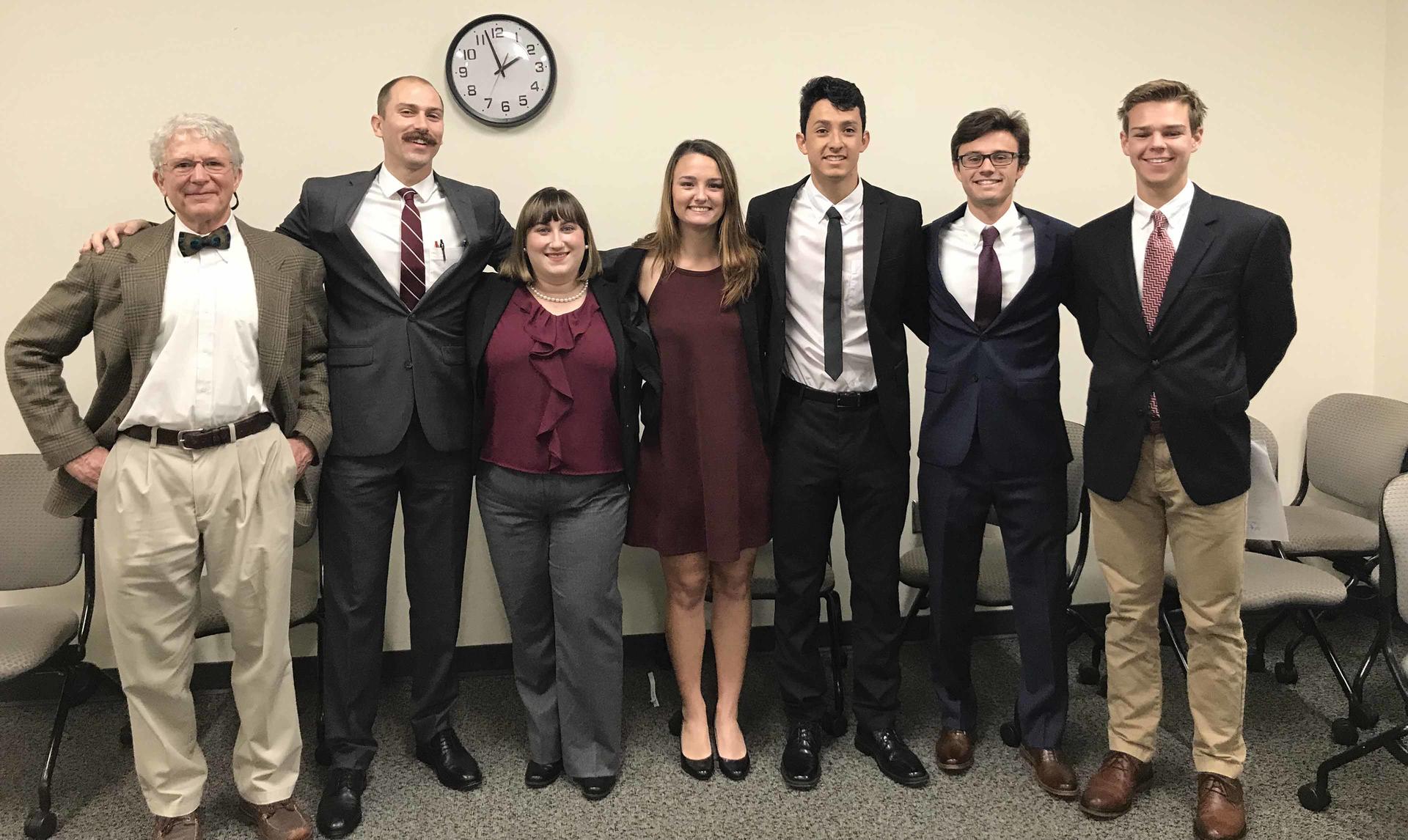 Competition Oct. 20, 2018. Pictured from left to right are: Economics Professor Robert G. Williams, Ben McVey '19, Caroline Webster '19, Hannah Rouse '19, Enrique Gudino '20, Brayden Currin '19 and Ben Miller (Early College senior)
At the Regional Federal Reserve Challenge held at Wake Forest University on Oct. 20, 2018, seven teams participated.
Teams from Guilford College, Wake Forest University, Appalachian State University, Elon University, Lenoir Rhyne University, UNC Wilmington, and UNC Chapel Hill competed in Federal Open Market Committee presentations in the morning. Judges scored teams on their knowledge of monetary policy and the Federal Reserve's role in its implementation, quality of responses to judges' questions, quality of research and analysis, quality of presentations and evidence of teamwork and cooperation.
Judges praised the Guilford team's high-quality graphics, the logic and clarity of their arguments, their collaborative teamwork, and their responses to judge's questions. 
Guilford and UNC Chapel Hill scored the highest in the morning sessions, leading them to compete for first place in the afternoon session. Judges read a hypothetical macroeconomic scenario provided by the Federal Reserve, and the teams were allowed five minutes to prepare a policy analysis, a policy recommendation and write a press release on the Federal Reserve Open Market Committee's decision. They defended their position before the entire panel of judges and answered judges' questions.
"Guilford teams are always student-led," emphasizes Economics Professor Robert Williams. "If there's a group interested, the students have to organize it and recruit me, the money and finance guy, to coach them."
Students prepare the evidence, their arguments, and ask Robert to critique and guide them. "This year's team recruited me last year, and they have worked hard to prepare all semester, including during fall break. They got me to give up my fall break, too, (a trip to Cape Cod) as the competition was the Saturday at the end of fall break."
Guilford Economics students have organized and competed in five Federal Reserve Challenge Regional Competitions over the years. Guilford teams have won second place (in North Carolina/South Carolina region) three out of the five times the College has competed.         
"The members of the team were disappointed they did not win first place, which would have sent them to the next level at the Richmond Federal Reserve in November, but their performance was awesome," Robert continues. "All I can say is: Guilford Economics majors rock!"
Want to learn more about Economics at Guilford College? Schedule a personalized campus tour and meet with faculty and students. 
---