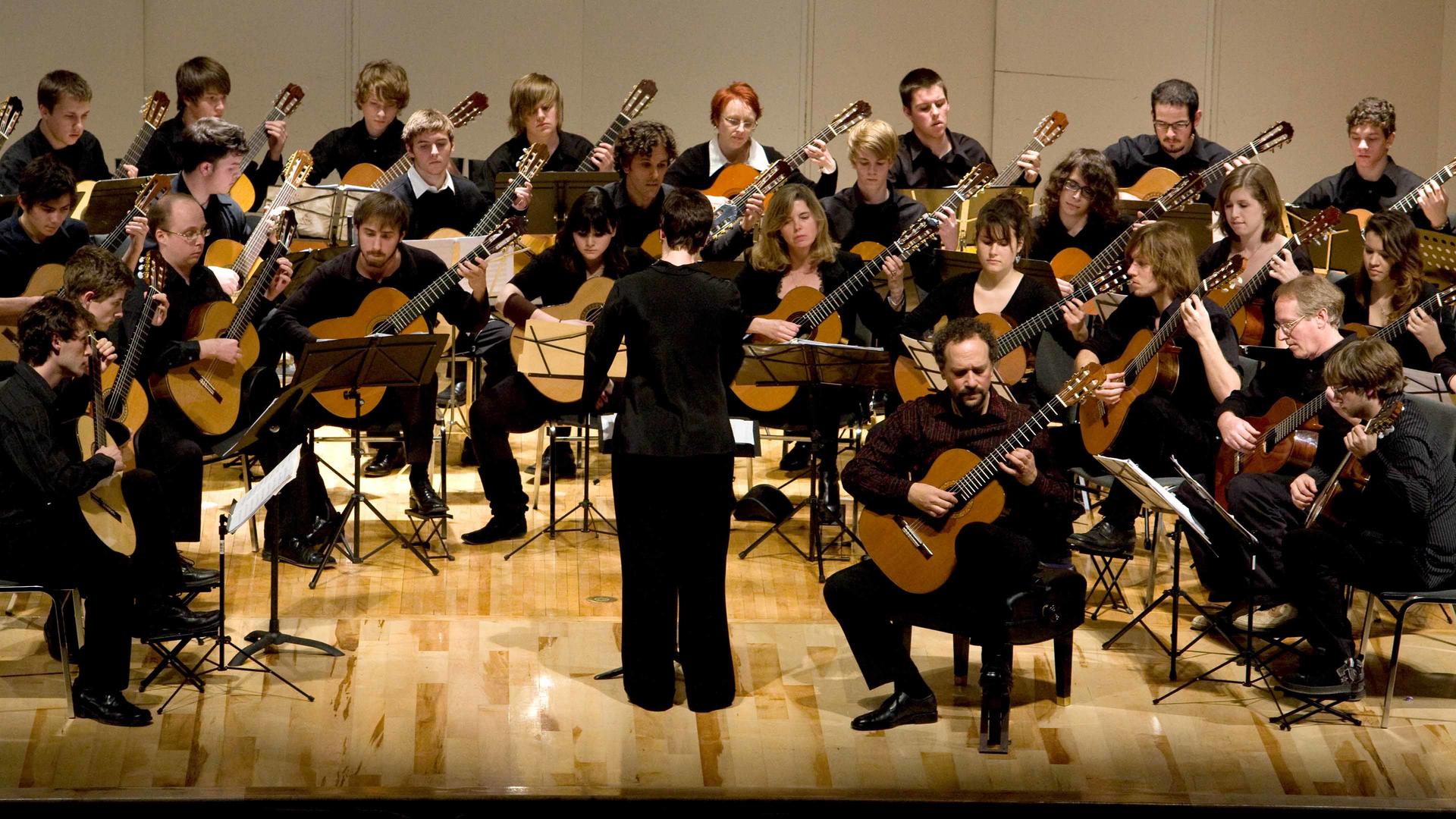 Bill Kanengiser, Associate Professor at the University of Southern California and a performer in the Los Angeles Guitar Quartet, and Guilford College Associate Professor of Music Kami Rowan are friends, having played together for years. So when Kami heard that Bill had commissioned Sergio Assad — of the innovative and internationally renown Assad Brothers guitar duo —  to compose a piece, she was immediately interested in learning more.
When she found out the content of the piece takes a historical, political and social look at famous walls around the world, an idea started to form. And when Bill told her he wanted the U.S premiere of the piece to take place at Guilford College, she was thrilled. 
The piece, entitled The Walls, is a five movement composition written for the guitar. Or, more accurately, for about 50 guitars as it's meant for guitar solo and guitar orchestra. The performers will be a mixture of professionals and amateurs, featuring Guilford students and community members. The piece will be performed at 7:30 p.m. Thursday, Oct. 4, 2018, in Dana Auditorium. 
Sergio will arrive a couple of days before opening night, and it'll be the first time he'll hear his composition with real instruments. "I've heard a computer simulation of what the piece will sound like, but live music is always so much better," he says. "I'm curious to see how this group of musicians handles it." 
"It's our belief," Bill says, "that including students, amateurs and community members in a professional concert is vitally important." 
Music Through Time
The Walls explores the human impact of four walls — the Great Wall of China, the United Kingdom's Hadrian's Wall, the Berlin Wall and Jerusalem's West Bank Wall. As the music moves the audience through centuries and across borders, Sergio charges the performers, especially Bill, with transforming the guitar's sound to embody different ethnic musical languages. 
"The music is invigorating, and my students are loving the unfolding process of getting to know the movements. I'm amazed how well Sergio was able to create a feeling of each geographic region, and I look forward to hearing Bill express this," Kami says.
"We make the guitars sound like the pipa (a Chinese lute) and erhu (a Chinese violin), the oud (a fretless, Middle Eastern stringed instrument) and the hora (a traditional, Eastern European Jewish dance, typically played on the clarinet). They take on a very Ben-Hur-type vibe during the Hadrian's Wall movement and even, at one point, sound like bagpipes," Bill adds.  
He explains that nearly every musical culture has a stringed and plucked instrument similar to the guitar, making the guitar an apt choice for a composition that transcends different times, nations and people. "They say music is the international language. And while we know music isn't truly a language, it certain can speak to people across vastly different cultures, transcending the individual."
Music as Conversation
The guitar may be well-suited for the theme, but writing for guitar ensemble is no easy feat. 
"Guitars are, of course, plucked instruments," Sergio explains, "making it very difficult to get a large group to achieve a unified sound. Think of it like clapping. It's basically impossible to get a large group of people to clap together on time." Fortunately for the audience, Sergio knows what he likes and what he doesn't in the attempt to compose ensemble pieces for classical guitar. "I know what ends up making bad, chaotic sound and so I've tried to avoid that." 
The fifth movement, entitled "No More Walls," explores a contemporary consideration of the impact of barriers, particularly ongoing conversations around immigration, migration and refugees as it relates to the United States and its southern neighbors. "Walls, symbolically, represent segregation," Sergio says. 
Without giving too much away about the piece's epilogue, Bill notes that "the undercurrent of the piece is persuasive, political, but it's also just really, really good music. The music is fun and there's a deeper message, one that speaks to how humans interact and how history is filled with examples of cultures making an effort to keep certain people apart." 
Sergio adds, "I don't always choose to be 'political' in making music, but sometimes you just have to use your voice." 
Music for a Cause
The performance is a fundraiser for the Guilford College chapter of Every Campus a Refuge (ECAR). 
"I love how this musical work aligns with Guilford College's Core Values," Kami says. "Sergio has created an opportunity for a community of guitarists to come together and experience something very meaningful while uplifting a great organization — ECAR."
Providing context, members of the College faculty Diya Abdo, Zhihong Chen, Dave Limburg and Heather Hayton will be featured speakers. 
"We have many first- and second-generation students performing with us," Kami says. "Bill has so much musical and life experience to bring to this kind of work. He's been everywhere and gets diversity in musical style. This is going to be a beautiful community effort and I am honored to be a part of it."
Guilford College students, faculty and staff receive free entry. Students, seniors and members of the Piedmont Classical Guitar Society can buy tickets for $10. General admission is $15. Tickets will be available at the door.
---