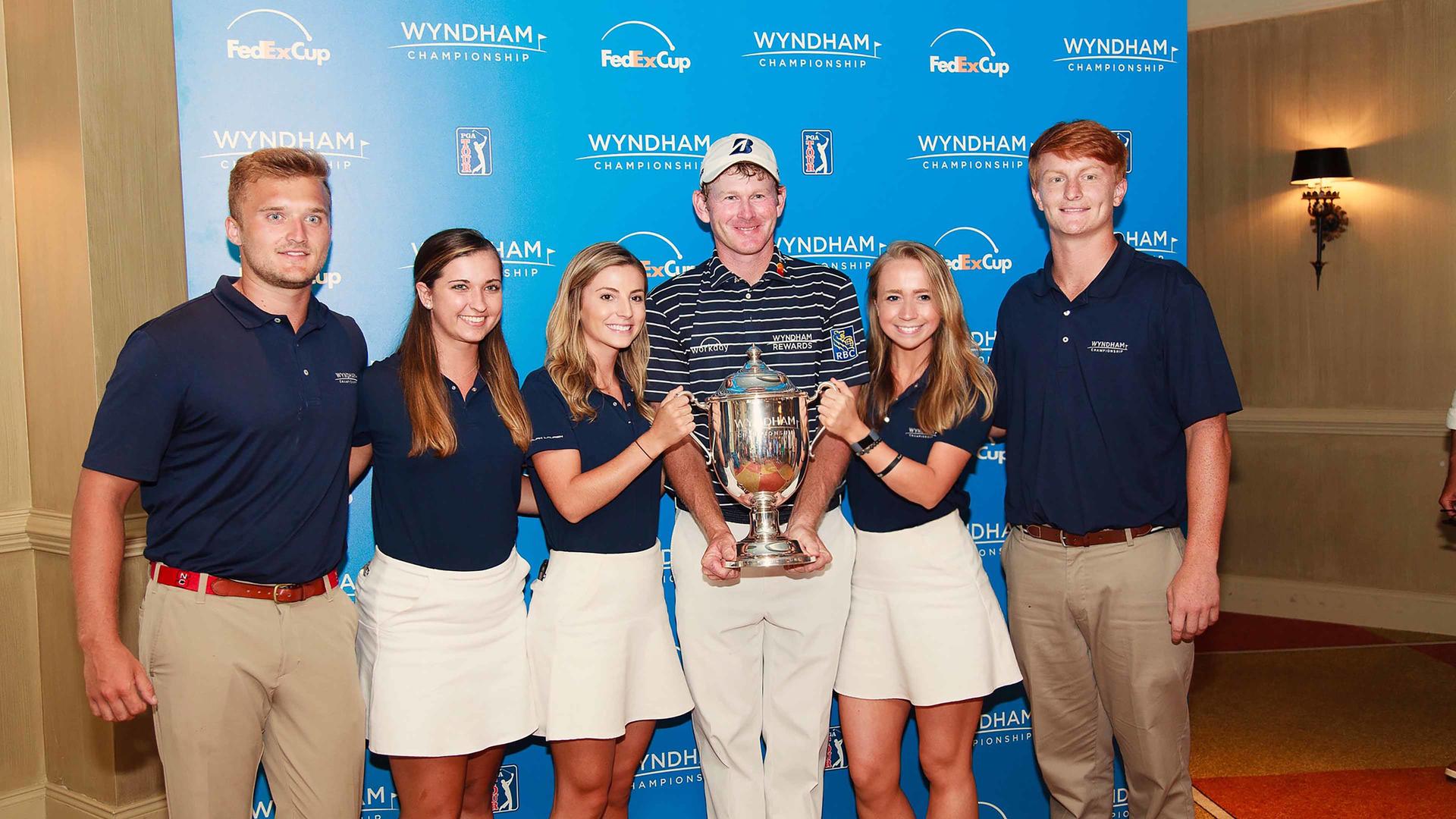 My name is Shannon Petsch and my summer was a hole-in-one of a kind! I am from Hellertown, Pennsylvania, and I am about to start my senior year here at Guilford College (I can't believe it, either!). I am a Business Administration major with a focus in Sports Marketing and Human Resource Management. When I'm not in class, you can probably find me at the gym, spending time with my Bryan Hall community where I serve as an Assistant Community Director or at New Garden Hall helping promote the school through tours and marketing!
This summer, I was given the opportunity to work as a Social Media & Marketing Intern with the Wyndham Championship, a tournament on the PGA TOUR. One of my amazing academic advisors, Terry Schwartz, heard about this opportunity and helped walk me through what to expect upon submitting my application. The process itself was quite simple and the staff was very quick and responsive. Only five interns are accepted from a strong pool of candidates.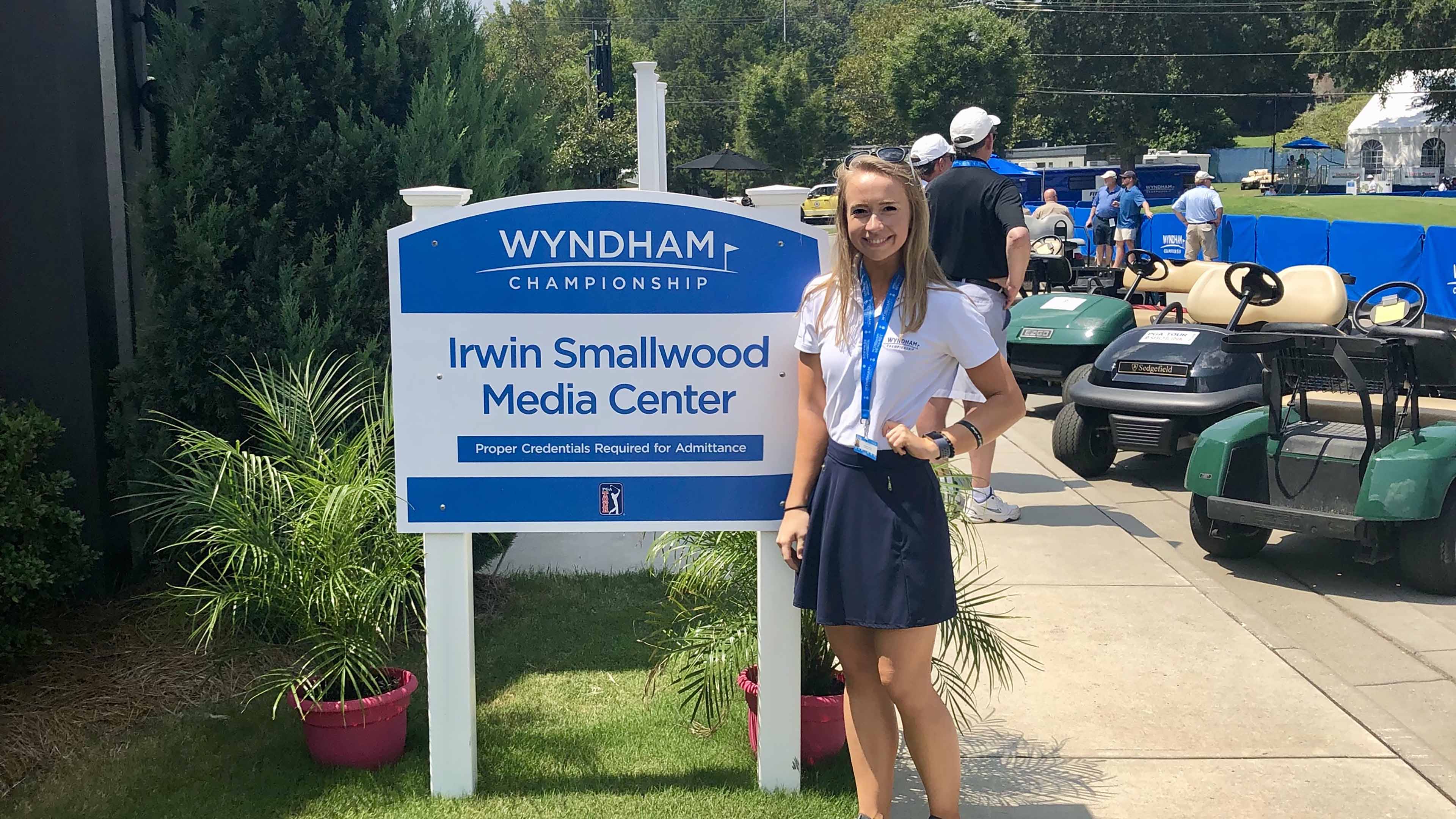 At orientation, we were given a tour of the various locations we would visit throughout the summer. As a Pennsylvania-native, I was unaware of the impact that this tournament had on the triad. After experiencing it from my behind-the-scenes point of view, however, I was able to understand the importance and economic impact it has on the Greensboro area. 
My work throughout the summer was centered heavily around operations and sponsor-services. Me and my team assembled ticket packages for patrons, made deliveries, and took inventory of anything and everything that came into the office. Initially, we completed a lot of minor tasks that seemed insignificant at the time. As the tournament approached, I noticed that all of the small tasks were moving parts in a bigger picture. Out of our team of five, one person is selected to work with the media team at the tournament and I was lucky enough to be chosen to help run the Wyndham Championship's social media for the week.
Part of my responsibilities in the media center was to craft the daily Volunteer e-Newsletter which features a different volunteer every day. The tournament is fortunate to have nearly 1,800 volunteers, but I was asked to interview a select seven. In each e-newsletter, I also reported weather, shared the lunch menu and wrote about different venues on course. The e-newsletters were a great learning experience for writing in AP format, which I will need to utilize if I enter the media world. My other main responsibility was to assist in posts for social media. As the tournament is attempting to rebrand golf to reach a millennial demographic, my content was youthful and energetic to increase engagement. During my content capture, I was able to meet Henrik Stenson, the tournament's champion from the previous year and film him at the driving range teaching viewers how to use a 3-iron. The amount of fun I had that week made it feel like anything but work. 
As Championship Sunday rolled around, I was given an "inside-the-ropes" photography pass which allowed me to film Brandt Snedeker's winning put on the 18th green. Later, I attended his press conference, and even took a picture with him and his trophy! (See the main photo for this blog)
I would recommend this internship for anyone looking to get involved with the event-management side of sports. Before this internship began, I did not know a single thing about golf. Now, I find myself watching the golf channel more than anything else. It is hard work, but the reward is like nothing else I have ever experienced. You are able to network and build serious connections with sponsors and staff. I am so grateful for the experiences I have endured this summer and I am eager to see where my future leads me next.
---