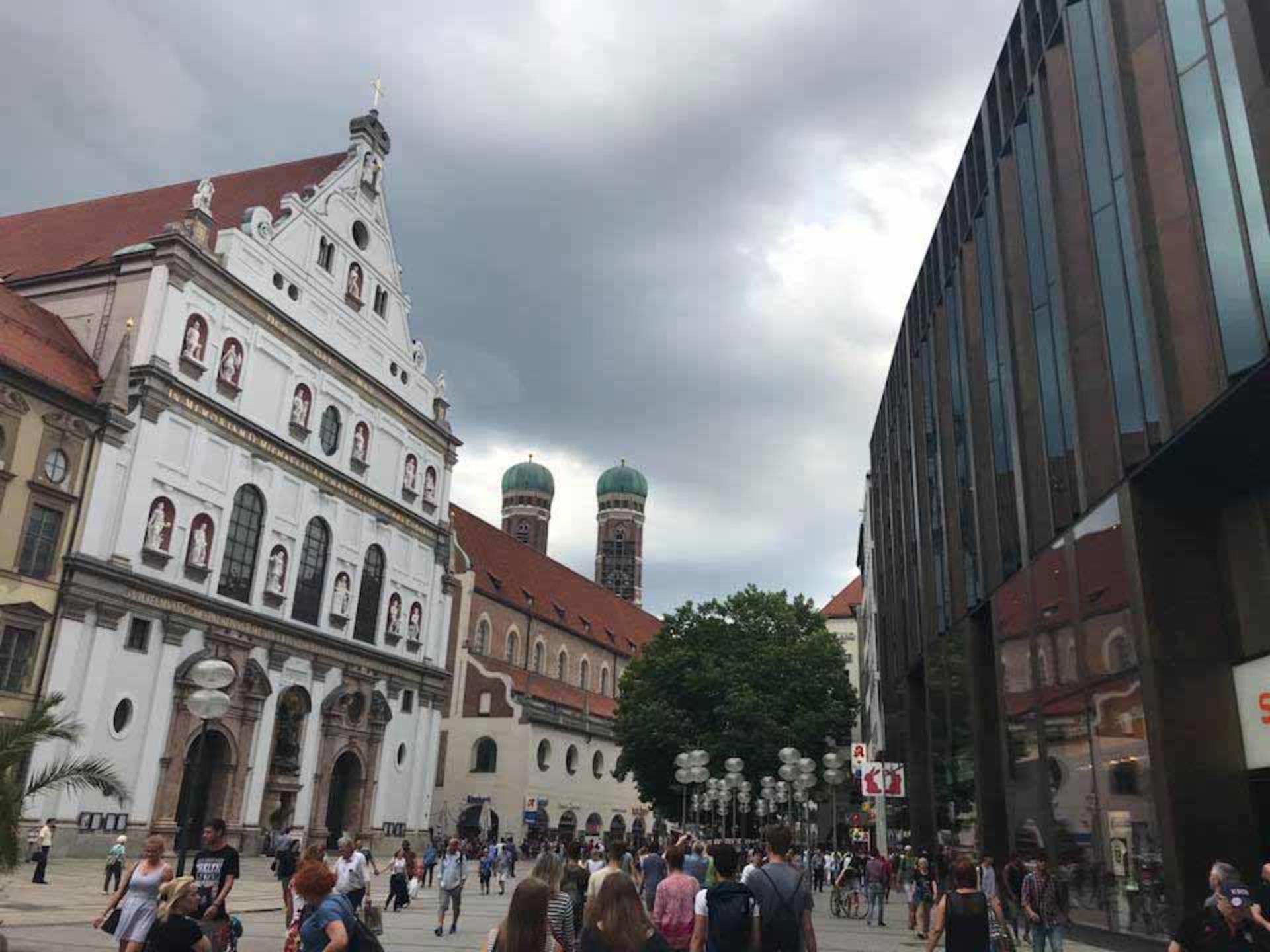 Entschuldigen Sie, sprechen Sie Englisch?
 
Or, "Excuse me, do you speak English?" It's an essential German phrase that travelers need to politely navigate Munich, according to German Professor Dave Limburg. 
And it's a phrase that came in handy this past summer as more than 100 people — Americans, Germans, Swiss and Austrians — gathered to celebrate one of Guilford's longest running and most dearly held study abroad trips. June 2018 marked 40 years of the Guilford College in Munich program. 
The anniversary trip was an opportunity for multigenerational, international community building in Bavaria's capital with beloved host father Günther Polzin, 98, who served as a host father for many cohorts of Guilford students abroad.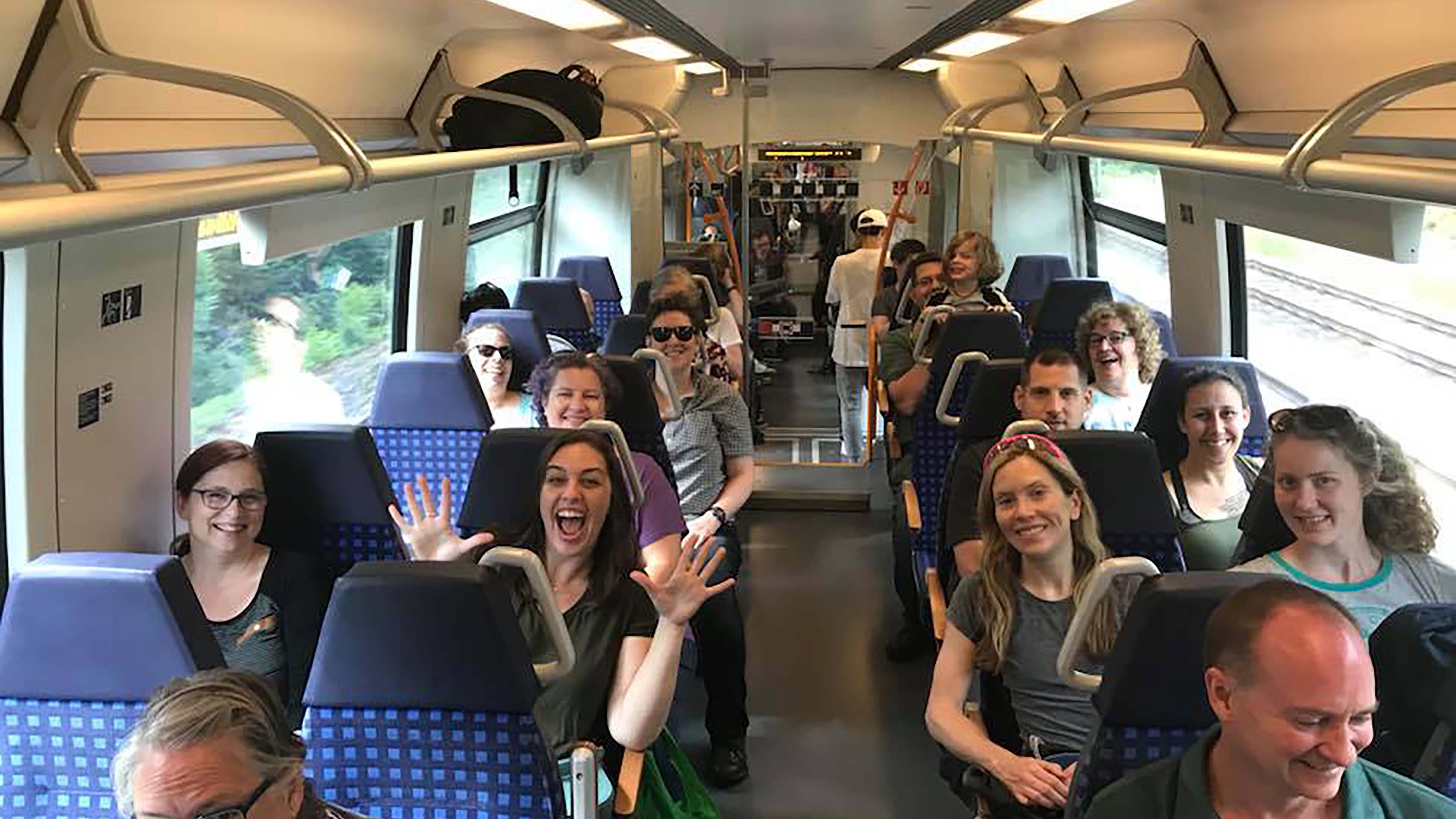 Guilford College faculty, alumni, family and friends travel by bus in Munich.
A Few Highlights 
Dave, a campus celebrity (though he would never give himself such a title) and trip organizer,  glows about the trip's fun, familial atmosphere. Multiple alumni attended, some with their 4- and 5-year-old children in tow. The theme was 10 Days, 10 Hikes and 10 Beer Gardens, and "every day was so memorable," he says.
"One highlight was, the 'Day for Dieter' on Thursday, June 21, when we celebrated our beloved Munich Art History Professor Dr. Dieter Kühnel, who died last year," Dave says. The group re-lived one of Dr. Kühnel's art-history walks to Schloss Blutenburg. "That evening, 57 people met at the Hofbräukeller, Dieter's favorite Biergarten. It was the most attended Biergarten of the 10."
"Another highlight was our weekend in the mountains near Berchtesgaden. We spent the weekend hiking, swimming and singing German and American songs. We watched Germany defeat Sweden in the last minute of their World Cup game and ate dinner at the Holzkäfer. We truly enjoyed being together with the sounds of distant cowbells and church bells in the fresh mountain air."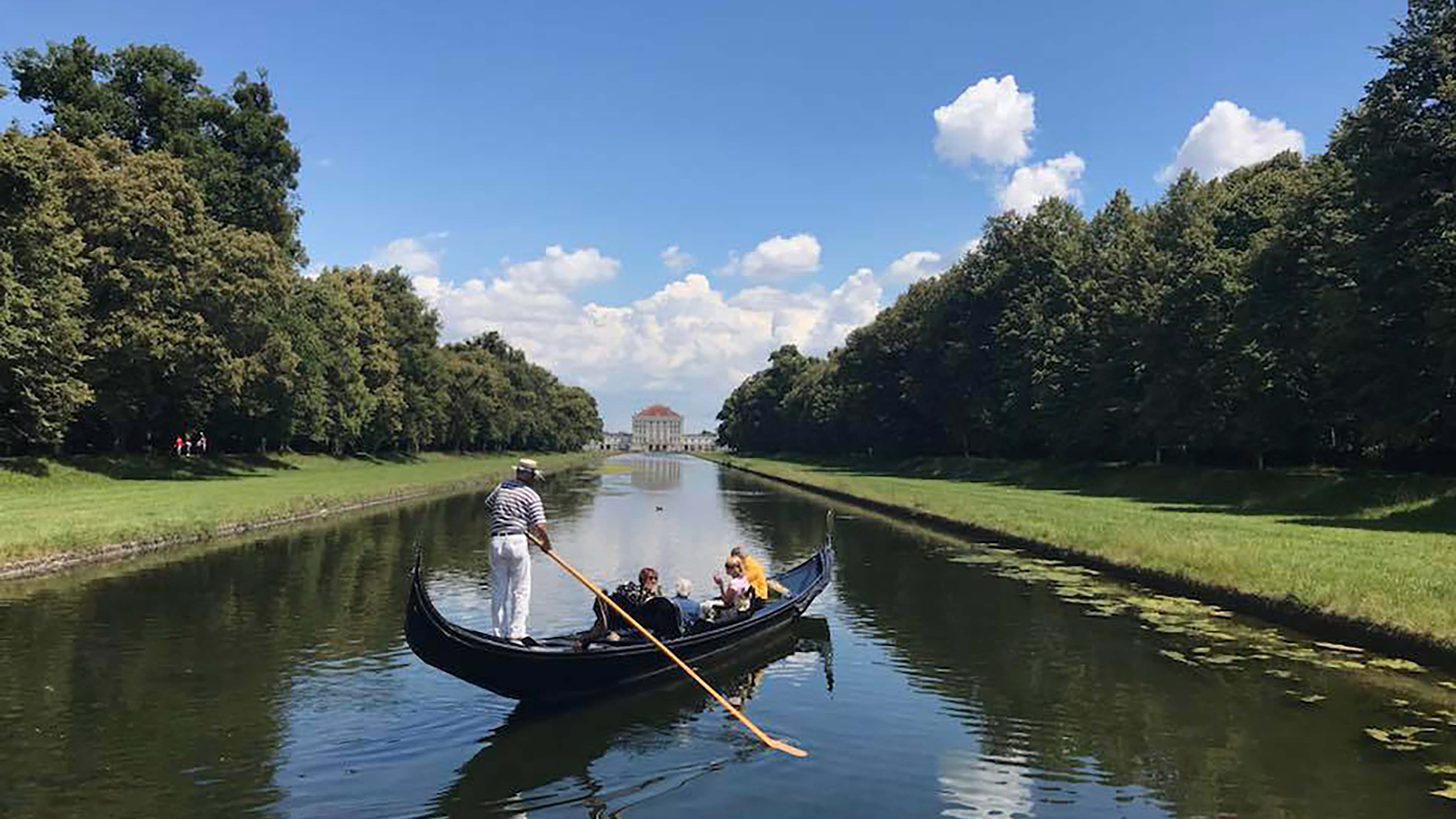 A College Tradition
Dave has now organized two reunions to Munich, the first in 2012. This year's trip was a successful expansion of what he hopes to be a College tradition. 
"I'm pretty sure every Guilfordian who has participated in the Munich semester would agree that Munich is one of the most beautiful, historically interesting, navigable, festive, artistically important and safest big cities in the world," Dave says. 
Munich doesn't have the same "huge city vibe" as such German cities as Berlin, Hamburg or Frankfurt, "But, there's just as much going on!" Dave says.
Guilford students consistently remark on how safe they feel walking through the city at night.  
"And once you get to know people from Munich," Dave assures, "they often become friends for life."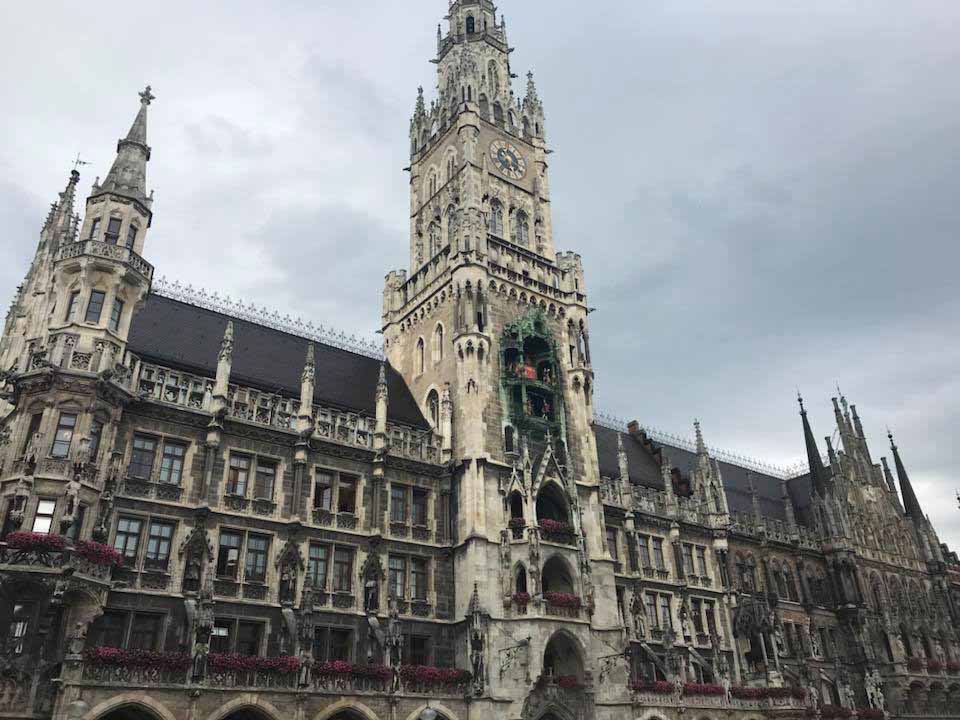 I was struck with the beauty of what it means to fully engage with place through time and how this engagement not only shaped and continues to shape who I am, but also influences the continuous evolution and strengthening of community through shared experience.
Global Travelers
Admission Counselor Hannah Brewer-Jensen '17 attended the reunion, going back to a place that means a lot to her. 
"My semester studying in Munich was a formative time in my development both as a Guilford student as well as an global traveler and citizen," she says. 
After living in eastern Germany this past year teaching English on a Fulbright grant, Hannah took the reunion as an opportunity to reflect on her relationship to the people and culture of Munich. "My first time there as a student in 2015," she adds, "I only knew my faculty leader and spoke hardly any German!" 
Now, returning as a seasoned expat, Hannah joined friends and strangers connected by a shared experience and love of the city.
"All of my travels seem to circle back around to Munich at some point and I greatly anticipate the next opportunity I'll have to go back. Until then, whether I am in Munich, at home, or elsewhere, the skills I learned through Guilford's Study Abroad program — to reach out and connect with my immediate community regardless of our similarities and differences — will be the path along which my journey as a lifelong learner and citizen of the world leads."
Interested in study abroad? Guilford's programs are nationally recognized! Learn more by scheduling a personalized campus visit.
 
---