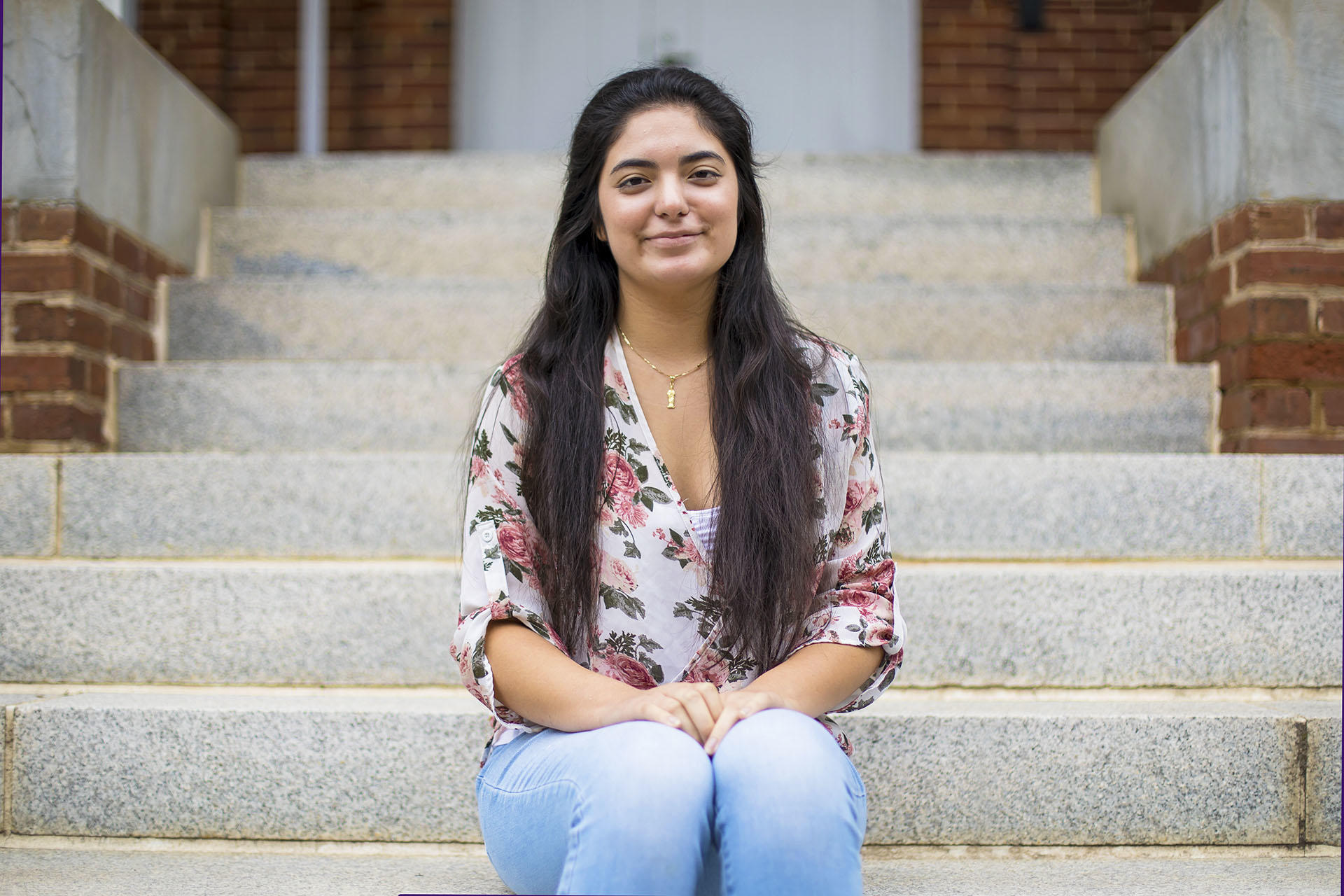 Chelsea Sosa-Sosa '21 describes Guilford as calm and easygoing. A local from Greensboro, N.C., this second-year student is an active presence on campus. 
She volunteers through the Bonner Scholars program and participates in the International Club, Hispanic Unidos de Guilford (HUG), as well as Guilford's Define America Chapter. Although she's still deciding on her major, Chelsea has a keen interest in global studies. She plans to pursue a minor in Japanese because Introduction to Japanese has been her favorite course to date. 
"I was super excited that our professor was Japanese so I could have more personal insight on Japanese culture and society," she says.
Chelsea's Guilford story is familial and unique. When her father first moved to the United States from his home country, he started working in Guilford's cafeteria. Years later, when Chelsea announced her desire to go to Guilford, her father told her, "Nunca pensé en ese momento que en el mismo lugar donde trabajaba lavando platos, mi hija estaría en esa escuela como estudiante universitaria." This tender statement translates to, "I never would have thought in that moment, that the same place I worked as a dishwasher, my daughter would be at that school as a college student."
Chelsea feels extra proud to be a Guilford student, she says, because "I represent the outcome of my father's hard work." 
Inspired to Succeed 
As well as her own academic success, Chelsea credits Guilford's scholarships and her mentors as two major benefits. 
"Although Guilford definitely eased my mind off the financial burden from higher education, this was not the only reason I chose Guilford. When I toured and visited Guilford, I fell in love with its welcoming atmosphere. I instantly felt at ease and included," she says.
Her mentors include Susan May from the Bonner Center, who she says is "an amazing role model who has contributed to my journey of making the community a better place." There's also Modern Language Studies Professor Karen Spira, who as her First Year Seminar professor helped Chelsea transition into college life while also challenging her academically. 
Determined to Make a Difference
Chelsea says she wants to make a difference in the lives of others after she graduates. And as someone interested in international studies, she plans to travel as much as possible in the future in order to "experience lifestyles completely different than my own." 
    
In moments of self doubt, Chelsea says she draws strength from this Eleanor Roosevelt quote, "No one can make you feel inferior without your consent." Among her self-determination, she finds peace among Guilford's campus, particularly among "the beautiful and lively trees." With that mindset, Chelsea hopes that all of the experiences she's shared with her college community will offer her a sense of accomplishment once she graduates.
Guilford College can help you mold your passions into your path. Schedule a personalized campus tour to learn more. 
---