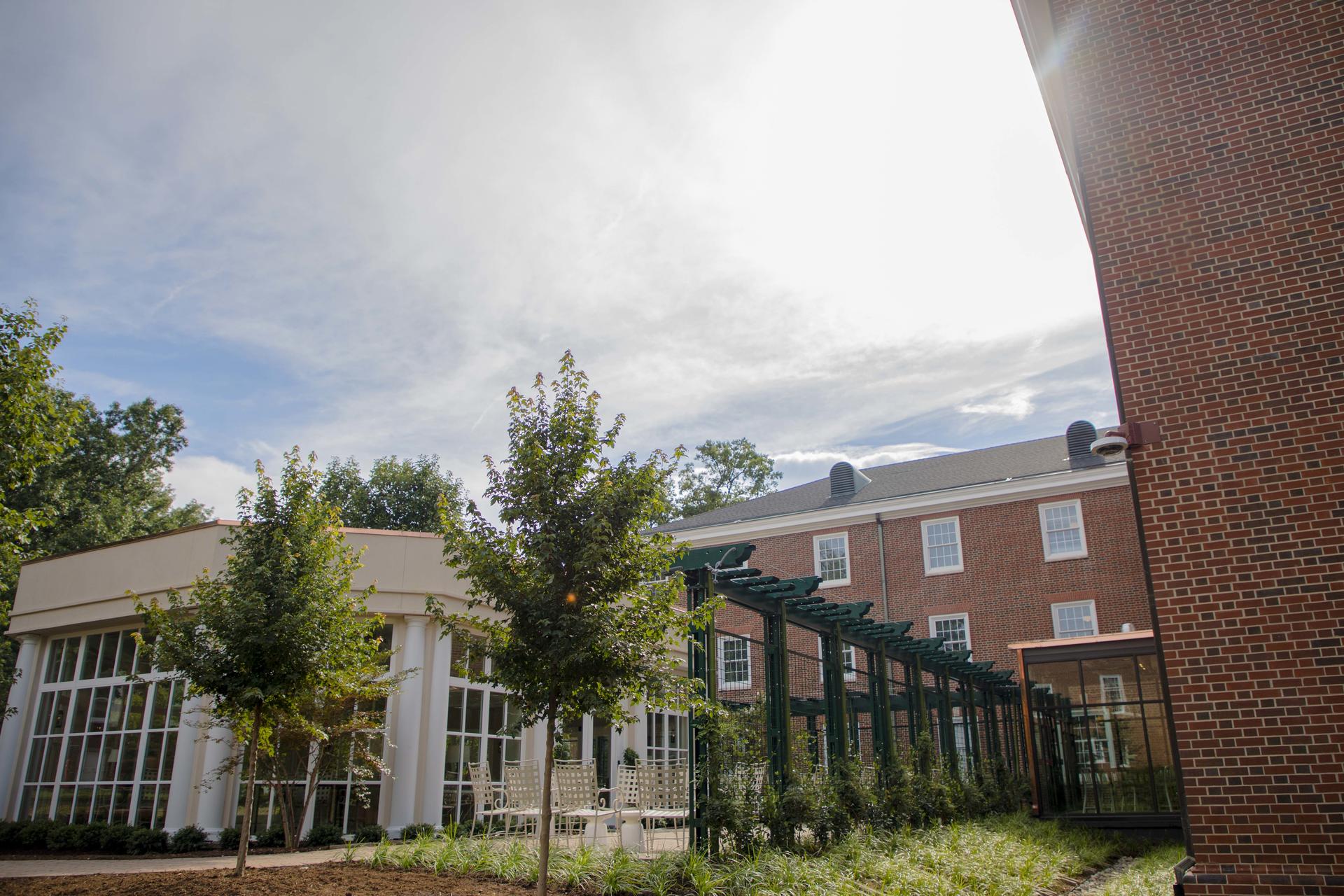 Guilford College community members were treated to an Open House celebration for newly restored Binford Residence Hall on Wednesday, Aug. 8. No one was more impressed and thrilled by Binford 2.0 than President Jane Fernandes. As she shared in her opening remarks, the beautifully designed and executed project represents the best of all that Guilford is — and is becoming.
"The restoration of Binford Hall is but an early tangible example of how we are employing our Core Values and the Guilford Edge initiatives with our decision making and executive processes," Jane said. Emphasizing both the practical and rhetorical choice of "restoration" versus "renovation" she said, "We restored this wonderful residence hall with love and respect. Why in the world would we throw something in the dustbins of history just because it is old?"
First constructed in 1962, Binford has returned to its original glory — and then some. Underneath outmoded and outdated furniture and decor, walnut paneling and terrazzo floors were waiting to be restored. "We aimed to restore and reuse as much as we could," says Brett Hacker, Director of Facilities and Energy Management, "all the while keeping in mind the architect's original vision and improving upon it where we were able." 
The residence hall is now flooded with natural light, from the stairwells, to the reading nooks by the elevators, to the bedrooms. Even the basement (which has been redubbed the "Binsment") has natural light, in addition to the pool table, 80-inch flat screen, leather couches and laundry machines that can send an alert to your phone when your cycle is finished. There is even a demonstration kitchen that is sure to wow the newest generation of foodies and budding bakers.
And no place feels as inviting and as full of student life potential as the Orangerie — an 1,100 square-foot, glass-walled, Binford-adjacent student activities space visible from the main student quad. With flexible, indoor-outdoor furniture, a 4K resolution projection system and the latest in A/V technology, the Orangerie will be the most highly coveted programmable spot on campus. 
Jane walked the crowd through thought process and execution of the uncommon restoration. "We dance to the beat of our own drummer and that tune plays the seven words of our Core Values and the four Guilford Edge Initiatives," she said. "This isn't business as usual. This is business as Guilford."
The project came together through creative collaboration between the college and sustainable hospitality expert Dennis Quaintance of Quaintance-Weaver Restaurants & Hotels. Responsible restoration, sustainable living and modern, multifunctional spaces that transition seamlessly from living to learning are at the center of the first-year dorm.
A group of student athletes have already moved into the space and in just a matter of days, Binford will come to full life as incoming students arrive for move-in day.
Want more on what's going on at Guilford? Check out this roundup of campus improvements in the works and learn more about the Guilford Edge. 
 
---