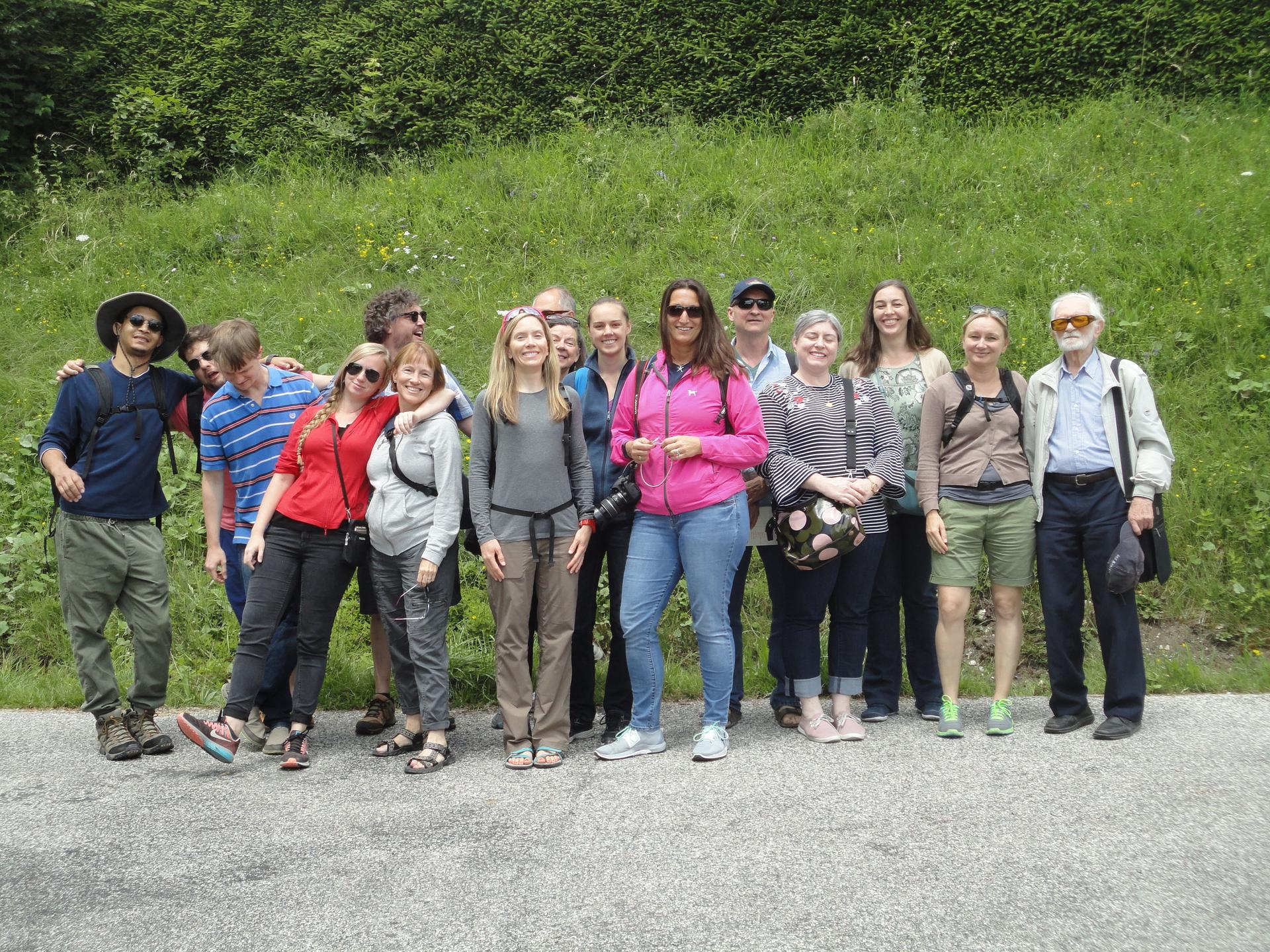 It's a misty Monday morning in Berchtesgaden, Germany. American children who've just met that morning are kicking a ball in the grass, friends already. Adults of all ages are milling around, helping each other with luggage and joking about our German waiter from the night before. It's gloomy out, but everyone is smiling and familiar. Some of us didn't even know each other seven days ago. This is Guilford. 
I studied abroad with the Guilford Munich program in 1995. The experience is still so dear to me that this is my fourth time returning to the city since then, and my second time doing so with Guilford folks. When you spend all the money it takes to get to Europe, you'd think you'd want to experience a new country. Still, I find the new experiences in a familiar place almost more meaningful.
This time I cajoled my 74-year-old mother into traveling with me, along with two friends: one a Guilford grad, one not. In Munich we joined the group – an insufficient word for what happens when Guilford people gather; in no time we were all more family than group, tied together by memories, values, new experiences, inside jokes, and of course beer. 
And I can't write one more sentence without mentioning Dave Limburg, Guilford's generous and tireless German professor, the planner of this wonderful trip, intrepid traveler and adult camp counselor, who always had at least one of the group's children hanging off him adoringly. He led the group for two weeks – "Ten Days, Ten Biergartens" – plus a weekend trip to Berchtesgaden, where Guilford students always spend the first week of their Munich study abroad. Each day was a different excursion, both familiar and new. Smaller groups would sometimes break off during the day, with almost everyone meeting up again at the evening's chosen Biergarten. Dave is the reason this trip happened and the fluent glue that held us together. We leaned on him in every way: "Dave, where are we meeting? What train ticket do I buy? How do I ask for a baked potato?" He never even flinched.
It's hard to sum up the trip in the perfect way - we did so much! We walked our legs off and navigated trains and museums and German menus. We toured the city and the countryside. We watched Germany beat Sweden with our enthusiastic F-bomb-dropping waiter. We went to the tops of mountains. We saw rose bushes dating from the fifteenth century. My Guilford travel buddy and I realized we have the perfect combination of German skills – I can ask the questions and she can understand the answers. We ate Döner and Wurst and Käsespatzle and so many bright yellow potatoes. We drank together and laughed together. We made new friendships and strengthened old ones. And I got to see my mom experience all of this for the first time, from the funny to the beautiful to the profound, including the Nazi Dokumentation Museum in Berchtesgaden which brought her to tears. 
It's been more than 20 years since I was a Guilford student – how the time flies! My life has twisted and turned, and I have traveled to many other places in the world. Thanks to Guilford, Munich will always be a second home to me. And for ten days in Germany I was a Guilford student again. We all were.
---