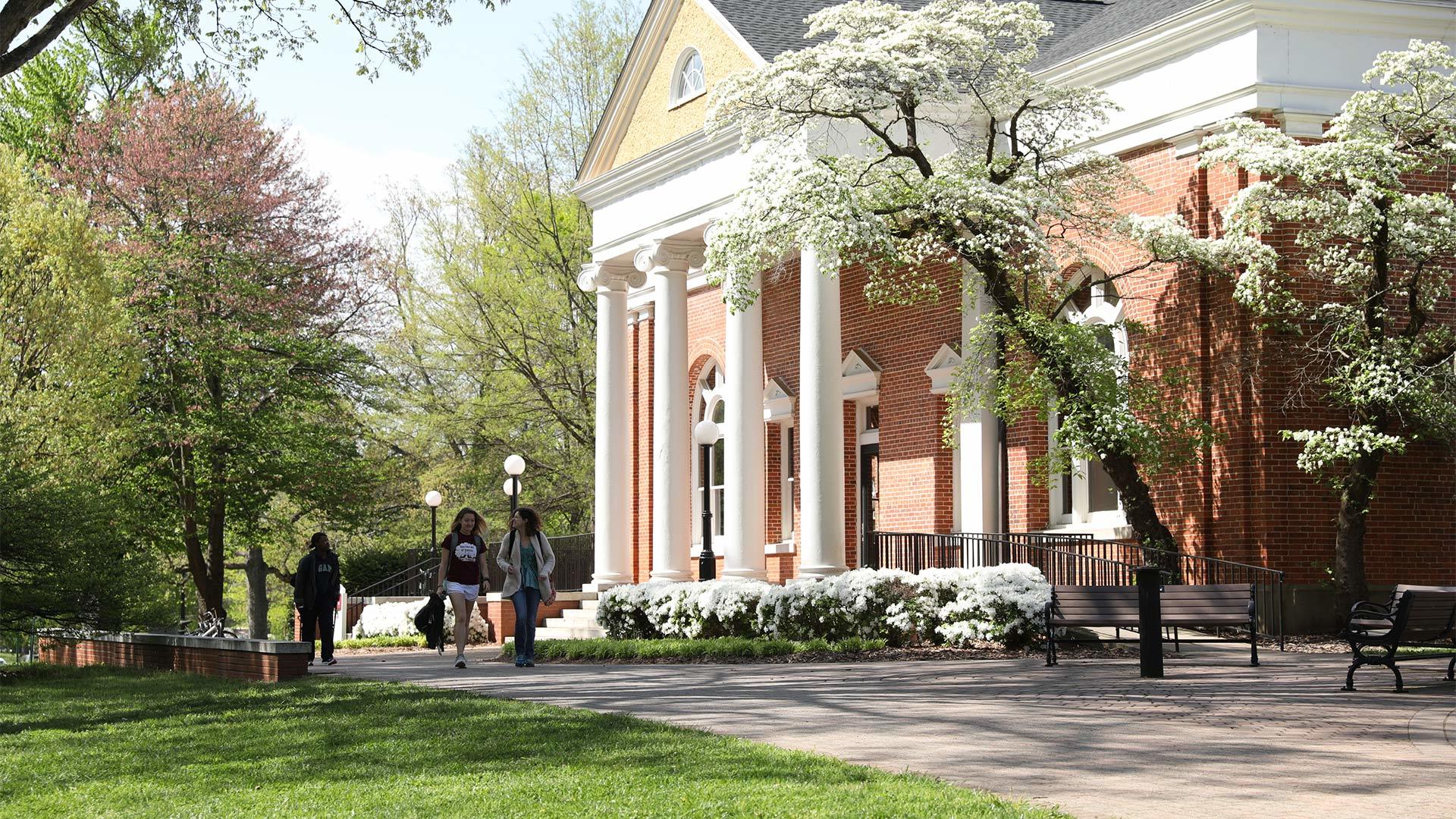 Things are about to get more real at Guilford College — for everyone.
 
The College is preparing to roll out a totally reimagined educational experience designed to transform student learning for greater impact. The central focus is on ensuring uncommon engagement in real-world discoveries for every student. It's called the Guilford Edge.
"The Guilford Edge promises to be a student-centric experience like no other," says Jane K. Fernandes, President of Guilford College. "We believe it will be a game-changer for Guilford. Students will be empowered to chart their own customized educational journey as we help them illuminate the brightest path to fulfilling success based on their emerging individual interests and passions."
 
Encompassing much more than innovative curricular change, the Guilford Edge integrates four sharp points of distinction: Teaming for Success, Learning Collaboratively, Rallying Campus Spirit and Incorporating Ethical Leadership. The dynamic intersections of these points are intended to produce exceptionally prepared Guilford graduates with meaningful and extensive practical experience that yields a decided edge in competing for graduate school and careers.
 
The Guilford Edge came to life following conversations with the College community and through in-depth research with Guilford College prospects that included both those who ultimately enrolled at Guilford and those who declined the opportunity to enroll here. The research provided rich insights regarding how Guilford can best leverage and enhance strengths to advance its mission with wider resonance for the entering and emerging generation of college students.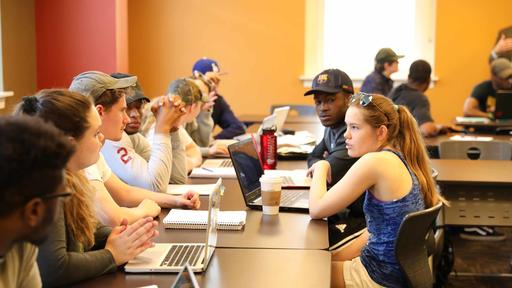 Creating the Edge
Beginning with a World Cafe Conversation in February 2017, Guilford faculty, staff and students came together to share and explore ideas for effectively responding to research recommendations and goals. The event helped jumpstart the work of four action teams comprised of more than 40 faculty and staff, who spent summer 2017 developing an integrated initiatives framework focused on the Edge themes. The emerging recommendations were presented to the campus community in the fall and the balance of the academic year has been spent examining and refining those recommendations.
 
Perhaps most important, the Guilford Edge has earned the enthusiastic endorsement of the Guilford College Board of Trustees. After working closely with faculty, staff and administrators who are designing the Edge for several months, an ad hoc committee of the board came away very impressed. The committee's recent presentation of the Guilford Edge proposal to the full board received unanimous support.
"We are all in on the Guilford Edge," says Board Chair Ed Winslow. "We see so clearly the great promise it holds for our students and for our future as a college dedicated to preparing students for productive and fulfilling lives and careers. The Guilford Edge will put our students' interests and passions at the center of their studies. That's going to unleash their energy and passions and it's going to deliver real-world learning. Guilford College graduates will have well-trained minds and they will know how to think for themselves — no matter what's ahead."

While much work remains in regard to the final design and implementation planning for the Guilford Edge, its core essence is well defined in each of the four themes.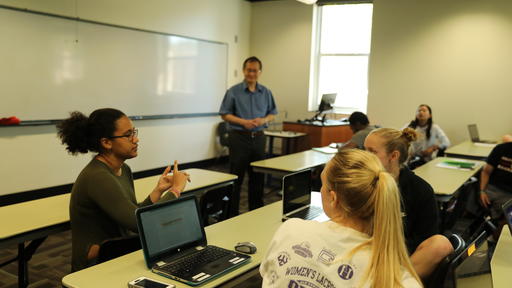 Teaming for Success
Initial implementation of the Guilford Edge will commence in fall 2018 as the important work of Teaming for Success begins in earnest. Making sure every Guilford student benefits from an integrated team approach to advising and post-college planning will be a wire-to-wire priority —from day one to graduation.
 
Engaging the collective expertise of a personal advising team featuring faculty, career counselors, peer and alumni mentors, Guilford students will develop individualized plans for making well-informed decisions about academic choices, study abroad, internships and other life-shaping experiences. "Guilford Guides" are being hired to lead the way in designing a College-wide system of advising that keeps students on track as they actively explore their interests throughout all four years at Guilford.
 
"These professional advisers will work one-on-one with our students, collaborate together as a team, and connect with campus representatives and community partners to support students through their academic journey and beyond," says Kathryn Shields, Associate Academic Dean at Guilford College, who is leading the Teaming for Success initiative and will oversee the Guilford Guides. "Using best practices and creative innovation, the Guilford Guides will design and implement a holistic advising program to promote the mission of Guilford College while guiding their advisees to define and achieve their academic, co-curricular and life goals."
Learning Collaboratively
The work of Guilford Guides and the personal advising teams will be closely connected to the dynamic array of evolving opportunities to be found in a fully reconceived curriculum that intensifies its emphasis on collaborative learning in bold new ways.
 
Rather than being an optional or occasional component of the Guilford experience, every student will now benefit from numerous team-based, interdisciplinary projects that offer broader and deeper immersion into real-world problem solving throughout all four years of study.
 
"One of the really cool and appealing aspects of these collaborative experiences is they will be focused on issues that are important to the students," explains Kyle Dell, Associate Academic Dean at Guilford College and leader of the Learning Collaboratively endeavor. "We anticipate that many of these projects will be student-generated. That's going to create some fascinating, unscripted learning opportunities that will be exciting for students and faculty alike."
 
The College is opening the door to limitless possibilities for creative immersion by moving to a 12-3 semester calendar, beginning in fall 2019. This means every semester will feature an expectation that every student will participate in an intensive, three-week dive into a particular issue or challenge in a real-world setting — near or far from campus, from Greensboro to the Galapagos Islands.
 
This newly imagined emphasis on collaborative learning will feature an academic experience that includes students choosing both a primary major and a passion/issue they wish to study and explore in-depth. The latter will be known as a "Q major" in the spirit of Quaker queries or questions. Q majors will allow students to be deeply immersed in projects that examine anything from environmental stewardship, human conflict, globalization and economic justice, to social media and change movements, science and spirituality, and psychology and sports — to you name it.
 
"The diversity and depth of experience our students gain as creative and collaborative problem-solvers through these real-world encounters during their four years at Guilford will be invaluable,"says Frank Boyd, Academic Dean and Vice President of Academic Affairs at Guilford College. "Our graduates will leave here with a compelling portfolio of highly valued skills and experiences that will distinguish their candidacy for top grad schools and leading-edge careers."
Rallying Campus Spirit
The explosive growth in collaborative learning experiences in the years ahead is sure to engage and energize all of Guilford College as it looks to create an ever-more vibrant and cohesive campus community.
 
A number of initiatives are already in motion focused on enhancing traditions, environments, and structures as a way to energize the totality of campus life. This year has already included a greater infusion of highly visible campus-wide events such as Arts on the Quad, Guilford Love, and the International Festival. More opportunities are being conceived for the future as the College looks to highlight the "Big 8" events each year.
 
"We are gearing up to create all-campus experiences that inspire our community," says Kami Rowan, Chair and Associate Professor of Music at Guilford College. Kami and Tim Johnson, Director of Student Leadership and Engagement at Guilford College, are co-chairs of the Rallying Campus Spirit team.
 
"In addition to creating new spaces for dynamic, student-led programming," Kami says, we're also altering our weekly schedule to create exciting algorithms of energy and more time for collaboration among faculty and students. I look forward to seeing Guilford come alive like never before as we work to build and celebrate the diverse richness of our community."
 
"I think my peers will be excited by all that is coming with the Guilford Edge," says Hector Suarez '18, former President of Community Senate. In addition to the curricular innovation, Hector says he believes initiatives related to rallying campus spirit will be well received. "Students are going to very much appreciate having more events and new spaces to gather."
Kami and Tim say they are eager to get more Guilford students directly involved in advancing the Rallying Campus Spirit initiative, noting how invaluable student input and ideas will be to shaping the work in the coming months and academic years.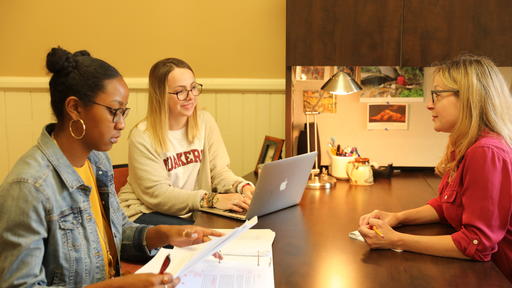 Incorporating Ethical Leadership
One thing that won't change with the Edge is Guilford's commitment to the diligent pursuit of its seven Core Values of community, diversity, equality, excellence, integrity, justice and stewardship.
 
To the contrary, the College intends to build on that commitment by seeking ways to more effectively leverage the historic and evolving strengths of character-building programs like Bonner, QLSP and Principled Problem Solving to widen their collective impact. The aim is to create a more cohesive and comprehensive model of ethical leadership development programming and practices that will benefit every student's development. Ultimately, Guilford seeks to be a nationally regarded exemplar in that endeavor. Guilford College administrators Barbara Lawrence, Vice President for Diversity, Equity and Inclusion, and Krishauna Hines-Gaither, Director of Multicultural Education, will lead the Incorporating Ethical Leadership initiative.
"We are strengthening our historic commitment to developing highly competent and compassionate ethical leaders," Barbara says. "That has always been at the core of who we are as a College that changes lives — and today it's more important than ever."
President Jane says the arrival of the Guilford Edge positions the College to reach new heights of national distinction.
"This is merely the beginning of an exciting new era in the proud history of Guilford College," Jane says. "We are being called to respond anew to the needs of a hurting world — as we have done throughout our 180-year history. I have great confidence that the Guilford Edge will spark the imagination and ingenuity of a determined generation of talented students eager to create positive change."
---