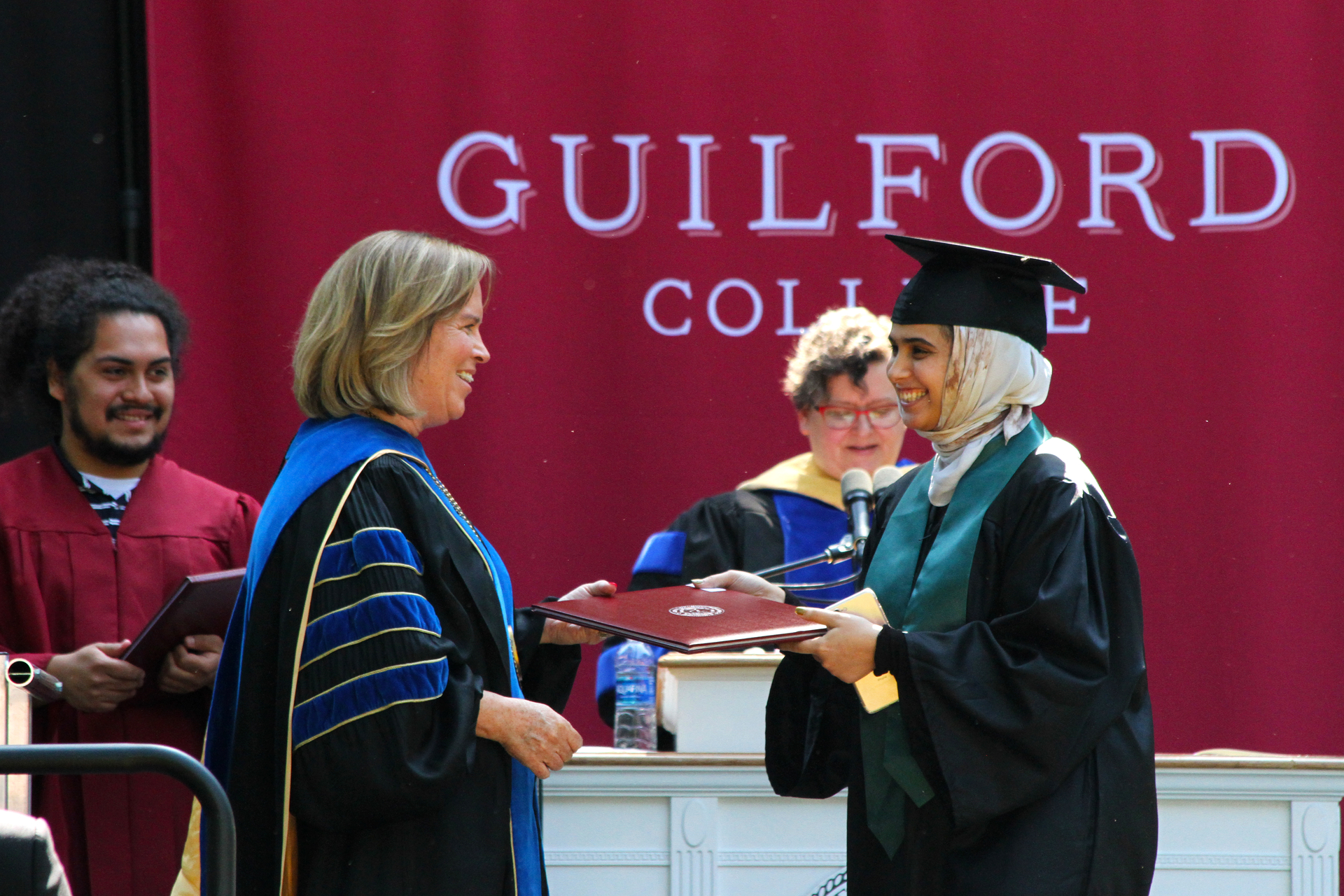 I remember vividly my college graduation day, the culmination of four years of unprecedented challenge and growth. And on that day, surrounded by my parents, family and grandmother, full of all I had achieved, I faced another transition from familiar grounds to "foreign shores," from feeling that I knew a great deal to realizing that, in fact, I still had a lot to learn.  
As I left the safety of my academic home, headed to a summer job and then graduate school, I knew there would be new situations to master, new people to meet, new challenges to overcome — not the least of which would be finding my first real job. Really, my whole life has been about learning to embrace new beginnings with courage and confidence.
I think that's likely the case for most of us, including our esteemed Guilford College Class of 2018. Trending data from the National Bureau of Labor suggests that the majority of Americans will likely change jobs more than 10 times during their lifetime. Fortunately, our Guilford graduates are equipped with a breadth and depth of education that provides exceptional preparation for all their new beginnings. 
And the first new beginning for the Class of 2018 is indeed impressive — highlighted by some very cool destinations, including: Johns Hopkins University Ph.D. program in cellular, molecular, developmental biology and biophysics; Vanderbilt University for a masters of divinity program; City University New York for a master's in bilingual education; Germany for a Fulbright teaching assistantship; and Botswana for Peace Corps service. (Read and view more about our sensational seniors.)
Ju Ju's Beginning
No one knows more about the renewing power of new beginnings than Judia Holton '18, affectionately known as "Ju Ju." The Community and Justice Studies major, who will be our student speaker at Commencement, benefitted from two fresh starts at Guilford College. (Read more about Ju Ju.)
First enrolling at Guilford in 2010, Ju Ju stepped away from studies in the spring of 2012 — citing the need to "find space and purpose."  During that time, Ju Ju (who uses "they/them/their" pronouns) gave birth to Amari and earned a rather attractive position as a marketing events coordinator. They says it was a good fit on paper, but in reality "everyone there was miserable" and Ju Ju was hungry for something more meaningful and fulfilling. So, they opted to walk away and resume their education at Guilford in the summer of 2016.
Upon their return, Ju Ju quickly discovered the connection between their passion for working with local community organizers and a promising degree path in Community and Justice Studies. As Ju Ju says, "I was able to apply classroom content while rallying the community — I was learning and living it in real time."
Now Ju Ju is ready to begin again. They will join Guilford College classmates on a three-week journey to examine peace-building efforts in Rwanda before heading off to a fellowship with the Participatory Action Research Institute at City University of New York.
Ju Ju will pursue a life focused on "socially conscious work" that restores and builds community. As they says, "I owe everything to community and the community we have built here." 
Fresh Starts for All of Us
Whether you are just graduating from college or nearing retirement, every new beginning comes with meaningful opportunities. As life leads us through a succession of new relationships, new jobs, new careers, new communities and new stages — such as becoming a parent for the first time and eventually caring for your own aging parents — there is always something special to savor. If we remain focused on our Core Value of excellence, we will discover that each achievement gives us a platform from which to see the prospect of further accomplishment, new cliffs to scale and new lands to explore.  
Brendan Kennelly, an Irish poet, in his poem Begin says:
Every beginning is a promise
born in light and dying in dark
Determination and exaltation of springtime
flowering the way to work.
Four years ago, Guilford certainly offered the Class of 2018 great promise. Our faculty and staff worked hard to fulfill that promise with every member of the class — helping each of them to lay the foundation for the person they ultimately hope to become.
Kennelly's poem ends with these words:
Though we live in a world that dreams of ending
that always seems about to give in
Something that will not acknowledge conclusion
Insists that we forever begin.
May our graduates embrace and then conquer the anxiety that comes with each new challenge.  May they cultivate humility even in the face of their own remarkable achievements. And like our student commencement speaker, Judia Holton, may they forever begin.
---