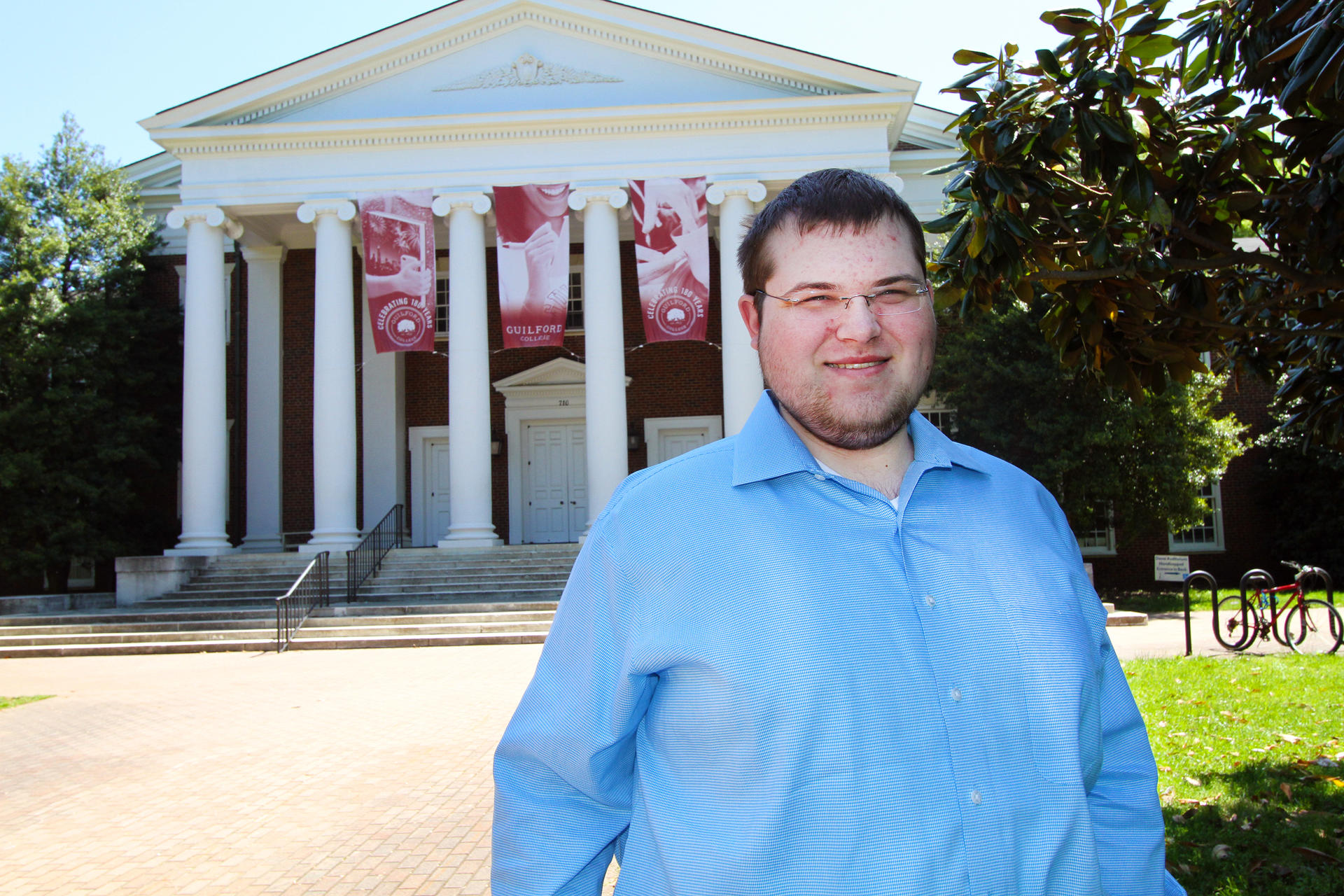 Hank Groon '18 is heading to Chapel Hill for the relative quiet of library science once the madness of finals dies down. 
 
There's nothing that can't be solved with perseverance, hard work, a helping hand, a great advisor, and lots of your choice of caffeinated drink.
"A Guilford alum and friend of mine has this really funny saying about finals that comes to mind this time of year," Hank recites. "People screaming and running around in a panic, pillows and blankets in every corner, and there's no fresh coffee because it vanishes the moment a pot's brewed. Must be finals." 
Okay, maybe it's not all that dramatic, but Hank has survived the gauntlet of four years of finals weeks and it's earned him a spot in a master of library science program beginning this fall. With that kind of perseverance and sense of humor, we know Hank will make a great librarian. (Shout out to the Hege staff!)
So, library science, huh? 
Yep,  I've been accepted into UNC's Masters of Library Science program, so I'll be moving to Chapel Hill over the summer. This, of course, has the added benefit of being closer to Guilford in case I want to drop in on a club meeting after graduation. After UNC, I hope to get work at a library or at the State Archives of NC, where I had an internship previously, but that's a few more years to go yet.
What's your favorite Guilford College memory?
Freshman year, as a new member of the Yachting Club, everyone was invited to a bad movie night the weekend before the exams for Fall Semester of that year. As it turns out, the Yachting Club has one particular bad movie that it's tradition to show that night, every year around the same time. I won't spoil it for any incoming Freshmen, or anyone else who might want to see it, but it's quite possibly the worst thing I've ever seen, and the fact that everyone was making fun of it, eating ice cream, and just generally having a great time makes it one of my favorite memories. I still have pictures.
 
When I first visited campus, it felt right. Like this was somewhere that I was supposed to be.
Tell us about any faculty or staff mentors. What did they teach you? 
Tierney Steelberg, Instructional Technology Librarian, and Meg Hinson, Experience Design Librarian,in Hege, both taught me that, with patience and planning, smaller projects have the potential to grow much larger. Gwen in the Friends Historical Collection taught me that, while everything can change and move around, it's making sure that everyone can access what's been changed without unreasonable restriction that should be your goal. Chafic, in the CTIS department, taught me that it's the effort you put in that ensures your potential shines through, not what you look like after the work is done. Vance, from the Philosophy department, taught me to take apart a thought to make sure I understand what I'm thinking, and more importantly, understand what I'm writing. And Heather, from the English department, my first professor, taught me that there's nothing that can't be solved with perseverance, hard work, a helping hand, a great advisor, and lots of your choice of caffeinated drink.
What are you reading, watching or playing right now?
Well, I finally got around to reading Good Omens by Neil Gaiman and Terry Pratchett. It's been great so far, after listening to friends recommend it for years. I've been watching the Digimon Adventure Tri movie as it's released in parts online, for the 25th anniversary of that show. And games being played would take way too long to list, although primarily it's Final Fantasy XIV on the computer, and drafting future plans for Exalted and CºNTINUUM: Roleplaying In The Yet for tabletop games. Unfortunately, regarding those plans, Further Information Is Not Available Here.
Why did you choose Guilford College?
This is going to sound sappy, but one of the reasons I chose Guilford is because, when I first visited campus, it felt right. Like this was somewhere that I was supposed to be. Other reasons include the lack of a Greek system, how friendly everyone is, and the values that Guilford was based on. Also, the Yachting Club (can you tell I love my fellow nerds?), even if our only boat is about a foot long.
What's one thing a Guilford student should be sure not to miss?
he Yachting Club. Alright, I'm kidding a little bit, although they're all amazing people too. I'd say two of the big things to not miss out on are the Guilford Undergraduate Symposium (GUS) and Colorfest. GUS, because you'll support your peers and maybe get ideas for your own presentation, if you ever make one, and Colorfest because it's just always great fun to throw color powder at people and see how it turns out on the shirt afterwards. Yes, I'm aware this question asked for one. No, I'm not changing this. There has to be some balance between academics and fun, after all.
How have you changed since you were a First Year and what role do you think Guilford College played in that transformation?
I think Guilford really pushed me outside of my comfort zone when it came to things like classes. When I came in, I only really wanted to take classes from my major and minor, maybe one or two other disciplines, and then graduate. Now, I have classes from something like eight or nine different departments on my transcript, because of Guilford's general education requirements, and I'm glad. Without them, I would've just stuck to a few departments without paying the others any attention. Now I've got a solid grounding in a few disciplines, and I can use what I've learned from those classes to shore up the foundations of everything else I've learned, mixing information together to form a more coherent whole.
 
---