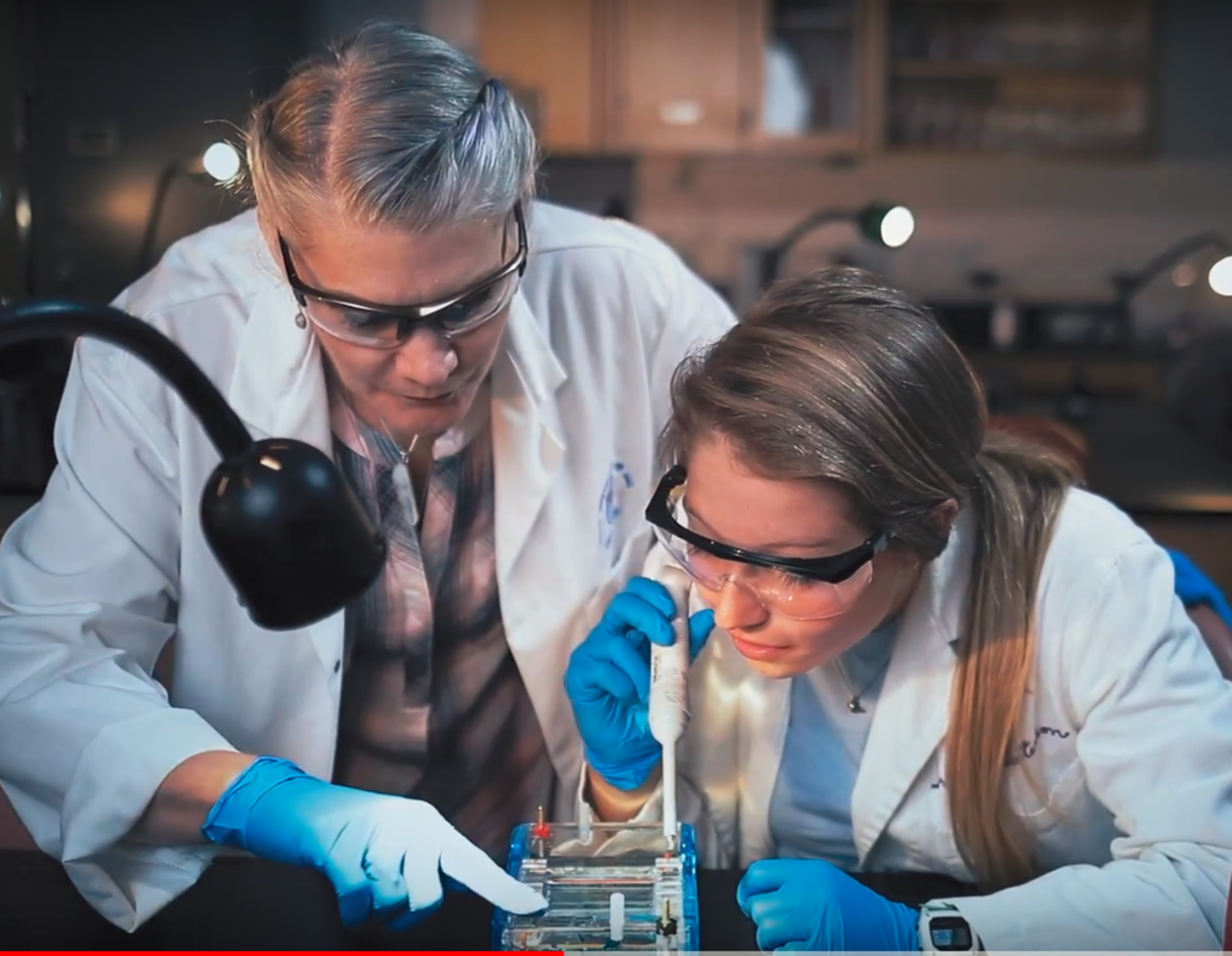 Darby Kozan will stand among her peers on April 18, 2018, and present her senior thesis research at the Guilford Undergraduate Symposium (GUS). It's not her first research presentation, and with where she's headed it certainly won't be her last.
Darby will join a new cohort in the fall at Johns Hopkins University as she pursues her Ph.D. in Cellular, Molecular, Developmental Biology and Biophysics (CMDB).
But first — GUS! Darby will present findings from her paper entitled Silencing ribB in Klebsiella pneumoniae using the CRISPR/Cas9 System: Exploring a Potential Antimicrobial Target. So what does all of that actually mean? 
"Klebsiella pneumoniae is a type of bacteria responsible for a lot of hospital-acquired infections," Darby explains. "It's resistant to many traditional antibiotics. By using a relatively new method for genome editing called the CRISPR/Cas9 system, I've potentially found a new way to target and kill the bacteria."
It works like this: Darby identified an enzyme (called ribB) produced by the bacteria that is necessary to its survival and located the gene in the bacteria's DNA. By disabling — or silencing — that gene with the CRISPR/Cas9 method, Darby and other scientists who might use and test her method may be able to stop production of the ribB enzyme in K. pneumoniae, kill the bacteria, and fight these antibiotic-resistant infections.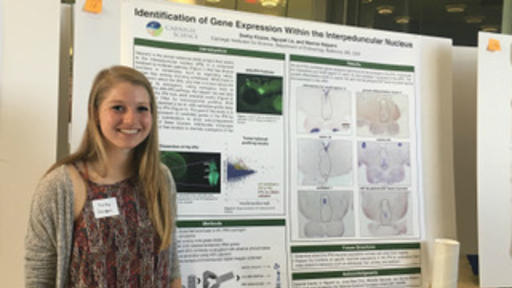 What's CRISPR/Cas9?
CRISPR is an abbreviation for a naturally occurring genetic defense mechanism that some bacteria (like strep bacteria) have developed against the kinds of viruses that prey on them. These bacteria disable viruses by unzipping their DNA and rewriting it to be compatible with their own. The CRISPR/Cas9 technology replicates this process and allows scientists to edit the genomes of living cells. 
Still a little confused? Check out this article containing a video by MIT on CRISPR/Cas-9.
The Biology Department at Guilford financed Darby's research, allowing her to buy the CRISPR DNA and the K. pneumoniae from a biotech company. She was then able to use the lab at Guilford to conduct her research. 
Darby also participated in two Summer Research Experiences for Undergraduate (REU) programs, sponsored by the National Science Foundation. "My first REU was at Johns Hopkins University summer of 2016 where I worked on the neurodevelopment of zebrafish," she explains. "My second REU was at Wake Forest University during Summer 2017 where I worked on enzyme kinetics. Both of these experiences allowed me to do the research I am doing now and have helped me with graduate school."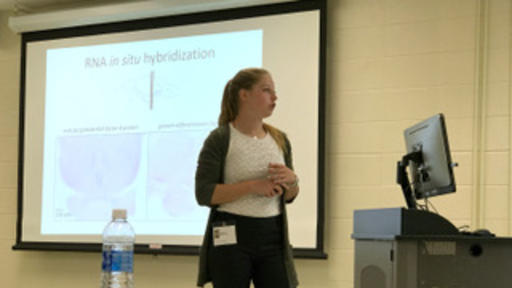 A Future Colleague
The next phase of Darby's research will be left for a future Guilfordian to pick up. "Worm trials would be next," she says. "We'd feed the bacteria with the disabled enzyme to worms and if they survive, we'd know we successfully killed the bacteria." 
With graduation approaching and a move to Maryland in her future, the next Guilford researcher to work on this project will have to be determined by Darby's mentor and Professor of Biology and Director of Research and Creative Endeavors, Melanie Lee-Brown. "Melanie will be the one to approach the next student who might be interested in this kind of work, and hopefully their senior thesis can tackle the next phase." 
Melanie has high praise for Darby, who she calls a future colleague. According to her, Johns Hopkins made a wise investment choosing Darby.
"Schools want to know that students understand what graduate programs are going to be like. And since graduate schools are investing in these future researchers they want to know that the candidate will continue and successfully complete their degree," Melanie says. "She took advantage of all the opportunities to show she is ready to succeed in a graduate program and, clearly, the graduate programs she applied to noticed her work."
"I would not be surprised to see Darby as a leading expert in her field in the next 10 to 15 years, and I look forward to working with her as a colleague."
Darby continues to accomplish more than scientific discoveries without being stuck in the lab all day. She's a member of the Women's Softball Team and is active in Guilford Christian Ministry. She's taken several Religious Studies courses in addition to her Biology major and Chemistry minor, and she recently worked on a paper that grappled with the ethics of DNA editing for a course called Magic, Science and Religion. 
Are you also fascinated by genetics? Do you dream of finding approaches to science and medicine that will impact the world? Schedule a visit to learn how a Guilford education will make you a better researcher and prepare you for the elite graduate school of your dreams.
---