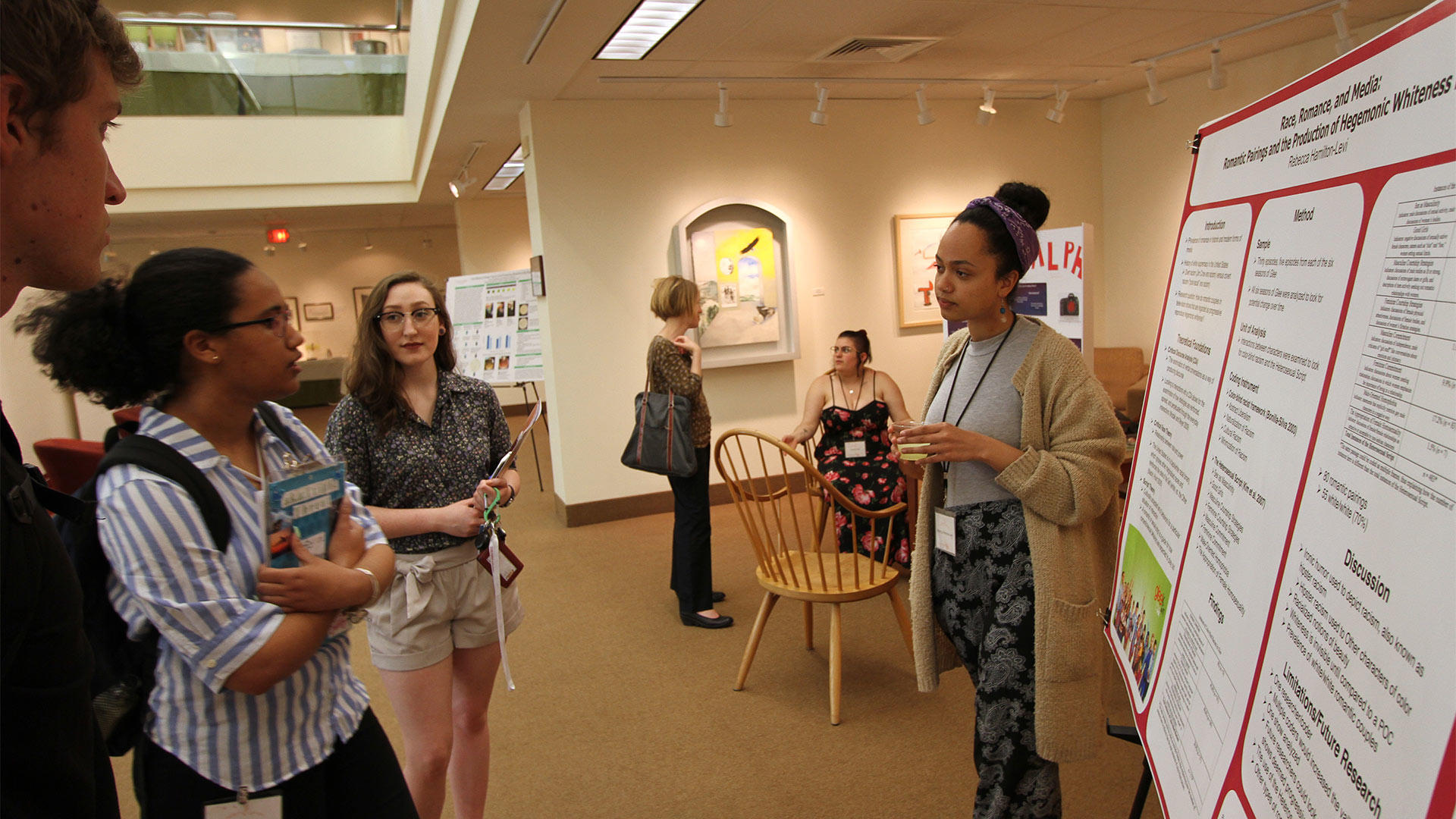 Guilford's Honors Program provides eligible undergraduates an experience full of research opportunities and resources to chase answers to the questions that most interest them.
Another group of exceptional seniors are in the process of defending their theses — extensive research projects that are the culmination of their time as Guilford scholars. They're studying everything from colonialism to the antimicrobial effects of green tea. To learn more, you can attend their presentations this month. Interested in chasing your own passions? Learn more about the Honors Program at Guilford.
Rebecca Hamilton-Levi '18 — "Race, Romance, and Media," Sociology and Anthropology
Emma Ross '18 — "Story Collaboration and Community," English and Creative Writing, Interdisciplinary. Meet Emma, Editor-in-Chief of the Greenleaf Review.
Sommer Fanney '18 — "The Running Story: Exploring the Intersections of Sport with Art, Expression, and Story," Interdisciplinary
Eliza Stevenson '18 — "Residual Colonialism in Perspective: A multifaceted examination of the parallels between gender, racial, and environmental justice," Environmental Studies and Psychology double major, Women's, Gender, and Sexuality Studies minor
Eli Phillips '18 — "Excerpts": Life and College through Composition and Recording, Music. Check out Eli on the marimba.
Eleanor Pershing '18 — "On Being Ms. Frizzle: Educators' Take on Effective Methods of Encouraging Women in STEM," Interdisciplinary
Laura Sippel '18 — "Yoga: A Solution to Modern Corruption," Religious Studies
Dana Waskiewicz '18 — "The Effects of Green Tea on Acid-Producing Bacteria in the Buccal Flora," Biology, Hege Library Research Award winner. Read more about Dana and her research.
Caleb Anderson '18 — "In Plain Sight," Political Science, Hege Library Research Award winner
Kelly Martin '18 — "The Effect of Seasonal Phases on an Athlete's Sport Commitment," Sport Studies. Learn more about Kelly and her dreams of becoming a physical therapist.
Beatriz Caldas '18 — "The House She Knew: A Novel," English. Read Beatriz's internship blog post for Experience Matters.
Danika Gottbrecht '18 — "Linguistic Identity in the EU: A Franco-German Case Study," International Studies. Read Danika's study-abroad blog post for Beyond Friendly.
Rosie Magura '18 — "Conservation Significance of Scientific Whaling in Japan," Biology
Anna Kelly '18 — "Journey Narratives and Authenticity in Religious Tourism," Religious Studies, Hege Library Research Award winner
Sierra Saykeo '18 — "Factors that Affect Help-Seeking: Examining Racial Differences Between Whites, Asians, and African Americans," Psychology, Hege Library Research Award Honorable Mention
Tabitha Mocherman '18 — "Business Administration for Theater Production," Theatre Studies. Learn more about Tabitha's passion for theater.
Alex Ward '18 — Composition for Electric Guitar & Synthesizer: "Revenant of the Swan," Music
Elena Sippel '18 — Art Exhibition — "Not Matter What the Bird Cries," Art
Christopher Perez '18 — Art Exhibition — "Artis Ex Machina," Art, Computing Technology and Information Systems
---