The first time you come to campus you're going to be distracted by the sheer amount of beautiful trees. We aren't talking about your first visit today. This list is for once that awestruck feeling wears off and you want to go on a scavenger hunt while also getting to know the Guilford art scene. 
Here are seven on-campus art installations you can find today. Hurry now, because — like the staircases at Hogwarts — the Guilford art installations have been known to change…
Three Frequency Geodesic Icosahedron by Mark Dixon 
Hard to pronounce. Easy to find. This sculpture might give you flashbacks to high school geometry or better yet to your elementary school playground. Students are walking past it on their way to Hege Library this year as part of an ongoing faculty art exhibition. Visit campus and your tour guide will walk you right by it!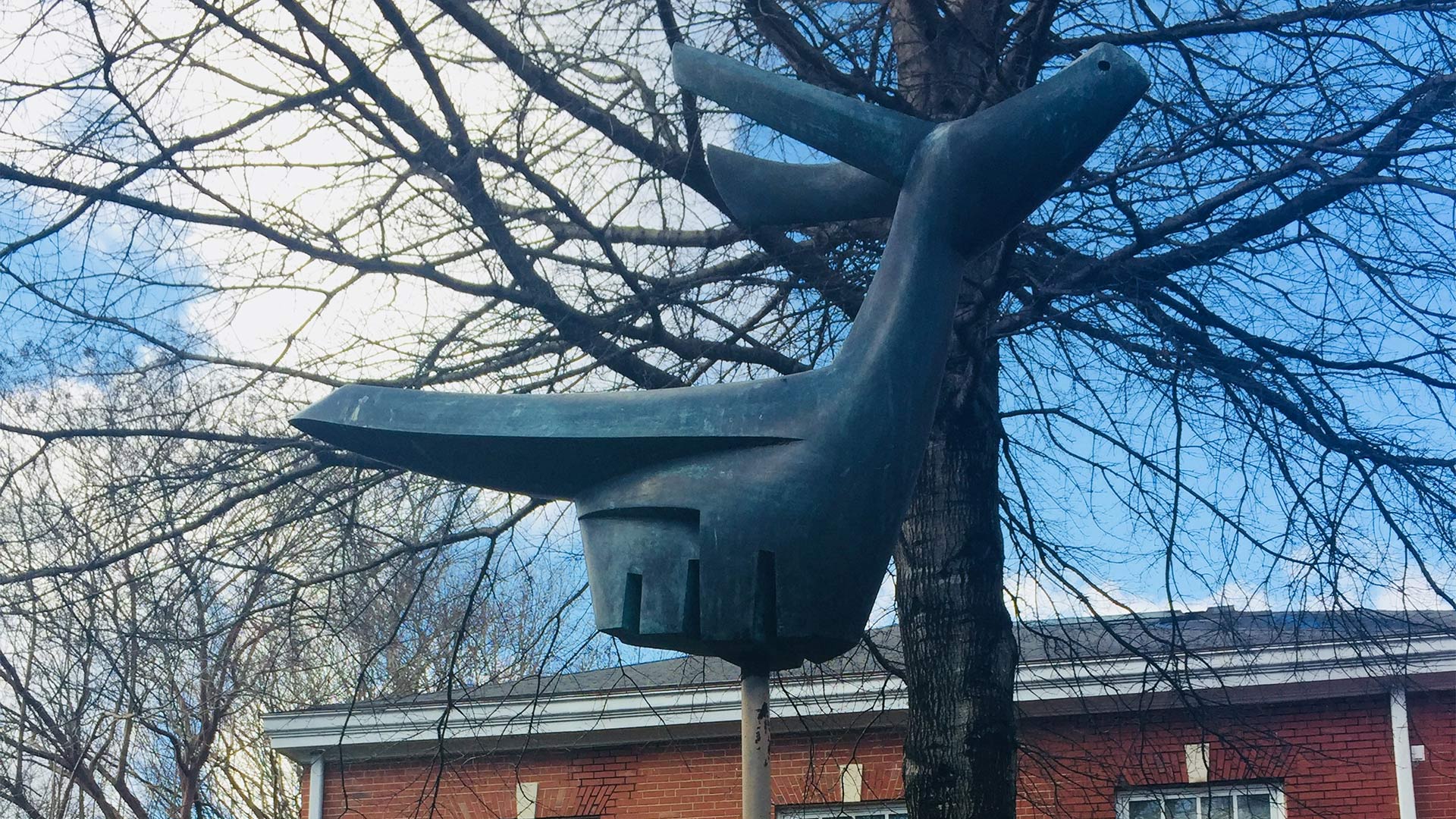 Open Form by Horace Farlowe and The Deer by Peter Haines
While you're near the Hege Library Academic Commons, check out these two pieces, too. With all this art  it's no wonder students are (literally) beating down a path through the middle of campus to get to Hege!
Growth Cycle by Tom Risser '85 
You'll have to venture out behind the South Apartments to find this piece. Remember when we said this list isn't about trees? Well this is Guilford so you have to give us at least one tree in every list! This one is sculpted from steel by one of our alums, not Mother Nature. See if you can find our seven Core Values worked into the metal.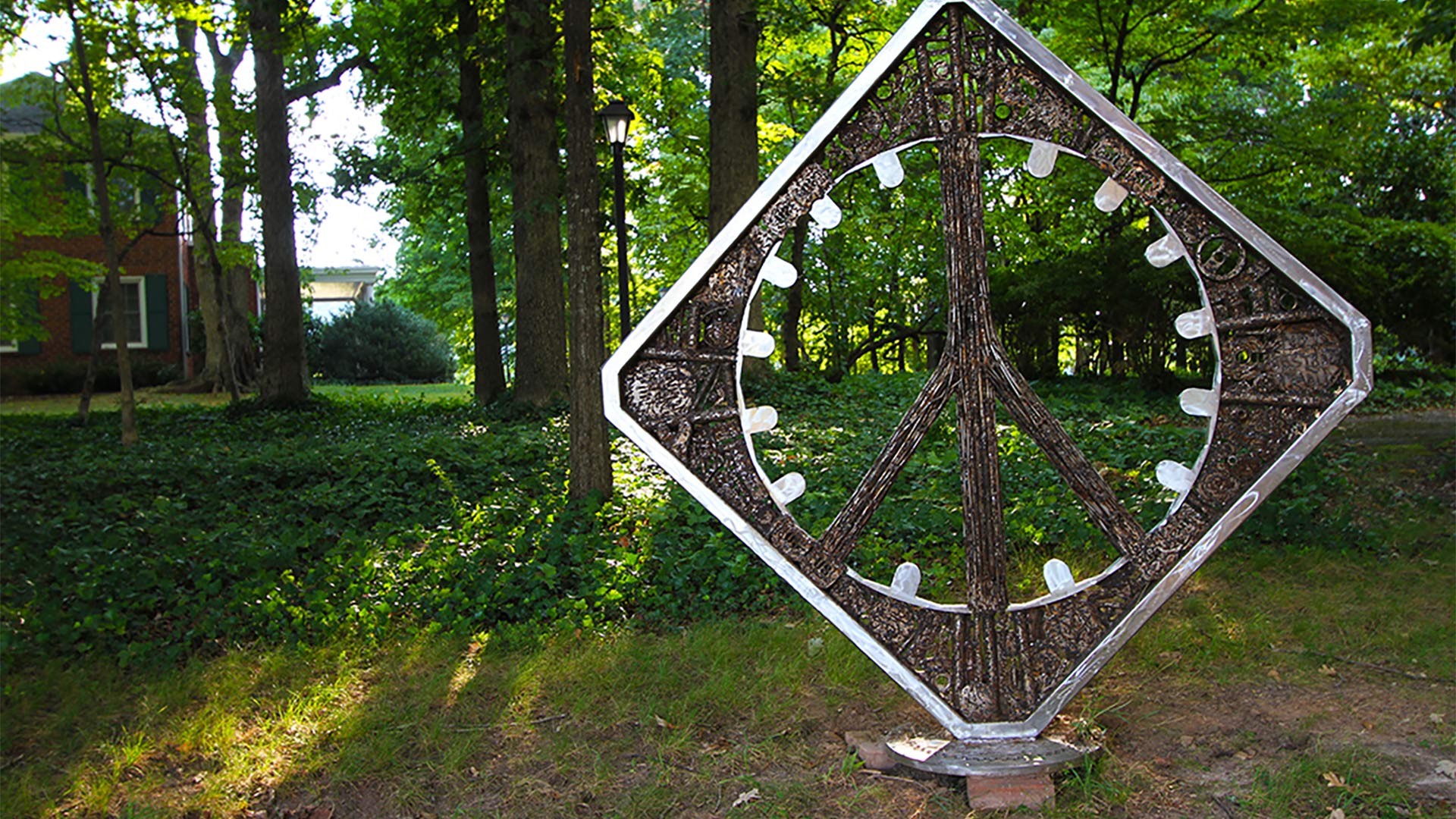 Peace Sign
Between Milner Hall and Ragsdale House you'll find this classically Guilford peace sign. Embrace that old Quaker testimony and let this peace piece put a smile on your face. Bonus points if you snap a picture of yourself throwing up peace signs by the Peace Sign!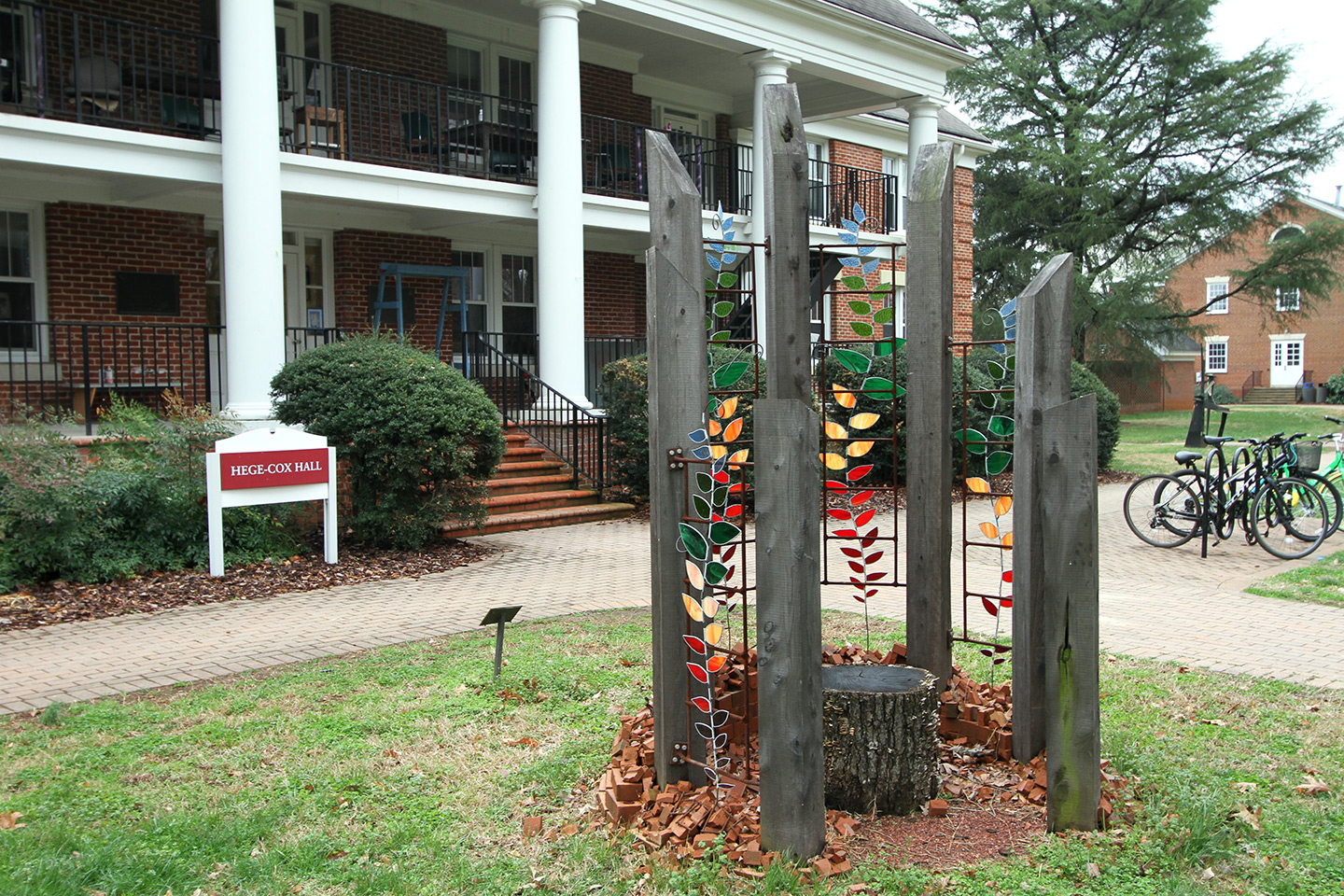 Communal Narrative by William Wallace Kimmell '15 
This piece stands outside Hege Cox Hall, where artists at Guilford go to learn and create. It's the Allen and Rachel Weller Memorial Student Sculpture Competition Winner, and its brightness and color fit in beautifully on campus. While it's a permafixture of the quad, it's never alone. Hege-Cox is surrounded by art. Come find the others, too!
Student Art Near Founders Hall 
Student art nearly always pops up outside of Founders Hall. So when you're on your way to enjoy a farm-fresh meal in the cafe, you can also enjoy the artistic expressions of your fellow Quakers! 
Now it's your turn to get in on all this art action — come to Guilford and make your mark. 
Found any other campus art lately? Share your pictures on Facebook, Instagram or Twitter and tag @guilfordcollege for a chance to be featured!
 
---