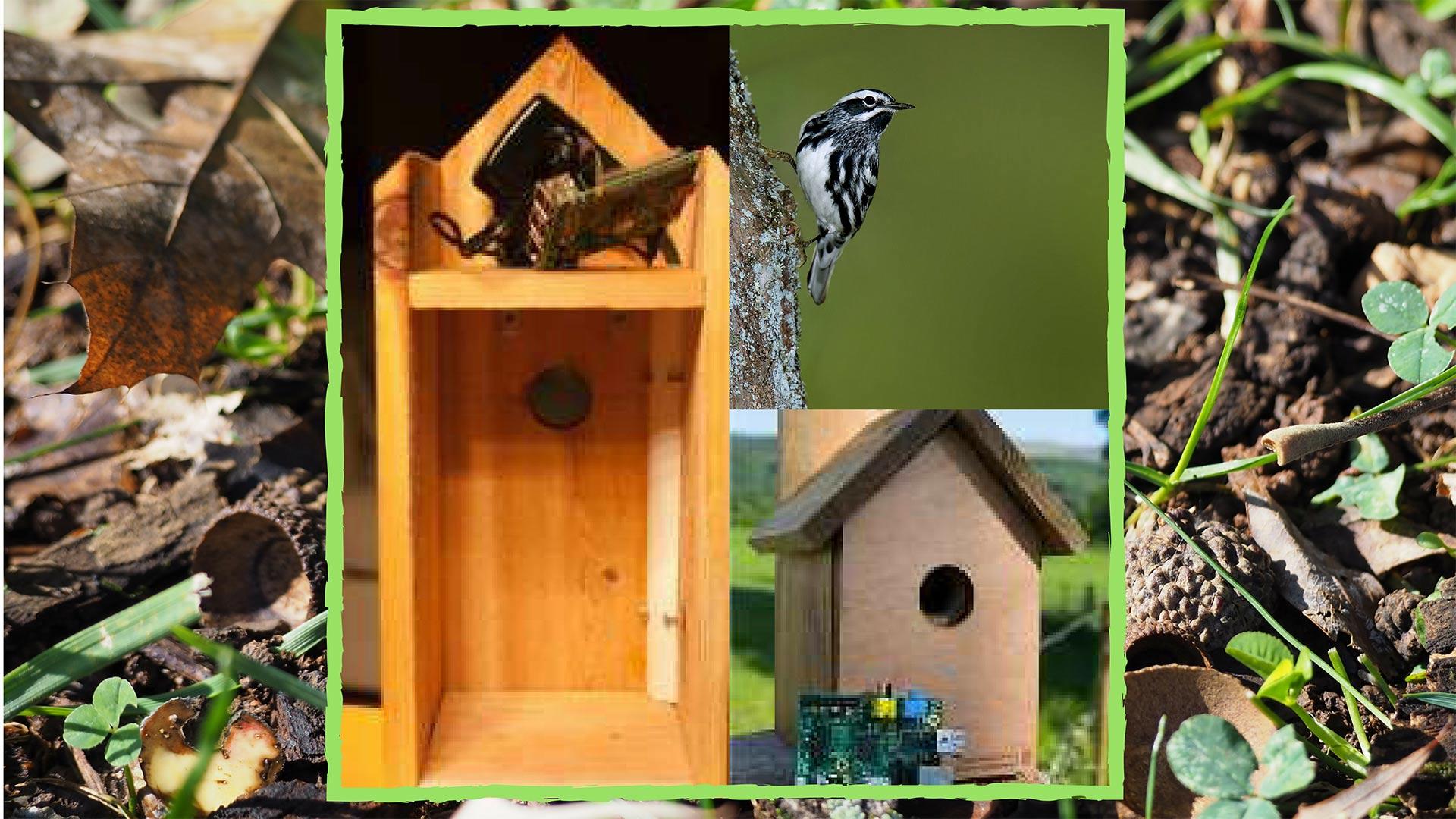 You may be wondering what baked goods and computers have in common — aside from those crumbs in your keyboard. A Raspberry Pi isn't a snack, it's a tiny, affordable yet high-powered computer. They're useful for gathering data, solving problems and teaching students how to code.
At Guilford, Chafic Bou-Saba's Computing, Technology and Information Systems students recently teamed up with Christine Richard-Stracey's Biology students to use the tiny computers in phase one of a project dubbed the "Internet of Things." 
The project is designed to create a multipurpose "Internet of Things" that collects what's going on in the 240-acre Guilford Woods — information including changes in the weather and animal activity, plus streaming and time-lapse video of the birdhouses and the Campus Lake. 
The goal is to offer the data and video to everyone from Guilford students studying Biology or Environmental Studies to community members with a love for bird watching and local wildlife.
It all started in fall 2016 when Chafic and his CTIS students began working to install the Raspberry Pis in birdhouses throughout the Guilford Woods. The birdhouses were designed and built by English Professor Jim Hood to house birds, cameras and the computers, allowing students to learn about nesting patterns, birdsong and other vocalizations of songbirds, especially bluebirds, native to North Carolina.
"Up to this point," explains Christine, "we have been putting GoPros in the nest boxes to record behavior and students from my animal behavior class have been analyzing those videos. With the new Raspberry Pis we'll be able to get a lot more data than the approximately five hours per day that the GoPros run. Plus, the boxes won't need to be disturbed as much since the cameras won't need to be placed in and removed each day."
The Raspberry Pis can also serve as a primary alert system for forest fires, detecting any rapid changes in temperature or pressure and providing video monitoring.
Building Connections
This kind of interdisciplinary project forges meaningful connections between academic departments that are mutually beneficial to each department's students. It also creates the opportunity for Guilford students to learn more about the ecology and biology of a habitat that they live in cooperation and contact with — the Guilford College Woods. 
Phase two of the project, planned for 2018, will include an additional creature to learn about — bats. 
"Jim Hood built us two bat houses for the next phase," Chafic says. "We will install the Raspberry Pis to capture video and monitor activity, as well as the internal temperature of the houses. It will give us an opportunity to learn together about the habits of these amazing, nocturnal mammals."
English Professor Jim Hood has a deep appreciation for nature and for woodworking. His newly constructed bat houses have two side compartments that will contain Chafic's students' Raspberry Pis. 
"I've really enjoyed using my woodworking skills to assist with the 'Internet of Things' project, as well as helping the field biology program further its longstanding bluebird nesting study," he says. Jim regularly teaches a course called American Nature Writing and hopes that once there are bats living in the new bat houses, he can also take his students out to appreciate them. 
Soon, Christine's students will begin analyzing the data from the Raspberry Pis. "Students in my Ornithology class will be monitoring the boxes when we get back from spring break to keep track of the nesting activity beginning right now in the woods," she says. "Once we get the bat houses up, and that may be as early as this spring, I'm expecting that a number of student research projects and biology theses should come from the data as well!"
Interested in other wildlife research that's going on at Guilford College? Watch this video on Biology students' research on rock hyraxes and sand cats at the North Carolina Zoo. Want to learn how Guilford College can help you find your niche in the academic and professional landscape? Schedule a visit!
---