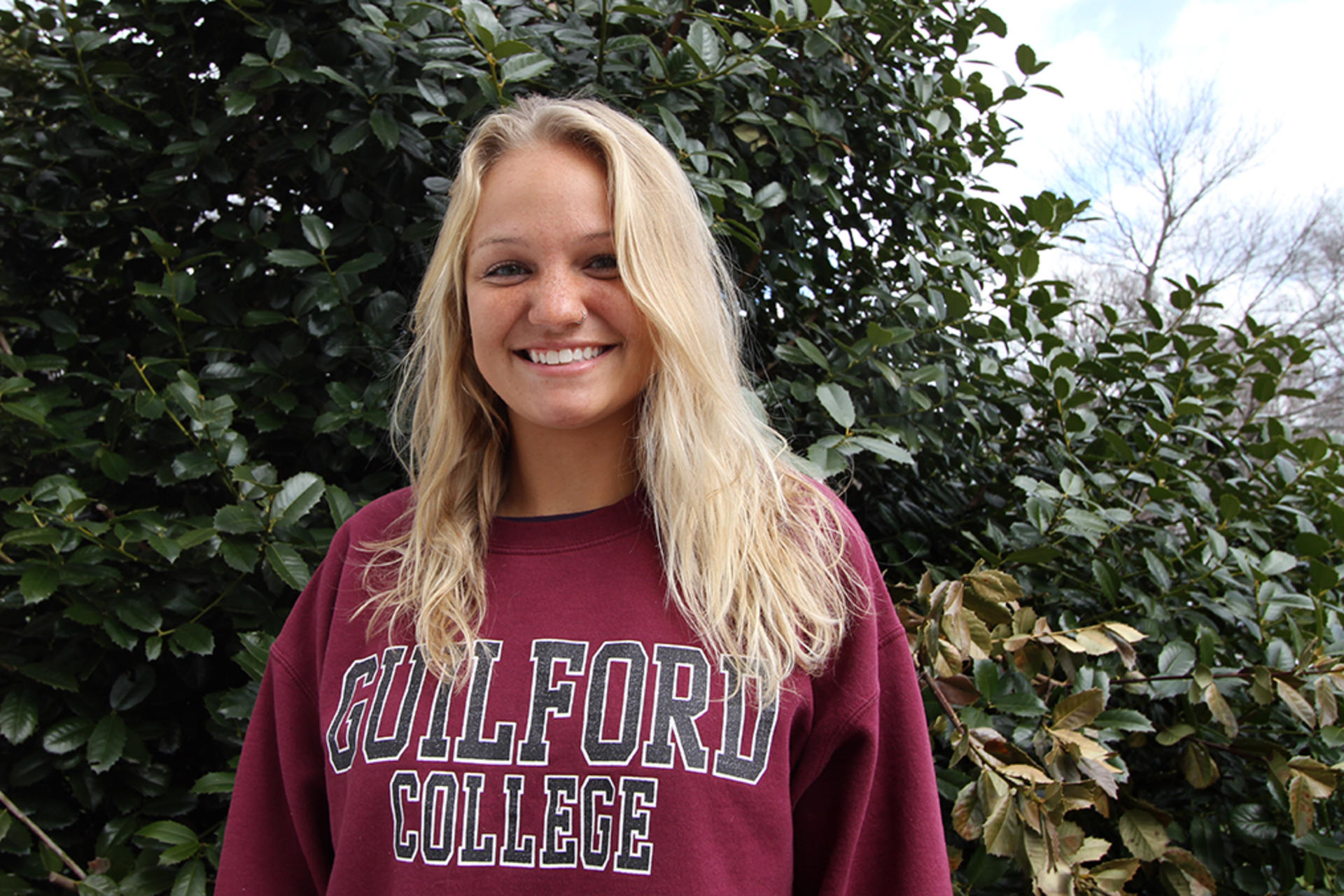 Softball player, Admission tour guide and football videographer Julie Gough '20, like many college students, came to Guilford unsure of her major. 
"I'm from a pretty small town in North Carolina," Julie says, "so I didn't come to Guilford knowing what it means to major in Women's, Gender, and Sexuality Studies (WGSS). But my major — along with the open, welcoming and family environment at Guilford — has really shown me that being a Guilford student means accepting and embracing the differences that make our community so special." 
That's the beauty of a liberal arts school. Julie found her major through a chance connection with an elective course during the spring semester of her first year: Introduction to Women's, Gender, and Sexuality Studies. "As I sat in that class," Julie remembers, "I could feel a lot of my thoughts and interests coming together." 
So she signed up for another class that piqued her interest. This time, it was Women of Japan, a course cross-listed between WGSS and Japanese Language and Society in the Modern Languages Department. Assistant Professor of Modern Languages Maria Bobroff encouraged Julie to follow her interests, saying she should "let [her] major come naturally." 
Julie declared herself a WGSS major and is now exploring the intersections of women and sports. "One of my favorite classes so far is Race and Gender in Media. For that course, I'm working on a research paper that looks at the treatment of women reporters on ESPN." 
Becoming a Leader
Julie calls Mocksville, N.C., home. She considered George Mason as an option to continue her softball career, but when she toured Guilford and developed a positive relationship with her coach, she knew where she wanted to spend her next four years. It's that positive experience that fostered her love of working with first-year students. 
"I love being a tour guide, and I also had the opportunity to serve as a teaching assistant for a First Year Experience group." Julie says she's excited for future opportunities to expand her natural leadership skills. 
Looking ahead, Julie plans to take her passion for the care of women toward a doula certification. "A doula is someone who is trained to assist expectant mothers," Julie explains. "It's similar to being a midwife." Between now and graduation, Julie also intends to look into internships with Planned Parenthood or with an NGO that works with women. 
Undecided major? No problem! Guilford can help you find your edge in whatever interests you most. Schedule a visit to campus to learn more.
 
---