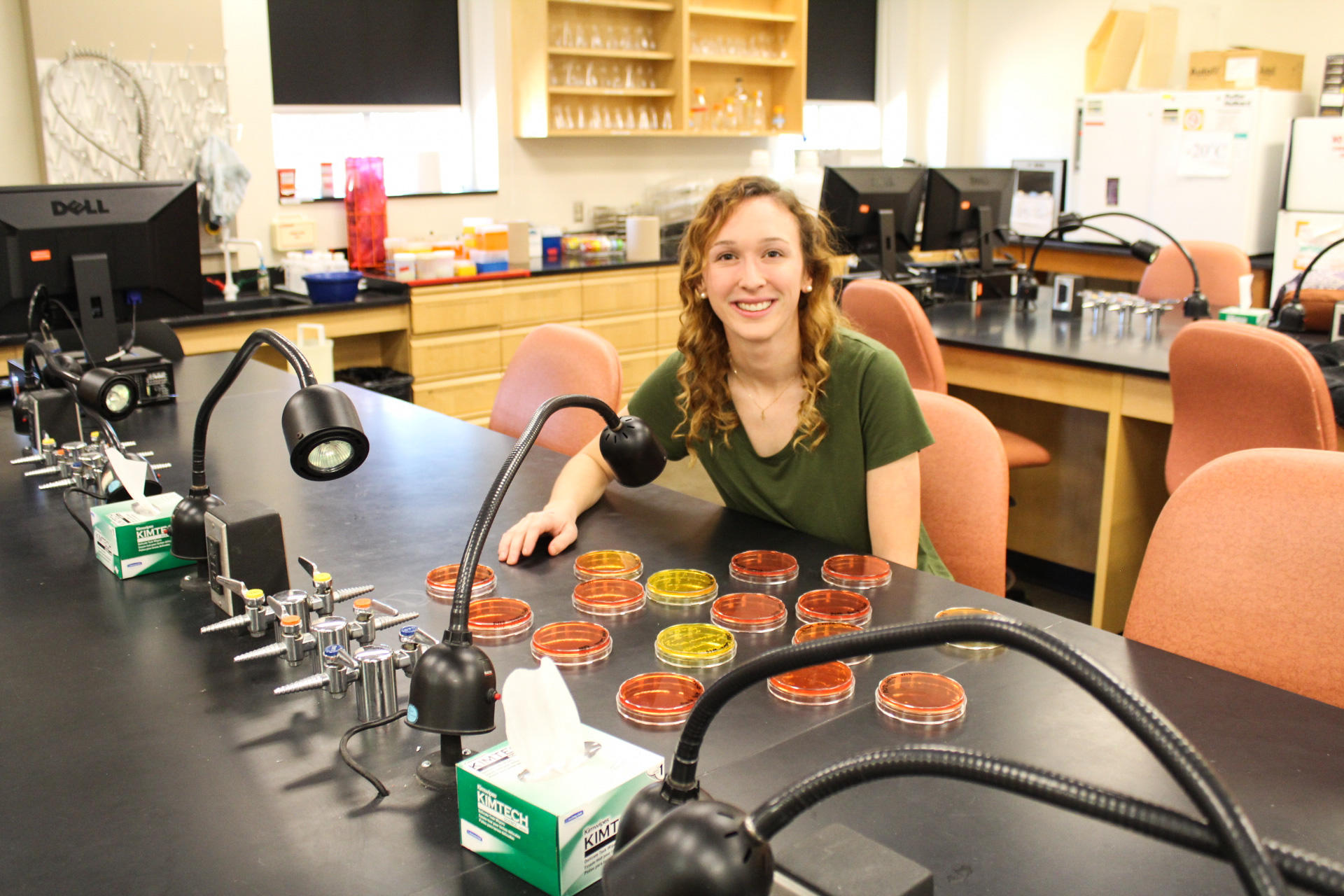 Biology and Health Sciences double major Dana Waskiewicz '18 left the dairy farm (and its award-winning ice cream) in rural Maryland for green tea and greener soccer fields at Guilford College.
"I transferred to Guilford because the soccer team was a great fit for me, and there are so many ways to be involved on a small campus," Dana says. "I walk to class and see at least 10 people I know on any given day." 
With Dana's commitment to campus involvement, it's not surprising she runs into friends so often. She's a member of the Student-Athlete Advisory Committee (SAAC), Tri-Beta Biology Club and Guilford College Republicans, and she has served as a tour guide for the Office of Admission. 
The Student-Athlete Advisory Committee is her favorite activity. "SAAC is so much fun. Until Guilford, I never took on the responsibility of planning large-scale events like our campuswide D3 Week (a week of programming to honor and celebrate scholar athletes) or the Quakies (Guilford's athletic awards ceremony)." 
Sharpening Her Academic Edges
Dana decided to double major in Biology and Health Sciences because of persistent support from her adviser, Chemistry Professor Anne Glenn. 
"I didn't initially plan to double major, but Anne showed me how the courses I would take would be the ones best preparing me for the career path I'm interested in." Dana plans to take a year off gaining experience as a medical scribe before applying to Physician Assistant (P.A.) programs. 
Her taste for tea, at least from a research perspective, started in an Organic Chemistry Lab. Dana collaborated with students from a variety of chemistry courses on an experiment that explored the properties of a number of substances. It was that experiment that led to her interest in the potential antimicrobial characteristics of green tea. 
"I won't bore you with all the science details," she jokes, "but basically I've designed an experiment that will test whether drinking green tea on a regular and consistent basis can reduce bacteria in the mouth and, therefore, prevent cavities."
Dana plans to present her work at several conferences, sharing her findings and building her resume as she prepares for graduate school. She'll head first to the N.C. Academy of Science Conference in March, and then to Liberty University in April, and she will round out her presentations at Guilford's own Guilford Undergraduate Symposium on April 18. 
  
In the highly competitive field of P.A. candidates, Dana attributes her considerable edge to Guilford's opportunities for growth and student involvement. 
"If you want a campus with great academics that's still small enough for you to connect with your classmates and be broadly involved across campus, Guilford is the place. If you'd rather find that one special niche, Guilford has that, too! It's a place you can find just what you're looking for."
Do you envision yourself as a campus leader? Schedule a visit to learn more about Guilford College and find your Edge!
---