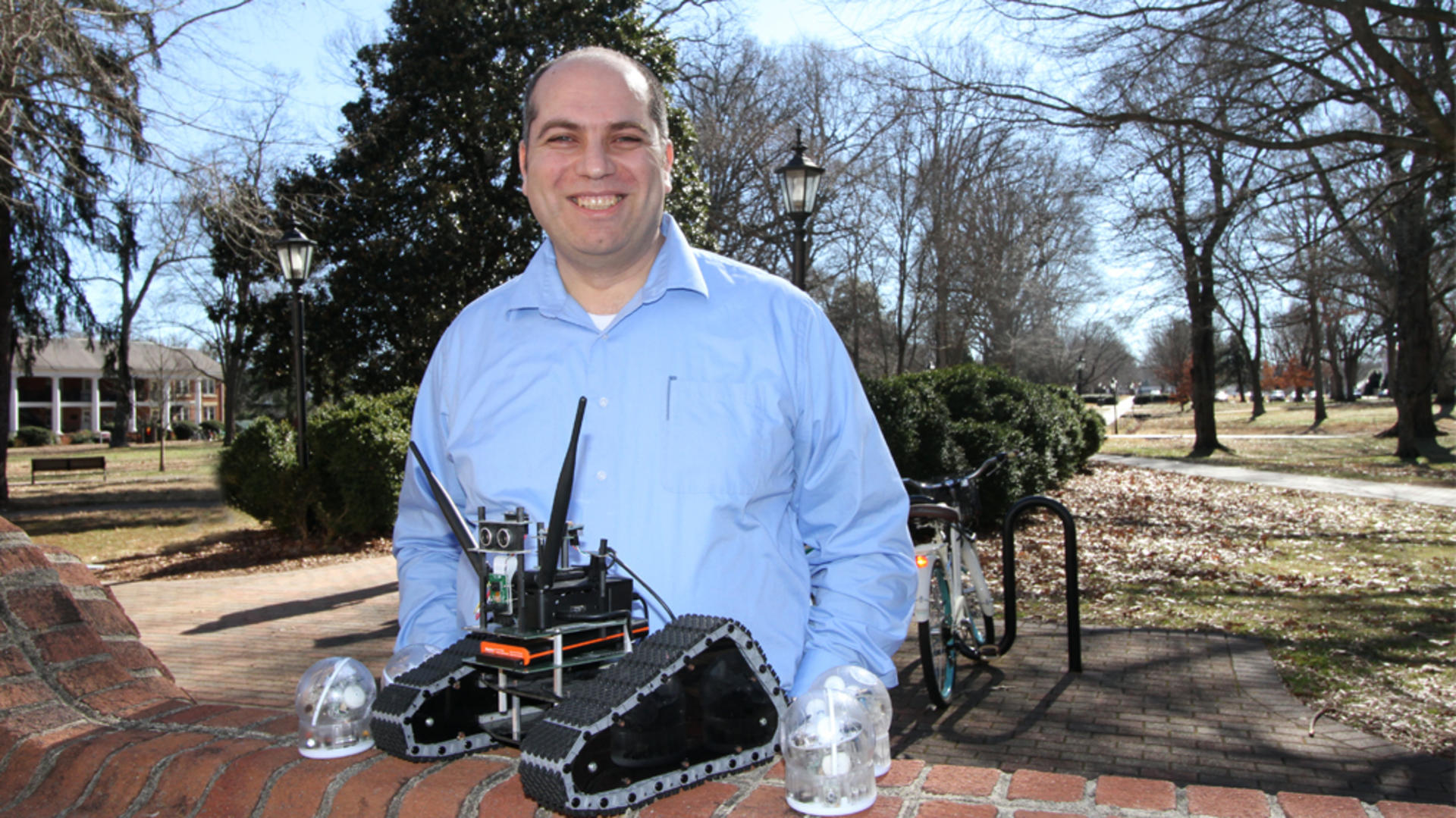 Warm and dynamic, Chafic Bou-Saba is anything but robotic.
 
He's been instrumental in developing courses for Guilford's Cyber and Network Security major, recently teaching an Interdisciplinary Studies (IDS) course titled Encryption, Economy and Ethics. It explores cryptocurrency (like Bitcoin), malware and the ethical dilemmas that technology professionals are presented with in the ever-changing cyber landscape.
 
"Guilford College is committed to graduating ethical leaders to serve and lead in our community. Ethics are integrated in almost every Cyber and Network Security course at Guilford," Chafic says. Cyber ethics refers to the code of responsible behavior on the Internet, and Guilford is serious about creating good "cyber citizens," he explains.
 
Cyber ethics are also critical to being employable in this field. "Cyber-security ethics are the ethical standards and rules that are employed by cybersecurity professionals to protect the assets (data, network, hardware, and software) from the black-hat criminals," he says.
 
In an interdisciplinary department, Chafic is the only exclusively CTIS professor. His background brings the dynamism any student would want. Trained as an electrical and computer engineer, he earned his doctorate at N.C. A&T University. He's conducted research for the Office of Naval Research, and he's a Cisco Academy lead instructor.
 
He's down for combining different disciplines with his colleagues across campus, too. Only at Guilford could you see high-tech mini computers (called raspberry pies!), combined with various sensors (temperature, humidity, and CO2) and cameras, integrated in birdhouses in the middle of the woods. But that's how Chafic and his students are helping the Biology Department with research on bird behavior and woods management.
Industry Insiders
At Guilford, CTIS connects students to major players in the tech world. Red Hat, VM Ware and Palo Alto Networks all have industry academies that provide Guilford students with courses and equipment they otherwise wouldn't have access to.
 
"Our students are trained in response to the market and the ever-growing needs of the field," Chafic says. "By partnering with technology companies we help our students get the most up-to-date education possible."
 
These relationships also help students forge relationships and get a balanced and marketable education. That leads to internships and ultimately to jobs. An example, Chafic says, is Nathan Rowe '17 who currently works as a Software and App developer for Replacements, Ltd.
Family Matters
Above all else, Chafic says he loves his colleagues and students. It's the combination of family atmosphere and academic excellence that drove him to choose Guilford. "CTIS students at Guilford are curious, driven, technically strong and diverse," he says. "They thrive each time you challenge them, and they care deeply about their communities."
 
Students in the CTIS Department, like so many in the Guilford community, are dedicated to volunteering. You'll often find them working with local companies and organizations to teach coding or computing to area students.
 
For example, the CTIS Department received a grant from Google's igniteCS to fund an afterschool program for children at Glen Haven Community Center in Greensboro, where they learned about robotics and computer programming from CTIS majors. IgniteCS provides funding and resources for colleges and universities who want to make a difference in their communities though computer science mentorship.
 
Want to learn more about how Guilford College can take your love of the internet and turn it into a career in tech? Schedule a visit and meet the Guilford professors teaching CTIS courses. 
 
---