Time away from campus allows faculty to do the kinds of research or learning they can't normally complete with a full teaching schedule. English professor and director of the Honors Program, Heather Hayton, is half way through her year-long study leave. While away from campus, she has remained busy learning, researching, writing.
In August, Heather and an alum, Kaitlyn Moore '08, embarked on a two-month journey following ancient food routes from Africa through the Mediterranean. While traveling through Italy, Heather also hosted a current Guilford student, Katie Claggett '19, who was on short break from her program in Morocco.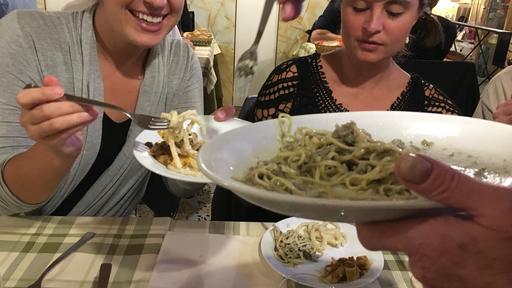 Heather and Kaitlyn are at work on a book about the history of hospitality, detailing how communities historically have welcomed outsiders and shared meals together. The book is called Plate and Place.
In late October, Heather returned to the U.S. to present research on the TV series Westworld at the Society for Comparative Literature and the Arts annual conference. As president of the society, she also led a roundtable discussion on how to make our institutions and disciplines more welcoming and diverse, and how to advocate for our students and colleagues at risk.
Heather is currently at work finishing a co-edited collection of scholarly essays on Siena (Tuscany) in the Middle Ages — a Brill Press book which came out of her time spent leading the Siena study abroad program twice for Guilford College.
This spring, Heather will attend another conference to promote her 2017 co-authored book, Monsters in the Classroom, and will head back out researching another food route from the Middle East to Istanbul. In July, she will lead a month-long study abroad program to Sikkim (in the Himalayas) jointly offered by Guilford College and UNCG. When she returns to the classroom next fall, Heather hopes to teach new classes derived from her research and travels.  
---