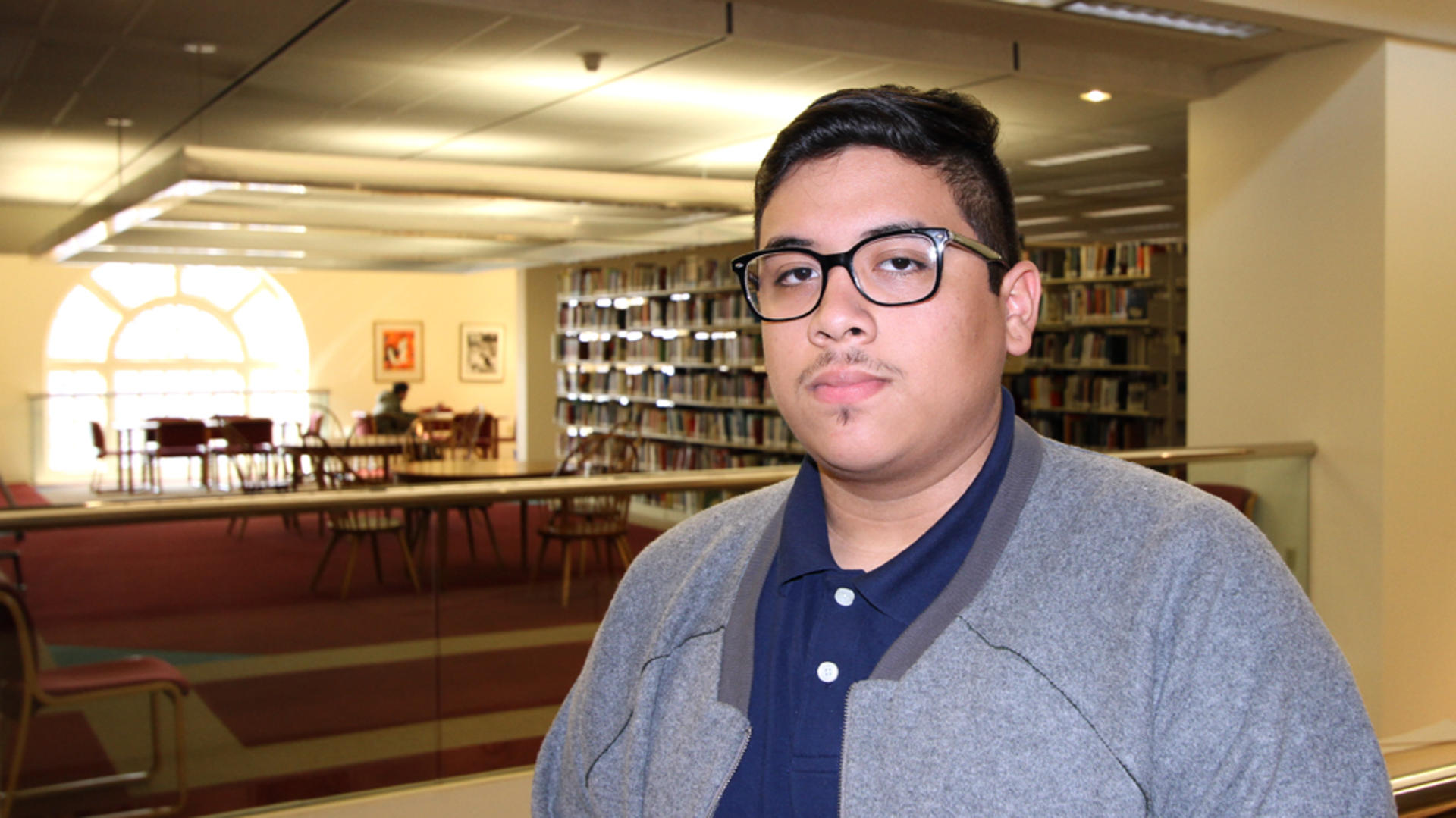 Hector Rivera Suarez '18 has delivered speeches before as the Student Body President of Guilford College. None, surely, were in the context of higher stakes than his most recent.
Hector spoke at the foot of the U.S. Capitol Building on Tuesday, Jan. 9, as part of a House Democratic News Conference. It was all in response to the unsure fate of the Deferred Childhood Arrivals Act (DACA) and the futures of Dreamers like him.
"It was such an incredible experience," Hector says. "I didn't even know I was going to give that speech until about three hours before I gave it. Two of us were invited to share our stories, and because of my accomplishments and the urgency of my case, I was chosen. I was also able to meet with House Minority Whip Steny Hoyer (D-Md.) shortly before the news conference."
Hector is a Bonner Scholar and Community Scholar at Guilford. He is set to graduate in May 2018 with a degree in Philosophy and an Education Studies minor. Busy as he is, he found time to stand up for what is important to him. He traveled to D.C. with a group called Forward U.S. The organization sponsored 120 Dreamers, allowing them to travel to Washington and make a case for prompt, bipartisan legislation that makes permanent the protections that students received under DACA policy.
"I received an email from President Jane Fernandes letting me know about the trip late the week prior and thought, I'm available and this is a great opportunity, let's do it," Hector says. "I was on a plane Monday morning and didn't stop speaking with people until Tuesday evening."
Hector took the opportunity to tell his story, but he couldn't savor the moment for long. "I left the press conference early because I had appointments with members of Congress and their staff."
He was soon in the offices of Republican senators Thom Tillis and Richard Burr of North Carolina, helping them understand the urgency of a legislative fix to the situations many undocumented students, like Hector, are in.
"It was really encouraging to meet with these staff members because they understood the urgency of my situation," Hector says. "They really empathized with me and agreed that something must be done."
Growing Confidence
With dreams of becoming a teacher, Hector's status in the United States in uncertain. He wants to give back and become a role model for Latinx students. And after his first trip to D.C., he has a little something extra to offer future students.
"I feel confident that Congress will address this problem, and it was so empowering to have these opportunities to speak with legislators and their staff and be so well received. That support has built up my confidence," he says. And Guilford College will continue to support Hector, he says, regardless of what happens to DACA in the next few days.
President Jane Fernandes said in her blog on Friday, "My greatest joy in education is witnessing the transformation of our students as they discover their voice in creating positive change. It happens every day at Guilford College. This week, Student Body President Hector Rivera Suarez made his mark with a moving presentation on the steps of the U.S. Capitol."
Hector hopes to return to the Capitol next week to continue advocating for Dream Act legislation that he says he believes is essential to protecting the future of Dreamers like himself — and ensuring that those individuals go on to be the productive members of society they've always dreamed of becoming.
---