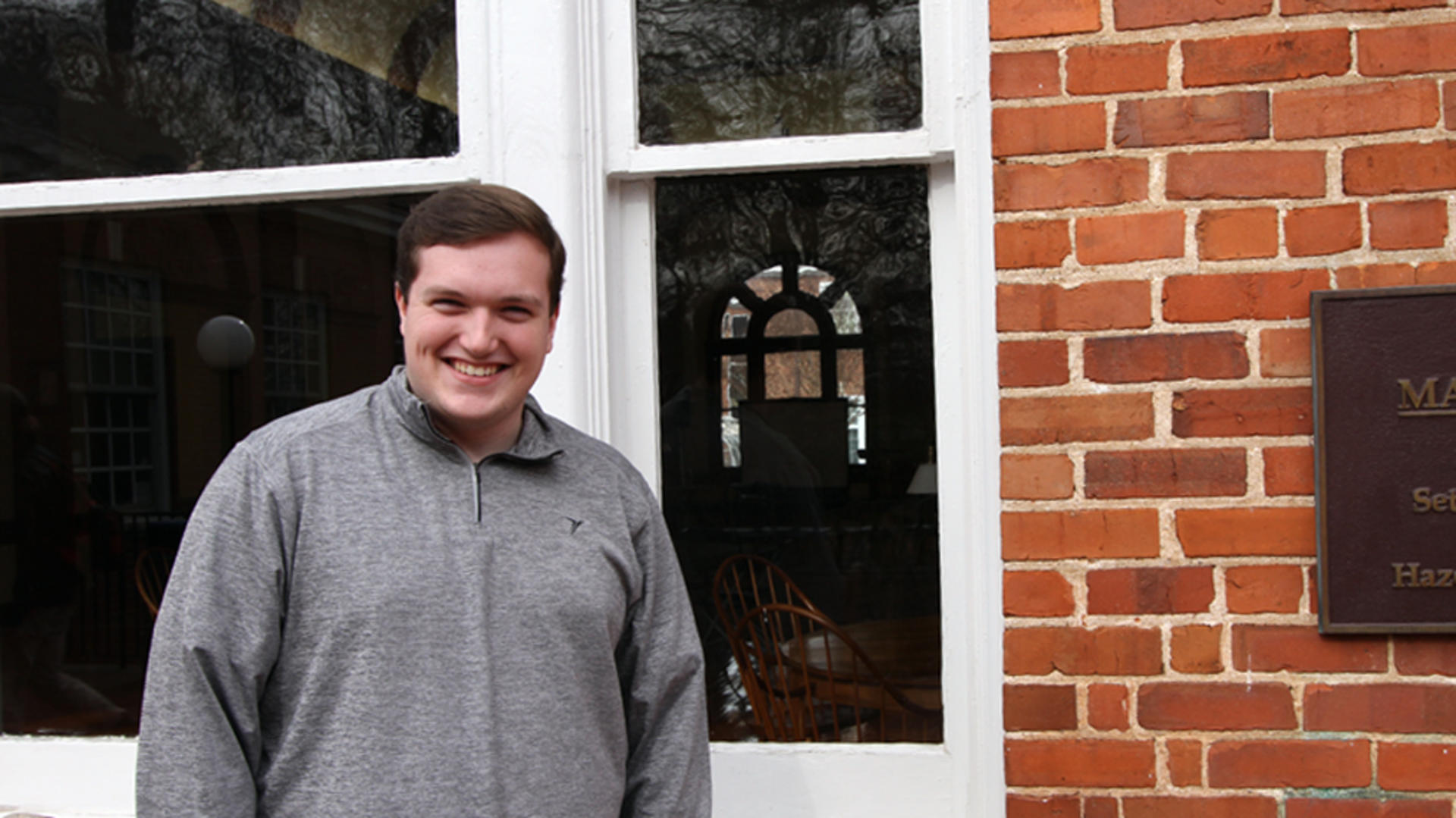 Massachusetts native Michael Fernald '20 found his ideal, small liberal arts school in the South. It's preparing him for a fast-paced career in some of the most innovative fields in the market — information technology, network administration and user experience design.
"I was specifically looking for smaller liberal arts schools and I wanted to be in the South," he says. "I'm from a suburb of Boston, so while I didn't want to be in the middle of nowhere, I knew I didn't want to be in the middle of a major metropolitan area either."
Mike grew up in Quincy, a suburb of Boston, and for him, Greensboro is the perfect fit. With family in Gainesville, Ga., he felt drawn to a slower way of life. You wouldn't know it, though, with the majors he has chosen to pursue. Double majoring in Computing Technology and Information Sciences (CTIS) and the new, cutting edge Experience Design, Mike's on the fast track to success. 
Mike attended a technical high school and graduated with a Certificate of Occupational Proficiency in IT&S and Networking, which means he could have chosen to skip college and head into the workforce. Instead, he chose to hone and expand his skill set. 
"I've gotten several important things out of coming to Guilford that I would have missed out on otherwise," he explains. "Importantly, I have established really good relationships with my professors, especially Dave Limburg in the German Department!" 
Global Value
Mike took German 101 as a first-year student, leading him to join the German Club and plan to study abroad in Munich of fall 2018. 
"That introductory German class wasn't lecture style — that's not how Dave teaches," he says. "He said, 'This class is going to be like kindergarten but in German. That's how little kids learn a language, and that's how you'll learn.'"
Mike says learning German with Dave will give him a leg up by allowing him to speak a second language in working proficiency which, he says he believes will make him more valuable to employers that conduct business overseas. In an increasingly global economy, bilingual employees are greatly valued. 
Networking Matters
As he builds a future in network administration or user experience design, Mike says a little initiative on his part has led to invaluable career advice from his professors.
 
"Building those relationship with professors is important. If you show up to office hours, particularly with someone like Chafic Bou-Saba, Richard Schillhavy or Mark Dixon, they can connect you to all kinds of internship and job opportunities! I'm not worried about finding a job because I see how much professional help and advice Chafic is giving the current seniors." 
Mike hopes to intern in Germany, and he says the support his professors have given him and everything he's already learned at Guilford make confident he can accomplish that goal. 
Want to become a marketable cyber-pro? Check out the Computing Technology and Information Systems Department and the Experience Design major in the Art Department at Guilford by scheduling a visit to campus.
 
---