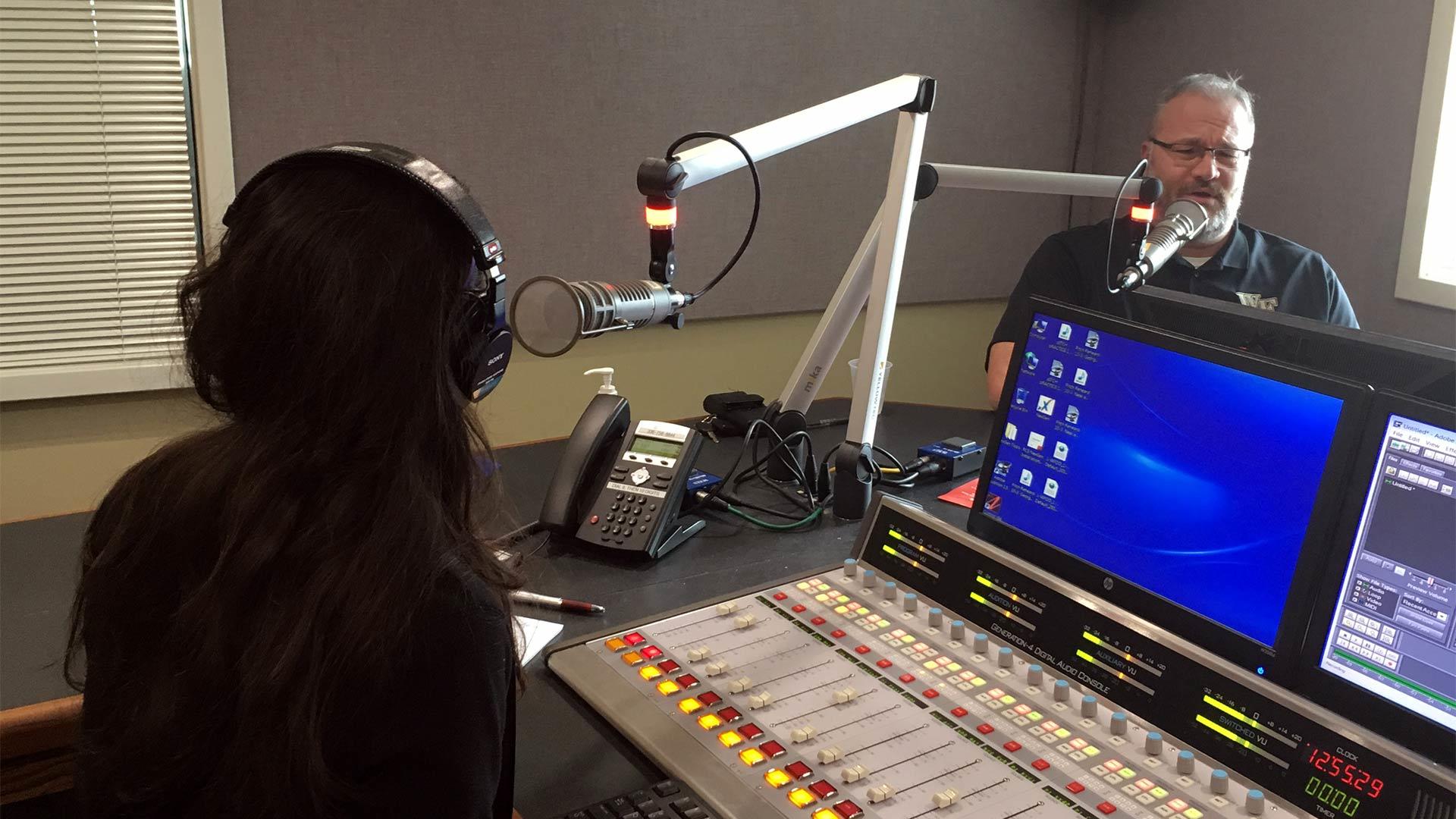 My name is Beatriz Caldas, and I'm a senior English major, French and Communications minor, and the Editor-in-Chief of the Guilford College student newspaper, The Guilfordian. I had the opportunity last spring to intern with 88.5 WFDD in Winston-Salem, N.C.
I first heard about 88.5 WFDD when I was a first year student. I work as an office assistant at the Career Development office and they were having mock interviews that day. Different employers came to campus to do mock interviews with students and my boss needed me to speak to one of them because a student never showed up. So I met Sheila Thrower, who is the underwriting sales manager at the station. My interview went extremely well and she told me to contact her whenever I was ready to do an internship.
Due to conflicts in my schedule, I had to wait until the spring semester of my junior year to apply for the internship. I was contacted by Emily McCord, the news director, a few months later and began working at the station in August of 2017.
WFDD is on the Wake Forest University campus and is an NPR affiliate. During my time there, I had the chance to shadow the reporters, watch them work their "on air" magic, and to experience radio for the first time in my life as a journalist. I have been a part of The Guilfordian since my first year, but had never really had a chance to experience journalism through otherwise.
Unlike in print, stories covered for radio need more attention to what is being said because you can only communicate a certain message once. There are no second chances. And learning about journalism in a different medium by training to write for radio audiences, to edit audio files of interviews and to "speak" in radio language was fascinating. 
Last semester I worked on a story about the mass shootings that happened in October and November as I tried to find answers to why these episodes are still common and what the general public can do to protect themselves when attending outdoor venues. For that interview, I spoke with August Vernon, Wake Forest University emergency manager, who has an extensive background dealing with deadly emergencies.
The final editing of the interview was published at WFDD's website last December.
Now, I am at my last semester at Guilford College and am currently applying for graduate school in journalism all around the country. Hopefully, I will be able to continue learning about communication in different media and make a difference in my community.
Want to know how Guilford College can help you pursue professional goals? Schedule a visit to learn about Guided Discovery at Guilford.
Be a Blogger — Guilford students, contact the Office of Marketing to share your internship experience.  
Catch up — read all posts from Experience Matters.
---