Sidra Dillard '15 is well on the way to becoming a counselor for queer and trans clients, working as a graduate assistant at the University of Wisconsin-Madison's Mental Health Services and with the Trans Research Lab, the largest of its kind in the country. It was Guilford's particular classroom culture that got them there, as much as the coursework.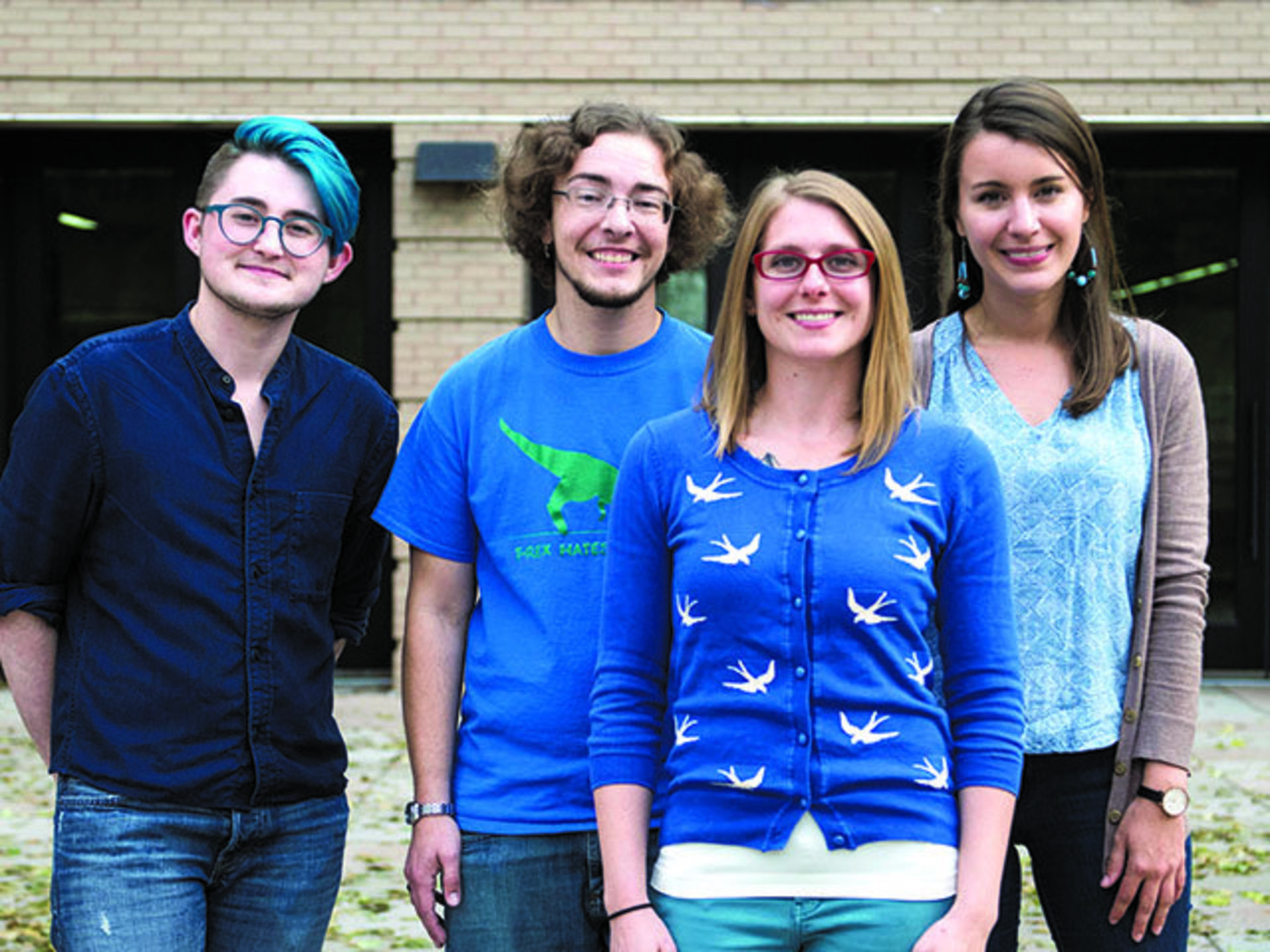 Members of UW-Madison's Trans Research Lab (left to right) Sidra Dillard, Ben Andert, director Stephanie Budge, and Morgan Sinnard outside the Education Building. Photo by Lauren Justice.
Interactions with classmates and professors, who — at Guilford — are all treated as equals was a major part of Sidra's learning process. "The way Guilford faculty resist thinking about student-professor relationships as ones with a big power difference has helped me see professors and supervisors as collaborators and resources to learn from," they say.
As a double major in Psychology and German, there were specific relationships that helped Sidra define their career goals. "Rachel Riskind played a big role in helping me look for grad programs best suited for my pretty unique interests. She could really speak to my interest in LGBT psychology, which is absolutely vital. And Dave Limburg facilitated me being a German major. With his support, I took a gap year between undergrad and graduate school via a Fulbright grant. That year was important to developing my independence, understanding my career goals, and learning to navigate the world."
"My belief that connection and relationships heal really comes from the connections I made at Guilford and how they healed and changed me."
Becoming a Listener
To students considering Guilford, Sidra says, "use your time at Guilford to learn how to talk with faculty and staff respectfully and with a great curiosity for what they will teach you. Also, this curiosity and desire to learn and grow doesn't need to be confined to the faculty and staff. You can learn just as much from your peers."
Those listening and learning skills played a big role in getting Sidra to where they are now.
"A lot of personal growth came from being in connection with folks in the MED. Guilford is where I discovered my queer and trans identities — I'm lucky to have been able to have both enduring support through that process." 
As a practicum intern, Sidra sees clients for one-on-one counseling sessions, and next semester they hope to co-facilitate group therapy and do more outreach/campus services. 
"Most counselors have a theory about how change happens, how people heal, and where pain/distress comes from," Sidra says, "and my belief that connection and relationships heal really comes from the connections I made at Guilford and how they healed and changed me."
Looking for a college that will treat you like an equal? Learn how Guilford helps students define their goals through education and mentorship by scheduling a visit.
---